Fastest Finger First on These
The nine questions in l'affaire Sheena Bora
Why did Indrani Mukerjea's son Mikhail Bora (or his grandparents) not raise an alarm about Sheena for 1,220 days?
In 13 years of marriage, did Peter Mukerjea meet nobody from Indrani's family who said Sheena was her daughter?
Why was Indrani's estranged second husband Sanjeev Khanna in the same car with Indrani and Sheena?
When and why did Indrani's daughter from her second marriage, Vidhie, take on the Mukerjea surname?
Why did Indrani's driver Shyam Rai, who was fired from service after the murder, not alert the police earlier?
Who sent Sheena's leave letter to and resignation from Mumbai Metro a day after her date of death?
Was Indrani alone opposed to her daughter having a relationship with Peter's son, Rahul Mukherjea?
Who sent Rahul the SMS announcing Sheena's break-up with him a day after she went 'missing'?
Who tipped off police that Sheena Bora was not Indrani's sister but actually her daughter?
***
The censors may not have passed this script. Filicide, incest and naked ambition are hardly the stuff of family entertainers. And yet, the last few days, TV news has been far more sensational in its hints at lurid details than serials that thrive on family sleaze, and mainstream newspapers read like tabloids, even if they are reporting just the bare facts of the Sheena Bora murder case. Her mother, Indrani Mukerjea, founder CEO of INX Media and wife of former Star CEO Peter Mukerjea, is the prime accused in the murder of her daughter Sheena three years ago. Her body was dumped in the forests of Raigad. Indrani's son, Sheena's younger brother Mikhail, who says he is afraid he will also be killed, is being interrogated by the police. Her ex-husband Sanjeev Khanna, a Calcutta businessman, has been arrested in the city for his alleged complicity in the murder. Her present husband Peter Mukerjea and stepson Rahul Mukerjea are being questioned by the police. If this is too difficult to digest, something doing the rounds in the social media puts it succinctly for everyone's benefit: the second wife of her third husband is charged along with her second husband of killing her daughter from her first husband, who was having an affair with the third husband's son from his first wife. In short, a tortuous plot worthy of the Greek myths.
The utter theatricality of the case doesn't stop there. At the Khar police station on Mumbai's busy SV Road, there isn't enough space for the numerous OB vans, a clamorous crowd of journalists and photographers and the chaotic traffic. Reporters are speculating intensely on events inside the station where the city's star police chief, Rakesh Maria, is said to be overseeing the interrogation of Rahul, Indrani and Indrani's former driver Shyam Rai, also complicit in the murder. Curious passersby stop their cars and look on, while traffic cops whistle at them wildly to move on. Then, out of the blue, who should pop out of a car but Bollywood star Sanjay Dutt! The sight of him confounds all in a trice. What, is he part of the case too? Then it dawns that he has come to record his presence as he is out on parole. An involuntary dash towards the befuddled actor leads to a small scuffle and, after a minor clash with cars and cameras, it is back to waiting for news about the mystery of the murderous mother.
Could Indrani have killed her own daughter? The more you listen to each person involved with Sheena's murder, the less believable they all seem. A star family: uber-rich and to all appearances quite happy in a normal way, a duo called the 'Bunty and Babli' of the media industry. Under that cheery garb and an opulent life lay financial deals that seemed too good to be true, several dysfunctional relationships, deep mistrust and an inability to cope with changing realities. Indeed, so dysfunctional that a young girl disappears for three years and nobody—mother, brother, stepfather, grandparents, boyfriend—even tries to find out where is.
What is known is this. Sheena Bora was killed in April 2012, allegedly by Indrani with the help of her driver and her former husband Sanjeev Khanna. The reasons range from honour killing to fin­ancial dispute, but none of them hold much ground. Until Wednesday, Peter Mukerjea and the city's swish set believed that Sheena, who Indrani convinced them was her sister, was studying in the US for the past three years. Only when Indrani was arrested—the police were led to her when the driver, Shyam Rai, fell afoul of the law—did the putrid details of their complicated lives start tumbling out. "I am hearing and learning new things by the hour from the media. What has happened is unbelievable, shocking and horrific," Peter Mukerjea told Outlook. He says he had no reason to question the ties between Sheena and Indrani and just like Indrani, he too disapproved of a relationship between Sheena and Rahul, his son from earlier marriage. "Rahul and I were not really on talking terms for a long time because of how we felt about his relationship with Sheena. So I am not sure if he had filed a missing complaint when he did not get through to Sheena. Yes, he had mentioned it to me a couple of times and I told him what Indrani told me, that Sheena has been sent to the US. I also advised him to stay away."
But some people who knew Peter say that doesn't sound plausible. "Peter comes across as a laid-back person, an amiable nawab who will have two beers after a game of golf. But that's just his exterior. He is tough as nails from inside. He is the kind who will climb on top of a greasy pole for his ambition," says a senior journalist who knew the couple soc­ially and professionally. He says that Peter, as head of the top entertainment TV firm in India, lived it up to the hilt. He has five to seven houses in London and lives a life rivalling that of Lalit Modi. Another person once close to the Muk­erjeas says: "I find it surprising that Peter was not aware of anything that was going around in his house. We never found anything amiss between Peter, Indrani and Sheena, and the girl attended several functions with them. Peter seemed to like Sheena and was also in touch with Indrani's mother. So it seems unlikely that he was unaware of the 'mystery' about Sheena being Indrani's daughter and not her sister. He seemed fully involved with their lives," this person adds. Another acquaintance says: "Sheena was always introduced as Indrani's sister. The children were quite used to their own parents not being together and I don't think Peter's sons had any issue with Indrani. In fact, she had once tried to get a job or an assignment for Rahul. They seemed more comfortable with her rather than Peter."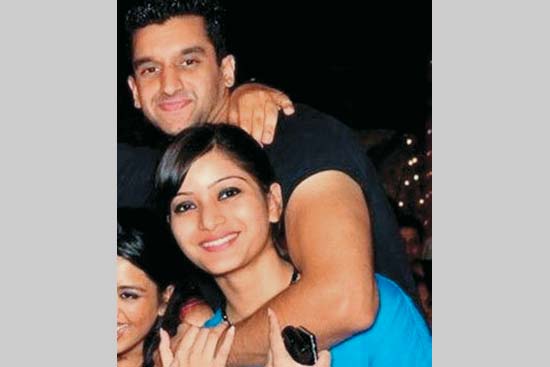 A family affair Sheena Bora with her mother's stepson Rahul Mukerjea
Others who knew Peter and Indrani say she was not the Great Gatsby that she is made out to be. It was not as if she was sprung upon Bombay highlife in sudden splendour, with the past all erased. In fact, she talked at length about her past life, her fights with her mother, even if it was all just myth-making. She continued to be in touch with her friends from Guwahati and Calcutta. "At work, we used to think she was always disturbed and edgy. She was the one who made the INX deal happen for Peter and they must be worth Rs 600-700 crore," says a journalist who worked with them. Their lavish life without any earnings for the past eight years corroborate his assessment.
Her childhood friends remember her as being quite a manipulator even then. A classmate and neighbour of hers from Guwahati's posh Sundarpur area says, "At that age most of us girls were scared even to talk to boys. But she had many boyfriends." She says, though the media has been talking about her marriages to one Siddhartha Das and to Calcutta businessman Sanjeev Khanna before she married Peter Mukerjea, in reality she had married once even before all this. "I know because I was witness to that marriage. It took place at the Kamakhya temple; we were in Cotton College then, it was December 1984; she eloped with a man called Bishnu Chowdhury and married him. But just four months later she dumped him."

Partner in crime? Sanjeev Khanna produced in court in Calcutta. ( Photograph by Sandipan Chatterjee)
Those who worked with her TV company say Indrani was a fantasist, delusional and Machiavellian. A colleague remembers how she would talk about prime ministers and presidents being afraid of Rupert Murdoch and that that's what she would be one day. There were issues with the investors when they left the network; one theory is that much of the money was stashed away through investments by Indrani's family in Guwahati. One pot­ential pecuniary motive behind the crime is that She­­­ena was done away because she may have claimed that money.
The motive could become clear with what Rahul, Peter Mukerjea's son and Sheena's boyfriend, tells the police. Rahul seems to have been Sheena's closest and only confidant; he was also the last person to see her alive on April 24, 2012, when he dropped her off at National College in Bandra. She was an economics graduate from St Xavier's College who worked with the Mumbai Metro. Her LinkedIn profile is yet to be deleted and continues to say she is employed. A resignation letter was received one week after she had been killed. What her brother Mikhail tells the police will also be crucial. He is the one who created a stir in the media by openly accusing Indrani of murdering Sheena and says that he has the evidence to prove it. He paints his mother as a woman willing to go to any length to fulfil her ambition.

Wronged son Mumbai police talk with Mikhail Bora in Guwahati
The police are also looking at a possible property angle: Indrani and former husband Sanjeev Khanna may have wanted Sheena and Mikhail both out of their biological daughter Vidhie's way when it came to Indrani's property in Guwahati. Members of the Calcutta Cricket and Football Club (CC&FC) remember Sanjeev Khanna as friendly and unassuming; he was at the bar almost every evening sipping his two glasses of Scotch. "It's possible that he still had feelings for Indrani even after all these years. I think he was in touch with her and maybe he couldn't say no to her," says a club member. At the time of going to press, Mumbai police teams in Calcutta, Guwahati and Mumbai were recording the confessions of all the dramatis personae—Indrani, Sanjeev, Shyam Rai, Rahul and Mikhail—but have not given any indication of the motive.
Staying on with The Great Gatsby, it's perhaps erroneous to equate Indrani to the eponymous Jay Gatsby. She and her partner in crime seem more like Tom and Daisy from the same classic: "They were careless people, Tom and Daisy—they smashed up things and creatures and then retreated back into their money or their vast carelessness or whatever it was that kept them together, and let other people clean up the mess they had made." Only, in this complicated, cross-country version, they are caught.
***
Shot With Incarnadine
The high-profile cases that show up the dark underbelly of Indian society
Syed Modi, Lucknow, 1988
The badminton champ, then 26, is shot dead. Murder charges filed against wife Amita and her lover (now husband) Sanjay Singh, a Congress politician of Amethi.
Jessica Lall, New Delhi, 1999
A model working as a celebrity bar-maid is shot dead. Manu Sharma, son of Congress-nominated MP Venod Sharma, is initially acquitted, but the judgement is overturned.

---

Neeraj Grover, Mumbai, 2008
The TV executive was hacked to death and chopped to 300 pieces, after the 'fiancée' of Maria Susairaj, a small-time actress, found him in her apartment
Laila Khan, Mumbai, 2012
The Pakistan-born actress is killed along with her siblings in a forested area. Stepfather Parvez Tak confesses to the crime. Motive: they had witnessed the murder of their mother Celina.

---

Shakereh Khaleeli, Bangalore, 1991
The IFS officer's wife is found asphyxiated and buried in her house's courtyard. Murali Manohar Mishra, alias Swami Shradhananda, sentenced to death (commuted to life).
Nitish Katara, New Delhi 2002
The 25-year-old business executive is murdered by Vikas Yadav, son of influential criminal-politician D.P. Yadav, for his relationship with his sister, Bharti Yadav

---

Priyadarshini Mattoo, New Delhi, 1996
The law student is found raped, murdered. Her college senior, Santosh Kumar Singh, son of an IPS officer, is sentenced to death (commuted).
Rizwanur Rahman, Calcutta, 2007
The computer graphics trainer, 30, is found dead on a rail track, shortly after marrying Priyanka, daughter of industrialist Ashok Todi. CBI probe on.

---

Shivani Bhatnagar, New Delhi, 1999
The Indian Express journalist is killed by IPS officer Ravi Kant Sharma as he allegedly feared that she might reveal their "intimate" relationship
Aarushi Talwar, New Delhi, 2008
The 14-year-old girl is found dead with domestic help Hemraj Banjade. Her high-profile dentist-parents Rajesh and Nupur Talwar are convicted of double murder.

---
Sunanda Pushkar, New Delhi, 2014
The high-profile wife of Shashi Tharoor, given sweat equity in the Cochin IPL team, is found dead a day after a series of tweets from a Pakistani journalist appears on his timeline
---
By Prachi Pinglay-Plumber in Mumbai with Dola Mitra in Calcutta