It's almost a predictable scenario: a plane crashes and rescuers fan out in a frantic search for survivors. Soon, investigators confirm the obvious: no one is alive. Yet, officially, no one is dead. For those left behind, it's a long, arduous wait. The last four months have been like that for K.S. Narendran, whose wife Chandrika Sharma was onboard the ill-fated MH-370 en route to Beijing from Kuala Lumpur that disappeared most mysteriously on March 8. No confirmation of debris yet, no crash site found, only unofficial theories swirling around its disappearance. But for Narendran, a principal consultant with a management consulting firm in Chennai, not a morning passes without thoughts about his wife, of the quaint little house they had planned in the Nilgiris and all that they'd shared, talked about, quibbled about. Everything is inextricably connected to Chandrika, an intrepid social activist who was on her way to Ulan Bator to att­end a conference, a pit-stop on her elaborate travel itinerary. But alas, it was to be her last. "It was a bolt from the blue. In situations like illness or prolonged suffering, you're aware of the odds, but in my case, there was no time to prepare," says her husband.
Advertisement opens in new window
But Narendran isn't wallowing in grief, what he seeks is answers. "The knowledge that you still don't know is confounding. Questions like transparency and accountability on matters of safety need to be addressed; otherwise we're unwittingly creating conditions for more disasters," he says. Also, as Narendran puts it, "there's the chores of daily existence, it can't be forgotten. You start reconfiguring your life—what's to be invested in, what's to be focused on". This November, the couple would have been celebrating their 25th anniversary, but Narendran is busy negotiating an alternate existence, taking solace from the collective experience of bruised faith.
For Narendran isn't the only one grieving. Muktesh Mukherjee, a Canadian-Ind­ian and grandson of Mohan Kum­aramangalam (the steel and mines minister in Indira Gandhi's cabinet), was also on the same flight, sharing a spooky connection with his grandfather. Kuma­ramangalam had died when Indian Airlines flight 440 crashed near Delhi in 1973, killing 48 of its 65 passengers, Muktesh was only eight months old then. "It's like a double blow, but this case is worse because of the lack of closure," admits Lalitha Kumaramangalam, Muk­t­esh's aunt. More recently, at least 10 Indian-origin flyers were on the Mal­ay­sian Airlines flight MH-17 brought down by a missile over Eastern Ukraine on July 17. All 283 passengers and 15 crew on board had been killed. Two successive flight tragedies in a matter of four mon­ths, held together by a common thr­ead. But does solidarity in grief lessen the impact of disasters? Dr Jam­una Rajesw­aran of NIMHANS says, "What­ever the circumstances, there is bewilderment at the beginning, then the victim's family goes through a phase of denial, refusing to believe such an incid­ent could have taken place. This is followed by acceptance of some sort and then a burnout."
Advertisement opens in new window
Even though there's an affinity one experiences in collective tragedies, the manner of dealing with loss differs and families go through varying stages of acceptance. Take Neerja Bhanot's case. The fearless flight attendant for Pan Am 73 en route to Frankfurt in 1986 was murdered while saving passengers from terrorists on board. When the flight was hijacked in Karachi, the three-member cockpit crew of pilot, co-pilot and flight engineer fled the aircraft, leaving Bhanot, the senior-most cabin crew member, to take charge. After 17 hours, the terrorists opened fire and Neerja died heroically shielding three children. Posthumously, she received the Ashok Chakra.
Twenty-eight years later, little has cha­nged for her mother Rama. "I still feel like a recluse most of the time, the pain lingers. Whenever there's a ceremony to honour her, the memories come rushing back. Is 23 any age to die?" She reminiscences about her days with Neerja in Mumbai and Chandigarh. "So talented, beautiful and brave, she would often say that I'll die but never shy away from challenges." Her brother Akhil believes that shared grief is confined to the family and close friends, for the rest it's only emp­athy. "It took us six months to realise what had struck us. We would look at her old photos, watch her videos. Now I simply avoid thinking about as it sends me into a depression spiral. There's no way you can overcome such a tragedy."
Advertisement opens in new window
It's no different for Dr Jayasimha She­tty, who's gone the long mile in his philanthropic zeal after losing his sister, brother-in-law and their daughter to the Mangalore air-crash in 2010. The Air-India Express flight overshot the runway on landing, went over a cliff and caught fire, killing the 160 passengers and six crew members on board. "They were supposed to be here for a marriage, but the end came so swiftly. We were at the wreckage site poring over half-charred bodies, not knowing what to do next." Even now, the Shettys don't celebrate most festivals. "The tragedy has crippled our family and made us realise how short life is." Mahammad Beary, who runs a school near Mangalore, is still pained by the death of his sister-in-law in the same tragedy. "Id is here and we remember her everyday," he says slowly.
Be it with or without faith, mourning certainly does help leaven some of the pain, feel psychologists. According to Dr S.K. Khandelwal, a psychiatrist at aiims, "In traditional societies like India, there's a well laid down system of mourning which is therapeutic in nature. But where there is no recovery, where there is no proper cremation, the guilt remains. When families can't mourn, the trauma is exacerbated because acceptance of the tragedy does not come easily. Absolute closure is a must."
Advertisement opens in new window
***
Pan AM-73
Pan Am jet hijacked on Sept 5, 1986, while on the ground at Karachi airport by four Palestinians of Abu Nidal's outfit, 20 killed (12 Indians)
"So talented, beautiful and brave, she would often say that I'll die but never shy away from challenges."

Rama Bhanot
Neerja's mother
Air India Express Flight 812
The Dubai-Mangalore flight overshot runway on landing, fell over a cliff and caught fire in 2010. Of the 166 people on board, only eight survived.
"They were to be here for a marriage.... We were at the wreckage site poring over half-charred bodies."

Advertisement opens in new window

Dr Jayasimha Shetty
Indian Airlines Flight 440
In 1973, Indian minister of iron and steel mines, Mohan Kumaramangalam dies in air crash. Grandson Muktesh now missing in MH-370.
"It's like a double blow, but this case is worse because of the lack of closure."

Lalitha Kumaramangalam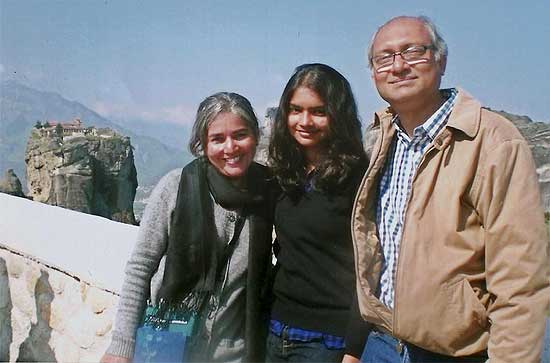 MH-370
Malaysian Airlines flight en route to Beijing from KL loses contact with ATC within an hour of takeoff, goes off radar mysteriously; 5 Indians onboard.
"Chores of daily existence can't be forgotten, you start reconfiguring your life...what to focus on."

Advertisement opens in new window

K.S. Narendran