The memories unleashed by a clock—frozen at 11 pm since 1966—arrest the room in a time-warp. It is after all the room where Lal Bahadur Shastri, India's second prime minister, used to rest. His mysterious death on January 11, 1966, the day after he had signed the Tashkent Declaration formally ending the war with Pakistan, is yet to be unravelled. Forty-nine years on, all we have are versions of how it might have happened and speculation on whether there was anything suspicious at all.
On the other hand, his political legacy and the hardy ethos he evoked with his slogan 'Jai Jawan! Jai Kisan!' have a resonance with every flavour of political belief. The Sangh parivar has spoken of Shastri glowingly. Recently, RSS chief Mohan Bhagwat commended Shastri at a function in the former PM's hometown Ramnagar. He was releasing a biography of Shastri by Neeraja Madhav. Shastri's younger son Sunil Shastri was with Bhagwat for the book release. Sunil too has written a biography of his father. He is now with the BJP. Another of Shastri's sons, Anil (also co-author of another biography of his father), has always been with the Congress. Anil's son, however, has joined the Aam Aadmi Party (AAP). "The legacy of a public life continues in this way," says Anil, adding, "Which party somebody joins we cannot dictate."
Both sons have distinct memories of the day war was declared. Sunil was playing cricket in the lawns sometime in the late afternoon with a radio blaring out the commentary of another match in the background. This perfect setting was disturbed by an announcement on the radio—Pakistan's heavy artillery sending shells whizzing over Amritsar. "I raced to 10 Janpath and told my father, 'Have you heard this?'" Shastri senior indulged the young boy of around 15: "Is it so? What must we do?" "We must attack, we must respond likewise," Sunil had replied.
It was a war that opened multiple fronts, and the decision to do so, say both Anil and Sunil, was taken in but an instant. "It was as if Babuji knew what he had to do in the situation," says Anil, who was at one of those rare early dinners where the whole family was present when news of the war finally broke. The prime minister was suddenly called away from his meal, but returned in ten minutes, and the curious family milled around him: "Babuji, what was the matter?" they had wanted to know. "You must be prepared for war," came the unhesitant response, Anil recalls.
Anil says he knew war wasn't far almost a month ago, when he heard his father speak on the ramparts of Red Fort: "Hum hathhyaaron ka jawaab hathhyaaron se denge." The crowd gathered before him was swept up in applause.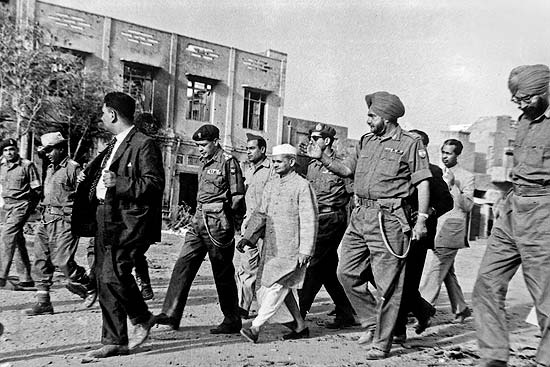 Lal Bahadur Shastri with troops during the time of the 1965 war. His leadership was seen as inspiring and bold.
"It wasn't just that there had been skirmishes along the border and I knew it could escalate. There was something in the tone of that speech which convinced me. Perhaps Pakistan's Ayub Khan was underestimating Babuji," says Anil. He, too, noted that the first meeting their father held with the military chiefs in his office had barely lasted a few minutes. "I had peeped through the keyhole of his office," confesses Sunil. "I saw the chiefs salute my father. And, as Gen Chaudhuri came out of the office, I saw he had a noticeable beam, a kind of glow on his face. He said something then, which I cannot fully recall, but I think it was 'Maa Kali ki jai!'" recollects Sunil.
Sunil did ask his father what had transpired between him and the three chiefs. The prime minister had told him what he told the whole family later: "I will take care of the country, while the army will take care of the borders."
It was then that the entire Shastri clan 'prepared for war'. At least once, they huddled into a trench dug out for their safety nearby the house that is now the Lal Bahadur Shastri Memorial museum. They slept at Rashtrapati Bhavan some nights. And around this time came the slogan, 'Jai Jawan, Jai Kisan!'
From the shadow of Nehru's prime ministership to that of the Gandhis' political clout, has the memory and legacy of India's second prime minister changed? Was Lal Bahadur Shastri a steely-resolved, frugal, charismatic yet understated leader, or a left-of-centre man whose heart never ceased to bleed for farmers and the poor?
As Anil recalls, there was much more to the man than the political consciousness now allows one to recall.
It was his father who set up the legal framework for the Central Vigilance Commission, which investigates administrative corruption. "He wasn't an aggressive man, but he was assertive," says Anil. Is it because of this assertiveness that the BJP speaks more often of Shastri's legacy as a popular leader than even the Congress? "The BJP will find it very tough to appropriate Shastriji," Anil feels. "Remember that during A.B. Vajpayee's prime ministership, the slogan had become 'Jai Jawan! Jai Kisan! Jai Vigyan!' But soon after Vajpayee's stint that slogan vanished and it returned to the original."
Indeed, when Sunil tried his hand at independent politics with his Jai Jawan Jai Kisan Forum, it came a cropper. "It was a terribly immature move, but it was also a clear sign that in today's politics you need to command large resources and an equally large team," says Sunil. "It's the dream, the vision, that I seek to keep alive," he adds, explaining why he is a "Shastri in the BJP".
Some say the clock in Shastri's bedroom, frozen in time, had stopped working at 11 pm on January 11 1965, the reported time of his death in Tashkent. For this notion too, there are as many versions as history permits.