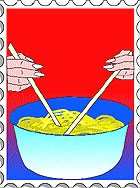 Maotai & I
Late on my first evening in the world's most populous city, I sit in the Penthouse Bar on the 39th floor of the Shanghai Hilton, to enjoy the neon-lit skyline. I ask for a glass of Mao­tai, China's official national liquor and possibly the world's only socialist luxury brand. A drink Mao Tse Tung offered to Richard Nixon in 1972. It has nothing to do with Mao, though! It's made in Maotai, a town in the mountains of China's southern Guizhou province on the banks of the Chishui river. It acquired a reputation in 1935, when Red Army soldiers on the Long March ended up in the town, looking for a way north over the area's precipitous mountains. They got no help, but discovered ways to use the near-deadly sorghum drink to sterilise wounds and cure a range of ailments. Chou En-Lai had famously declared that the Revolution's success was in part due to Maotai!
"Sorry sir, we don't keep Maotai!" the young waitress at the bar said. Back in 2000, the cheapest Maotai cost $30-$40. Today, it's $350! Last year, a bottle of 1980 Maotai sold for $1.3 million at an auction. "It's not just a drink. It's a piece of Chinese culture," claims author Zhao Chen. There is even a saying here: "Those who buy Maotai don't drink it; those who drink Maotai don't buy it." These days, Maotai is one of China's best stand-ins for a bribe. In the event, I quenched my thirst with a Chilean Chardonnay.
---
English & China
I venture out to visit a mall near my hotel. I get into a taxi, armed with a piece of paper with the mall's name and address written in Mandarin. It's full of famous global bra­nds, packed with obviously loaded shoppers. The prices are as high as in London, Paris or New York. The salesgirls are not unhelpful. It's just that they speak no English. Where can I buy a pair of Chinese shoes and an overcoat? A salesman and his female colleague put their heads together and, after some effort, figure out what I say. They stop a lady shopper who speaks a little English. They suggest I try shops in another area. How do I get there? Take the metro, change station after three stops, board another metro, get off after four stops...walk some distance.... But will I find anyone who speaks English and can guide me on the streets or on the metro? The shopper shakes her head and says: "I'm not sure!" I thank her, get out of the mall, hop into a cab, and flee to my hotel!
So few Chinese speak English that it's impossible for a foreign visitor to get by even in Shanghai. I mention this to Prof Zhao Gancheng at the Shanghai Institutes for International Studies. He nods his head somewhat sadly: "That's a problem. We are trying hard to teach our people English. How many Indians can speak English?" "As English is taught in all high schools acr­oss the country," I tell him, "a lot of Indians can und­erstand and speak some kind of English." "That's quite impressive! We have a lot of catching up to do!" At the Shanghai Museum, I see scores of 10-year-olds in green uniform. "They can speak English!" my guide whispers. I greet two girls. They respond in English.
---
Confucius & Buddha
I visit the 700-year-old Shanghai Confucian Temple in the old part of the city. The great Chinese shepherd-turned-philosopher was a contemporary of Buddha. The young woman who takes me around the large complex is a university student. "I work as a guide here to improve my English," she says. The temple was badly damaged during the Cultural Revolution, she tells me. It went through a similar fate several times over the centuries, and had to be shifted from place to place at least four times.
Worshippers form a long queue to buy tickets for the Jade Buddha Temple. Nice to see Buddhism flourishes here even though Mao had condemned religion as an opium of the masses. The worshippers queue up yet again, this time inside the temple to buy agarbattis that come all the way from Bangalore. They light up all of them at one go, and respectfully put them in a fire with hands folded and heads bowed. Seeing them worship a great son of India with agarbattis imported from south India fills me with a strange thrill and even some pride. Clearly, Buddhism is flourishing in China. The Chinese app­ear to be as religious as the Hindus. I've seen them flock to beautifully decorated Buddhist temples even in Macau and Taipei. This temple was built in 1882 to keep two jade Buddha statues a monk had brought from Burma.
Outside, an elderly lady is selling luscious strawberries. I can't resist buying a basketful. Pity, you don't get decent strawberries in Delhi. The ones in Shanghai taste even better than those I've had in Berlin, Brussels or London. But it's watching the Pudong skyline at night from a boat and visiting the famous Bund in the day that I'll cherish the most about Shanghai.
---
During my stay...
I take taxis in the city at least half-a-dozen times. I try to offer a modest tip. And each one of them refuses it ever so politely.
---
Journalist and broadcaster Venkat Narayan is also the biographer of N.T. Rama Rao; E-mail your diarist: s.venkatnarayan AT gmail.com