China is Selling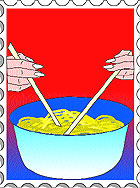 We were in Shanghai last week, and were visiting China after a long gap. The transition in ten years from a country suspicious of foreigners to an extremely tourist-friendly one has its roots both in the perceived commercial possibilities, as also an inherent chauvinism, where in the eyes of the world the Chinese simply have to appear the best and brightest. What has changed most is the lack of any visible signs of Communism and the vast improvement in the cuisine! Trade and commerce seem to be the paramount movers in a society bent on rapid upward mobility. From the great banks and commercial institutions along the venerable 'Bund' that occupy glorious buildings from a colonial past, to the teeming, high-rise bazaars where cheap goods and amazing bargains draw crowds of both Chinese and foreigners, commerce prevails above all else. An Indian colleague's quest for a fake Louis Vuitton bag for his daughter proved a hilarious exercise. He was lured into the backroom of a shop by the pretty shop assistant where, behind locked doors, the banned item was produced in an atmosphere of utter secrecy. Needless to say, he emerged looking distinctly uncomfortable clutching a well-wrapped parcel!
---
Sweep Of A Stick
To the question 'what is the difference between India and China today?', the instinctive answer might be 'In India we don't have a danda!' Throughout Shanghai I did not see a single scrap of garbage or plastic waste on the streets. While our cities are ugly with garbage, malba, paan-spit and broken pavements, we marvelled at Shanghai's pristine condition—all clean pavements, beautiful landscaping and scrupulously honest people. This can only have resulted through a combination of good urban management and a generation that was probably beaten into civic awareness in a then totalitarian state that today shows no overt signs of draconian control. How can we ever achieve this? Is it possible in an overpopulated, under-educated democracy?
---
Blue On Blue, Mr Chairman
I was, as always, engaged in the pursuit of art and was not disappointed. A day-long visit to the Moganshan area was a revelation. Here, on the outskirts of the city, artists have converted old warehouses into hundreds of studios and galleries offering a rich mix of artistic endeavour. From traditional Chinese brush-and-ink paintings and the Ravi Varma equivalent of classical Western oil paintings on Chinese themes, to the new art and photography that has seized world attention, Moganshan has it all. Some contemporary works were surprisingly subversive; one painting of Tiananmen Square showed nude female Red Guards buried under a pile of cuttings condemning the 1989 event from newspapers around the world. A giant statue of Mao made with fragments of ornate blue pottery made an openly satirical comment on a past whose icons and ideology are no longer revered by the young. Contemporary Chinese artists excel in photorealist skills, successfully using them in an art praxis which has a global outreach.
---
Terracotta Army
The next day a visit to the National Museum yielded a wonderful surprise. Imagine travelling to China to see a Salvador Dali exhibition! Twenty of his largest bronze sculptures I saw for the first time included his famous Adam and Eve and several of his signature dripping clocks. The huge 6x5 metre painting that Dali created for Hitchcock's 1945 film Spellbound was the centrepiece of this truly awesome exhibition.
One meandered through the People's Park around ponds full of giant lotuses from this museum, to the MOCA, or Museum of Contemporary Art. Here, another surprise was in store. I was met by the curator of the museum, Diana Freundl, who took me on a personal tour of INDIA XIANZAI—a superb exhibition of contemporary Indian art showcasing the best of our young talent with paintings, sculptures and installations by Jitish Kallat, Riyas Komu, Anju Dodiya, Subodh Gupta and others. Both the content, the brilliant display and a comprehensive catalogue made one proud to be Indian. The sheer excellence of this whole enterprise served to emphasise the fact that it was private players that had put to shame the pathetic efforts of state institutions in promoting contemporary Indian art globally. Wake up, Lalit Kala Akademi!
---
The Book Of Changes
On the third day, we were treated to a 22-course Chinese banquet, a feast for both palette and eye. Haute cuisine seems to have been restored to China after being virtually wiped out during the Cultural Revolution as a bourgeois symptom! No visit to Shanghai is complete without the touristy river cruise. If the People's Republic wishes to strike awe in the hearts of visitors, it succeeds with its fantastic, illuminated display of new skyscrapers on one side of the river and the austere beauty of 19th century buildings on the other side. Midstream, to the incongruous sounds of American pop, old China meets the new.