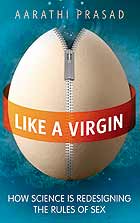 Scientist and broadcaster Aarathi Prasad has a PhD in mammalian cell cycle biology from Imperial College, London, and in her new book Like A Virgin: How Science is Redesigning the Rules of Sex (Oneworld, 2012), she tackles the notion of reproduction without the sex act. Dr Prasad is a single parent, with a young daughter she had with a white father. Excerpts from an interview with Saptarshi Ray:
Your book is a very different take on the nature of reproduction. Have humans really been doing it so badly all this time?
Humans are pretty sub-fertile in the grand scheme of things. If you take a healthy man and woman in their 20s, who have unprotected sex, the chances of them conceiving are around 20 per cent. That is pretty poor. Now, consider the fact that our fertility decreases as we age and that the average age of first-time mothers is now around 30. This later onset of motherhood is a product of increased education for women, more career-driven goals and independence. But in terms of the future, it isn't ideal.
You must get a few people asking you what you have against sex?
If you can have a baby through sex, fine, but if you cannot, then people need to know that there are other options. In India, for example, many of the middle class now live a lifestyle that approximates those in western countries. So the old models of meeting and marrying young in order to have children are not the same. And, you will always have cases where people are infertile, and they need help.