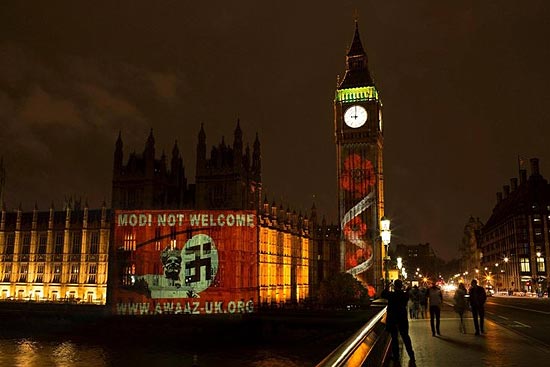 United Kingdom
Hi-Tech Sledging
The omens are not good for PM Narendra Modi's visit. A scathing indictment in The Guardian ('The divisive man­i­pulator who charmed the world') followed a spectacular projection of an image on the wall of British Parliament that showed the PM waving a sword with an 'Om' morphing into a swastika. The group behind it even has a campaign (#ModiNotWelcome) on. On the sunny side, the visit is to see the by now standard "rousing rally" in Wembley plus the queuing up of sundry investors.
---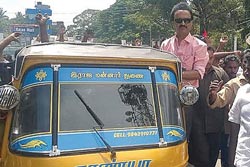 Tamil Nadu
All For The People?
No Amma-bashing, no negative talk, the 'Namakku Naame' campaign of DMK's M.K. Stalin, the party's likely CM candidate in 2016's assembly polls, is raising some ripples in the ruling AIADMK. Rum­­ou­red to be the work of the same 'Team Modi' of 2014, Stalin has hit the streets, promising a regime free from 'corruption, commission, collection'. Worry of worries, he's also talking total prohibition.
---
Gujarat
The Spouse Factor
The travails of Jashodaben, PM Nare­ndra Modi's wife, continue. Not only was she absent at his swearing in, the lady's efforts to obtain details of the security personnel who follow her have been turned down under the RTI. Now, a new ignominy has greeted the teacher—her application for a passp­ort has been rejected purportedly bec­ause there was no marriage certificate or a joint affidavit with her spouse, which is a required document. Why the PM's office or the home ministry couldn't intervene to prevent such an embarrassment we will never know.
---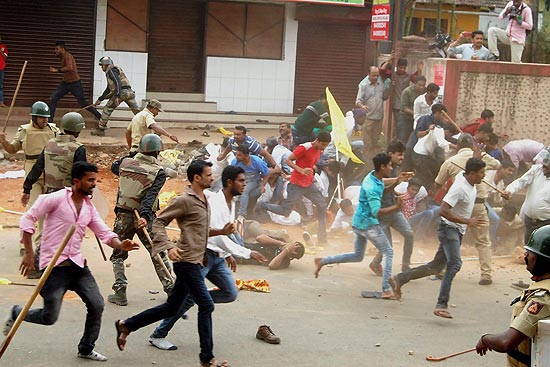 Karnataka
Is That His Sword?
Why would a state celebrate, for the very first time, the birth anniversary of 18th century ruler Tipu Sultan, 215 years after his death? But on the other hand, why not? The explanation that Tipu's secularism and refo­rms have a special resonance today haven't cut much ice with sceptics, who see him as a tyrant and religious bigot. The death of a VHP activist in cla­s­hes in Madikeri has proved that Tipu, who ruled for 16 years and died fighting the British aged 49, remains an enigma, loved and hated in equal measure. Sympathetic historians point to the grants to temples, the first church in Mysore, the liquor ban, ending the practice of Shu­dra women going around topless etc. Critics though say he destroyed temples/churches, killed and conver­ted the upper caste Hindus of north Ker­ala, Coorg and Catholics of Mangalore.
---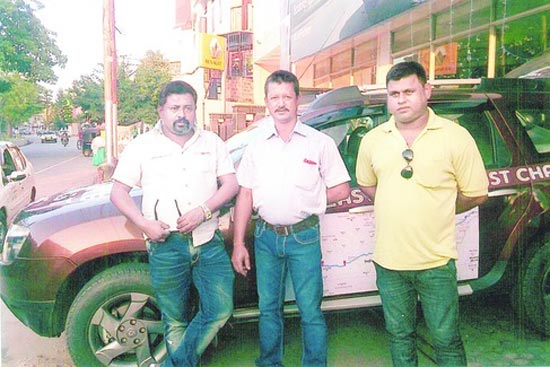 Arunachal Pradesh
Pedal On Metal
How long does it take to drive from the country's eastern-most tip to its western- most tip? Three Assam busine­ss­men, req­uired to follow a specific route and go thr­ough specific towns, covered the 3,854 km across seven sta­tes from Tezu in Aruna­chal Pra­d­­esh to Kotesh­war in Kutch (Gujarat) in 70 hours and 55 minutes, setting a new rec­ord. Apparently, there were no night halts.
---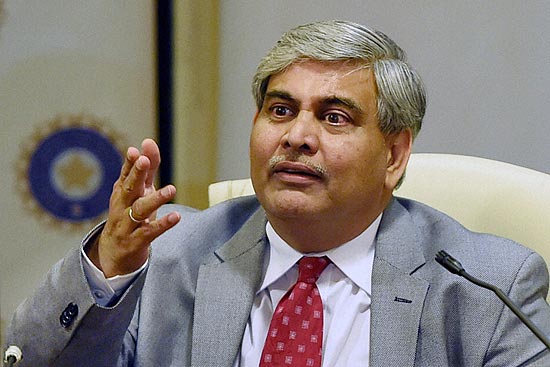 Maharashtra
A Straight Bat
The BCCI's cosy club, bend-the-rules image is well-earned. So new boss Shas­h­ank Mano­h­ar's move to nix conflict of int­erest among its denizens, is being keenly followed. Out went selector Roger Binny (his son's an India player), so too Anil Kumble (he's on the Mumbai Indians rolls). One posting that's been welco­med is of Justice A.P. Shah as ombudsman. An impartial umpire was long overdue.
---
Rajasthan
Caste The Culprit
So you thought casteism prevails only in Bihar? Think again as an NGO tasked by the Rajasthan high court to find out the status of toilets in schools, discovered that in the state's government schools, Dalit girls were being made to clean the toilets while Dalit boys were deployed to sweep the sch­ools clean. Gujjar students in the same school were however under no such obligation.