Rajasthan
Such Is Bharat
'Swachh Bharat' faces an unusual obstacle on the eve of its first annivers­ary. The Digambar Jains have protested against the mission of ending open defecation and the NDA regime's move to penalise the act. Pleading for an exemption for Jain munis, the 'Dha­ram Bachao Andolan' claims open defecation is part of the munis' religious pract­ice (they objected in principle to flushing/ killing micro organisms). With Jains having got the state to int­erfere on sale of meat during 'Paryu­shan' and the custom of 'santhara' as suicide, the munis are hardly likely to be pulled up while doing their business.
---
Bihar
Don't Sell That Here
When UPA's home secretary R.K. Singh wal­ked across to the BJP before the '14 LS polls, he was seen as a major catch. But the straight-tal­king babu is proving a difficult nut to crack. After calling Lalit Modi a "bhagora" (fugit­ive) and revealing how Mumbai police thwarted a plan to smoke out Daw­ood Ibra­him, the Ara MP has hit where it hurts most—saying the party was "selling" tickets to criminal/corrupt elements in the poll-bound state.
---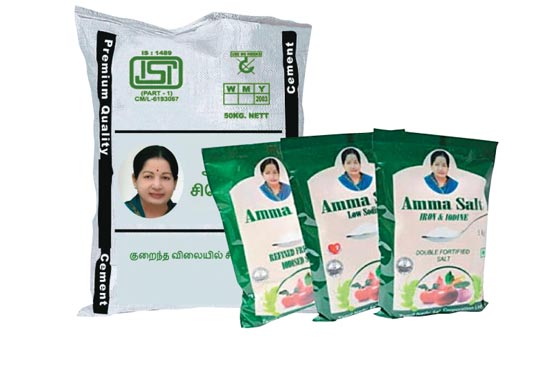 Tamil Nadu
In Mother's Name
The state that pioneered the mid-day meal scheme is on a roll. Jayala­litha's sarkar is showing that its heart is on the right side. On top of subsidised toothpaste, rice, salt, mixer-grinders, canteens, cable TV etc, all in the name of 'Amma', the AIADMK regime is now getting even more micro. Last month, it launched post-pregnancy kits for new mothers. This week we hear of mobiles. It's not Anna DMK, it's Amma DMK, says a wag.
---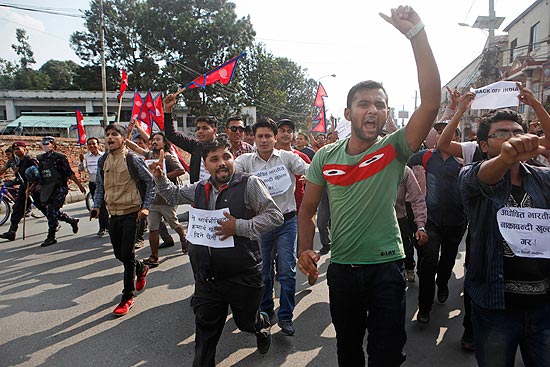 Nepal
More Pain, Less Love
"Nepal's pain is our pain," PM Narendra Modi had tweeted after the devastating quake in April. Barely five months later, cable operators in Kathmandu chose to cut off 42 Indian TV channels as a 'symbolic protest' against India's 'unofficial economic blockade' and all­eged interference in Nepal's internal affairs. Fuel scarcity and shortage of essential goods sent prices northward and revived memories of another 'blockade'. As the newly secular neighbour faced a civil war-like situation and a vertical split between the 'Pahad' (hill) and 'Madhes' (plains) over the new Constitution, thousands of trucks got stranded on the Ind­ian side. India says the trucks were held up due to violence in the Terai where the Nepal army has cracked down on anti-Constitution protesters.
---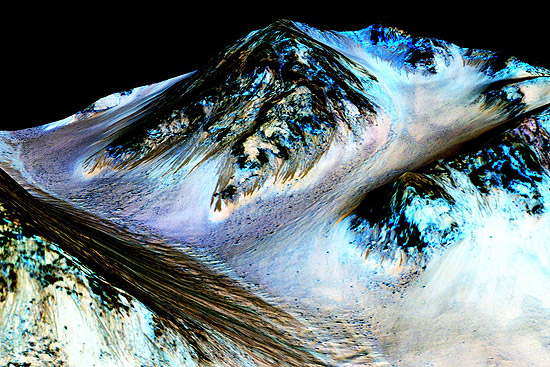 Mars
And It Flows
Seldom has there been such excitem­ent in the scientific community. Photos by the Mars Orbiter have confirmed, for the first time, the discovery of liquid water flowing on the surface of Mars. As expected, this has spurred speculation that life could, or could have, existed there. A NASA spokesman said: "We haven't been able to answer the question, 'Does life exist beyond Earth?' We now have, I think, great opportunities to thoroughly inv­estigate that." The agency is talking of sending a spacecraft in the 2020s to one of the regions on Mars with experiments to directly look for life. It rema­ins to be seen whether the new discovery improves the odds of finally answ­ering the question of whe­ther aliens, the stuff of sci-fi, are actually out there. And if they do, are they sma­­­rter than homo sapiens or even our recently discovered cousins, homo naledi?
---
Andhra Pradesh
Milking It
Assets declaration by politicians as mandated by the EC has long been reduced to a joke, but no one is laughing at CM Chan­drababu Naidu decla­ring a meagre Rs 42 lakh as sum total of all he owns. The declaration, sans I-T returns, was aimed as a PR gesture ahead of the construction of new capital, Amaravati. But the opposit­ion went to town. Thankfully, Naidu's son Lokesh has been listed with assets worth Rs 7.67 crore while dairy brand-owning wife Bhuvaneshwari is valued at Rs 33 crore, to lend some credibility to the figures.
---
Telangana
Dress Down Desi
Jairam Ramesh famously spoke against the convocation gown for graduates, arg­uing against its utility in Indian cli­mes. The UGC is taking it a step furt­her. Graduates will henceforth wear dhotis, pyjamas, kurtas, saris for the convocation at University of Hyder­a­bad. The UGC fatwa has however had mixed reactions. 'Indianising' the dress code and promoting handloom is all fine but the unilateral move has led to protests and even threats of boycott.