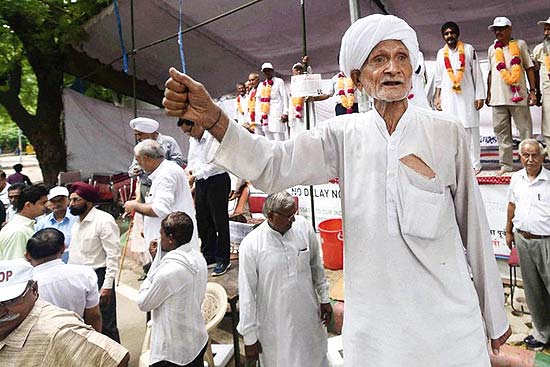 All India
Pension Tension
After using 'one rank one pension' as a trump card during the LS polls, has the Modi regime developed cold feet? Or is it being wise in thinking through the financial implicati­ons (Rs 10,000 crore more every year)? Either way, it sho­wed little political sagacity in bre­aking up the pensioners protest on I-Day eve. Public outrage and a joint letter by 10 ex-chiefs of staff led to Delhi police publicly apologising for their heavyhandedness. But the elephant is still...well...on the road.
---
Bihar
Modi's Math
PM Modi has always been a "whiz with numbers" but strangely, twice in the last week, he came up short. In his I-Day spe­ech he waxed eloquent on 20 lakh consu­m­ers giving up LPG subsidy, but the offic­ial number is still just 3 lakh (1,91,632 Indane; 89,491 HP; and 40,212 Bharat Gas consumers)—just 0.2 per cent of India's 16 crore LPG connections. Mea­n­while, in poll-bound Bihar, to the Rs 1.25 lakh crore special package he ann­o­u­­nced, Modi added Rs 40,000 cr of unspent money in his tweet!
---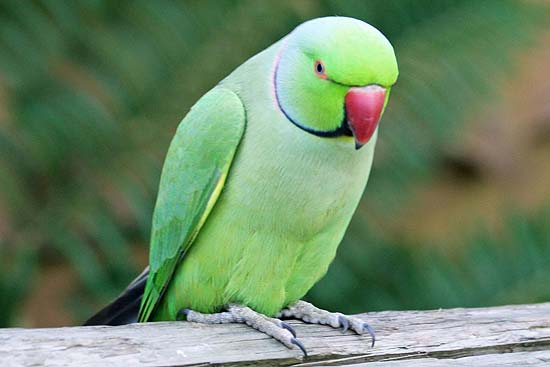 Maharashtra
Total Madness
In an scene right out of the pages of Reader's Digest, a parrot is in jail in Chandrapur district for allegedly "hurling obscenities" at 85-year-old Janabai Sakharkar. She accused son Suresh, with whom she's has a runn­ing property dispute, of teaching pet parrot Hariyal to shower abuses at her whenever she passed by his house. The green bird apparently cla­mmed up at the station but the khaki clad ones weren't having any of it.
---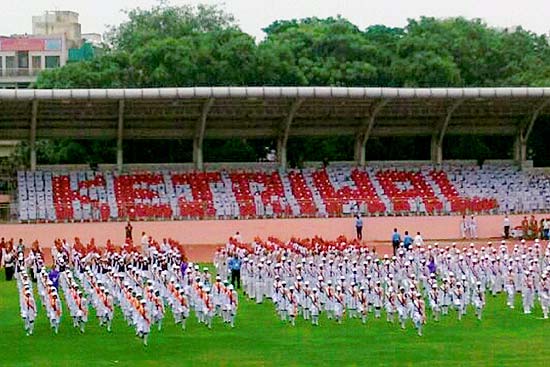 Delhi
I-Me-Myself Day
Has Arvind Kejriwal mastered the art of working around the SC ban on photographs of all but the president, PM and the CJI in public advertisements? For months, the Delhi CM had taken out expensive hoardings and TV ads on the 'achhe din' that have befallen the capital thanks to his government till the SC put a stop to it. Now, on August 15, he had children taking in the state I-Day parade hold up placards spelling out his name in the stands. After the predictable photo tweet and social backlash, the AAP released pictures of previous year celebrations where CM Sheila Dikshit and L-G Najeeb Jung's names had been similarly formed. But the megalomania tag isn't going away so easy.
---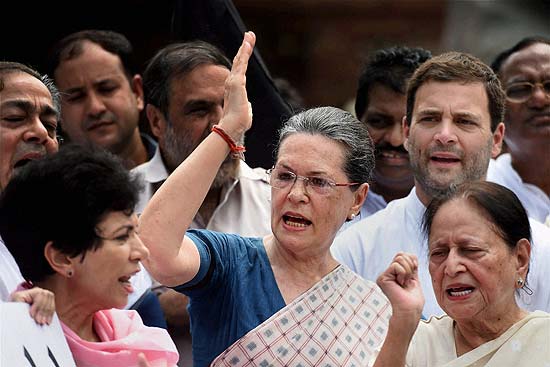 New Delhi
Paper Tigers
For years, the National Herald case—allegedly reeking of vast amounts of laundered money—kept Swamy & frie­nds busy. But now we hear the Enfor­c­ement Directorate (under the Union finance ministry) has shut the preliminary inquiry against Sonia and Rahul Gandhi, citing lack of evidence. Consp­ir­acy theorists see the move as a BJP bid to buy the Congress's silence and ensure smooth passage for the cont­ro­v­ersial GST bill. BJP leader Subr­am­an­ian Swamy, on his part, swif­tly shot off two letters to the PM, acc­using current ED director Rajiv Katoch of not pursuing the case owing to his ties with Congress leader Digvijay Singh. Swamy has a case filed before a Delhi court alleging cheating and misappropriation of Rs 2,000 crore by the mother-son duo in the acquisition of the now-defunct National Herald newspaper through their organisation, Young Indian.
---
Assam
Tea Time
Twice every decade the issue of a separ­ate time zone for Assam (and the Northe­ast) crops up. The UPA set up a panel to examine the issue but 'national interests' tied that one up. Now CM Tarun Gogoi's come out and said it, setting the clock ahead by an hour—as the tea gardens do —will increase productivity (a factor that has been blindingly obvious for decades). Now it's up to the NDA sarkar—which is not low on nationalism—to take the path not taken. The demand for North Eastern Standard Time (NEST) is on again.
---
Karnataka
Election Score
On paper, Bangalore is the cleanest state capital in India. But try telling that to its citizens who will vote with their feet and noses in the civic body polls due on August 22. For years, the ominous sounding BBMP (under BJP rule now) has failed to manage civic waste disposal, with mountains of garbage a common sight. This time, artis­tes installed crocodiles and anacondas in cavernous potholes to draw media attention, and there's even been a 'No road, no vote' campaign on social media.