Bihar
Bihari Bravado?
Is there a pattern in the public criticism of the party leadership and the 'trimurti' of Nar­e­ndra Modi, Amit Shah and Arun Jaitley? Observers point out that Kirti Azad, Yashwant Sinha, Shatrughan Sinha and R.K. Singh, three of them MPs, are among the promin­ent BJP leaders who have been vocal against the party's handling of recent cont­r­oversies. And all of them are from Bihar. Could it be posturing before the Bihar elections?
---
Maharashtra
Terror Truth
The National Investigation Agency's credibility took a serious knock when special public prosecutor Rohini Salian disclosed that she was asked to go soft on the Hindutva extremists accused in the Mal­eg­aon blasts case after the NDA government came to power last year. The NIA also did not quite cover itself with glory by hinting that Salian was making false accusations as she was about to be replaced (a "routine measure"). But the feisty 68-year-old has stood her ground, reiterating that she will pro­duce proof, if needed.
---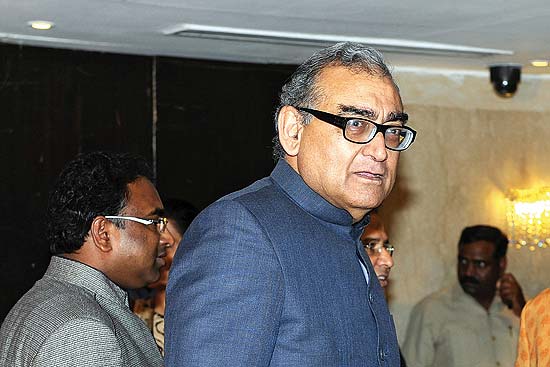 Delhi
Katju Is Cross
He's often described as a 'bit of a loose cannon' but one can scarcely question the soundness of Mar­kandey Katju's move in dragging both Houses of Parliament to the SC. The former judge and Press Cou­n­cil chairman pointed out that the Lok Sabha and the Rajya Sabha failed to hear him first, thus violating principles of natural justice, before conde­mning his FB post in which he had called Gandhiji a 'British agent' and Subhas Chandra Bose a 'Japanese agent'. But wouldn't he have been better off appealing to the Lok Sabha spea­ker and the Rajya Sabha chairman instead?
---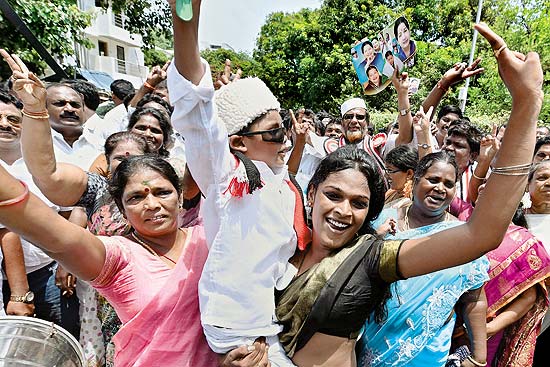 Tamil Nadu
Parties Bloom Here
Though expectedly the one and only 'Amma' won the byelection by a landslide, it must be said—only one recognised political party, the Communist Party of India, put up a candidate against AIADMK's J. Jayalalitha in the R.K. Nagar assembly constituency. Still, there were altogether 28 candidates in the fray, indicative of the insane number of state parties, 'registered but unrecognised parties' by the Election Commission. The number of registered political parties has grown from 537 in 2001 to 1,782 this month. Curiously, only 419 of them seem to have contested in an election. There were also 39 state parties which were in the fray in the 2014 general election. What could possibly attract people to register political parties in such numbers?
---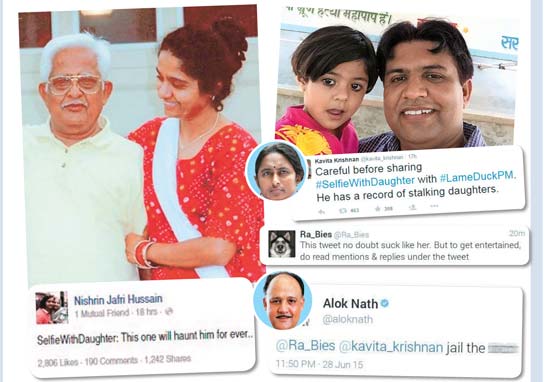 Haryana
Haste Makes Waste
Was PM Narendra Modi too hasty in prai­sing Bibipur panchayat sarpanch Sunil Jaglan's initiative, #SelfieWithDaughter? Reports now suggest that Jaglan was sus­pended for misuse of panchayat funds, and a Kurukshetra University study found the panchayat had in fact a poor sex ratio despite his claims. There were other unintended conseque­nces for the PM's push for the campaign via his radio talk. While it triggered a flood of men uploading selfies with their daughters on social media, the goodwill was marred by a tart tweet from activist Kav­ita Krishnan who remi­nded people of 'Snoopgate' when Guja­rat police stalked a young woman; and a poi­gnant one from Nishrin Jafri, daughter of Ehsan Jafri, the late MP who tried in vain to call the then Gujarat CM before a mob killed him in '02. Krishnan partic­ularly incensed Modi supporters. "Jail the b****," tweeted TV actor Alok Nath while others questioned her parentage, complexion, pedigree etc.
---
Andhra Pradesh
The Man Was Great!
He was a statesman and one of the best PMs, acknowledged sheepish Congress­men on P.V. Narasimha Rao's 94th birth anniversary after ignoring the date for over a decade. Rivals were quick to hit out. The Congress, they said, had treated Rao like a pariah. Now their hand was for­ced by other parties vying to honour him. While the NDA regime has picked a mem­o­rial for Rao in the capital, the TDP has demanded a Bharat Ratna for the Telugu bidda. Telangana, of course, is celebrating Rao's birth anniversary as a state function.
---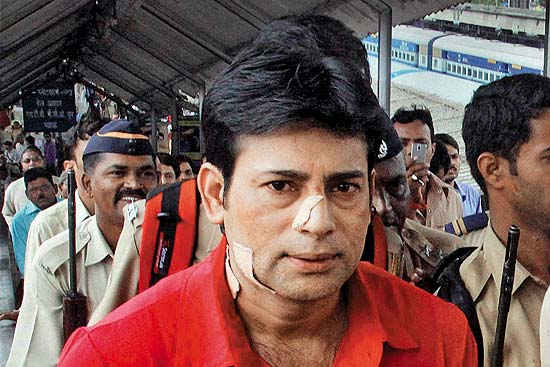 Maharashtra
Hitched To A Don
If the 26-year-old commerce graduate from Mumbra did marry incarcerated don Abu Salem (46) in a running train last year, as was reported in the media then, why is she threatening suicide if a special TADA court refuses to give her permission to marry the don? The twice-married Abu Salem, ever the gentleman, has offered to marry the woman, but it remains to be seen if her plaint against the police and the media for defamation gets addressed by the court.