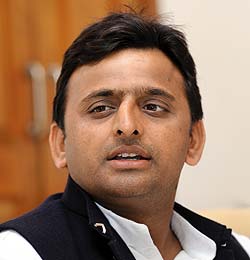 Uttar Pradesh
Muslims Not Allowed
The 'Gujarat virus' appears to have reac­hed Akhilesh Yadav's 'Uttam Pradesh' and his police does not know how to deal with it. When Prabha Devi in the Katghar area of Moradabad sold her house to a Muslim family because her Hindu neighbours were not willing to pay her the 'right price', neither she nor the buyer bargained for the opposit­ion from local corporator Vidya Sha­ran Sharma. He locked the house and dec­lared that the Hindu locality would not allow a Muslim family to live in the neighbourhood. The police arrived and left after sealing the house. Stalemate continues.
---
Maharashtra
It's Not So Dark
For most democrats a 'dark chapter', the Emergency was hailed by Vinoba Bhave as an anushasan parva (loosely, a 'festival of discipline'). So while BJP 'margdarshak' L.K. Advani caused a minor storm by decl­aring he was not confident an Emergency could not be imposed again, Shiv Sena mouthpiece Saamna innocen­tly asked why he was so perturbed, especia­lly when the BJP regime is being openly critic­ised by even people from within? It went on to cite Kirti Azad and M.M. Jos­hi's barbs as a rob­ust sign of a vibrant democracy.
---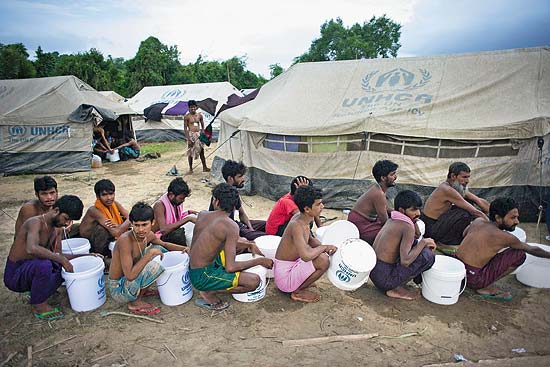 Tamil Nadu
To The Rescue?
While India mulls the fate of an estimated 40,000 Rohingya Muslims driven out of Myanmar, an added complication appears to be the pli­ght of Tamils who were also driven out in the wake of rioting by the Buddhists. While many Tamils are said to have taken shelter in Thailand and Singapore, MDMK leader Vaiko wants the Narendra Modi-Ajit Doval duo to rescue them from refugee camps in Malaysia.
---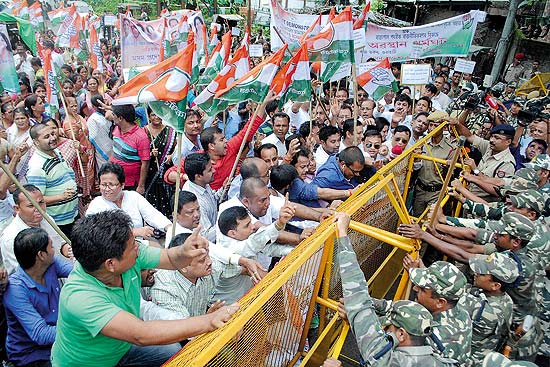 Assam
The Guv Ain't Right
The public spat between governor Padma­na­bha Balakrishna Acharya and the Congress is spilling over to the street with the ruling party holding demonstrations and seeking the President's intervention to restrain him. The governor is accused of making too many political statements ("Congress has looted the country far more than the Mughals or the British"), interfering with the administration and misusing his position as chancellor to appoint RSS activists to the Dibrugarh University 'court'. An ITI passout and ONGC employee has been nominated as an 'educationist' because he is a VHP general secretary, the party claims. A vice-president of the RSS women's wing, an RSS vice- president in the state, president of the 'Vanvasi Kalyan Kendra' in Assam and the BJP coordinator for the N-E are among those nominated by the governor.
---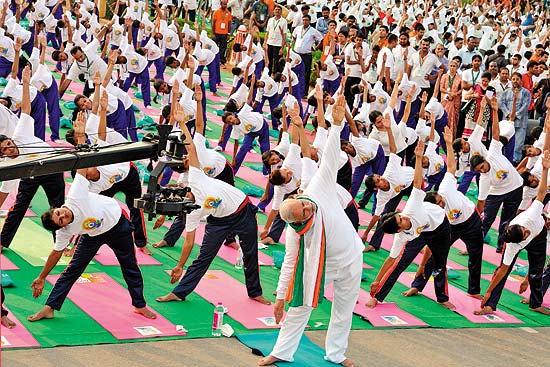 New Delhi
Hold That Pose
It took 35,985 people from 84 countries to set up the Guinness record (which incidentally didn't come free). But the first World Yoga Day also brought a rain of theories on its benefits. Variously, we were told that yoga combats greed, violence, diseases (Narendra Modi); reduces cost of healthcare, maintains ecological balance, enhances team work (PMO); bri­ngs rain (Kiran Bedi). In between, yoga also showed it can shut you up (Manohar Parikkar) or put you to sleep (Suresh Pra­bhu). Meanwhile, as the Guinness folk packed up, experts warned against 'mass yoga'. They questioned the PM's attempt at 'shalabhasana', executed with some difficulty, at his age and felt that each individual must choose the asanas that suit them. Many Indians took the advice to heart and did 'shavasana' (lying like a corpse) on their bed but Russian prez Vladimir Putin stuck it in: "Does Modi really do yoga?" he asked incredulously.
---
Goa
'Feku' Ministers
While Maharashtra education minister Vinod Tawde brazens the storm over his 'fake' engineering degree (acquired from unrecognised Dyaneswar Vidyapeeth), Goa's PWD minister Sudin Dhavalikar, like Delhi's ex-law minister Jitendra Tomar used to do, ins­ists his BSc degree from a Margao college is genuine. The AAP is up in arms, producing documents to show the minister having failed to clear BSc from Bombay Univ­ersity in 1979. Records secured from Parvatibai Chowgule college for 1978, 1979 and 1980 doesn't show up his name at all.
---
Kerala
Fridge For Thought
As part of its campaign to make the district 'hunger-free', the municipality of India's first Muslim-majority district Malappuram has come up with the unusual scheme of placing two refrigerators and microwave ovens at a public hospital. The appeal to people to leave fresh food or even leftovers from family functions has been encouraging. And the fact that the refrigerators empty up fast enough shows that there are takers grateful for a decent meal.