Maharashtra
Oranges Aren't The Only Fruit
Once known for its oranges and the RSS HQ, Nagpur is set to give fierce competition to Pune and Mumbai as an industrial and educational hub. BJP insiders claim the ground is being laid for a possible bif­urcation of Maharashtra. But while that is still in the realms of speculation, what is not is the government's clearance for a new IIM, AIIMS, NIPER, a Law University, a Security University, a Skills University and four textile hubs for Nagpur, all in the past six months. It helps too that Union minister Nitin Gadkari is from Nagpur.
---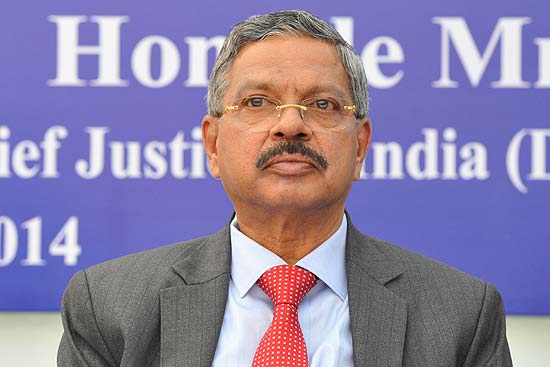 Delhi
Scale The Scales
Was CJI H.L. Dattu right in refusing to be a part of the judicial appointments commission till the SC disposed of petitions challenging it? Well, some legal eagles believe it was the principled thing to do, others object to the CJI defying what is the law of the land. Unless the apex court declares the entire Act as unconstitutional, the CJI ought to have taken part, they argue. But is the confrontation real or is the government and judiciary just playing footsie?
---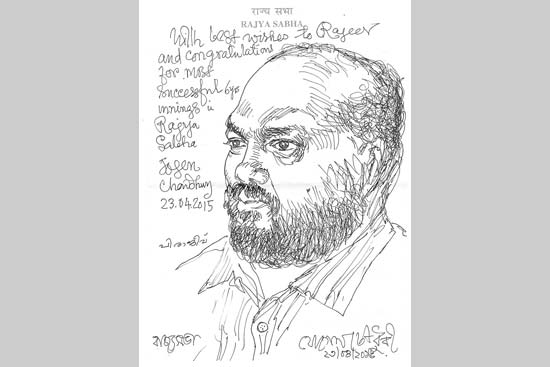 Kerala
He Will Be Missed
At a time when politics looks like, in Big B's memorable words, a "cesspool", the sight of a journalist being hailed across the board in the Rajya Sabha is news indeed. But that's the happy position P. Rajeev, ex-editor of the CPI(M)'s Kerala mouthpiece Deshabhimani, found himself in as he hung up his mundu as MP. Vice-president Hamid Ansari said it plainly—he would be missed in the House of Elders. Ghulam Nabi Azad said he was always buying Rajeev new iPads in exch­ange for his own (it had all the data). Mayawati acknowledged his homework. Arun Jaitley appealed to the Marxists to bring him back to the house, artist and TMC member Jogen Choudhury, meanwhile, drew his portrait (above). Heady stuff for the young Communist who will now serve as a district secretary.
---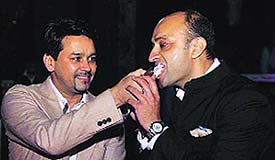 West Bengal
Not Quite Cricket
If it's the BCCI, then a scandal is just round the corner. So it eme­rges that the board had hired a UK-based age­ncy to snoop on its own members and paid it Rs 14 cr. Then the ipl's top team, Chennai Super Kings, is valued at Rs 5 lakh for a change of hands. BJP leader and BCCI official Anu­rag Thakur is caught talking to a bookie (above). Then Deutsche Bank chief Anshu Jain comes under ED scanner for divesting MI stake. It goes on....
---
Delhi
Ram's Wrath
Ram Jethmalani, the acclaimed criminal lawyer, who had famo­usly posed 10 questions daily to Rajiv Gandhi in the Indian Express during the Bofors saga, took out a half-page ad in the same paper to voice his disappointm­ent at the Modi sarkar's pussyfooting moves to bring back black money stashed abroad and ended by posing 12 questions to FM Arun Jaitley. This apparently, after The Sunday Guardian, whose chairman he is, refused to run the said column!
---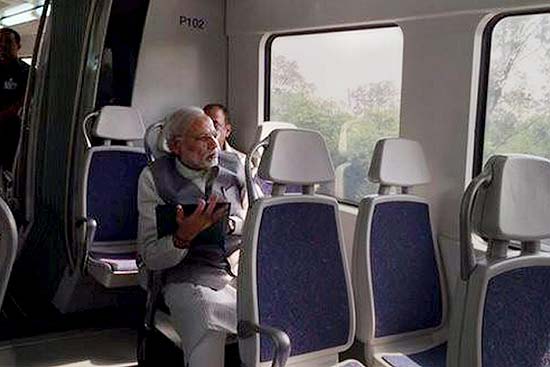 Delhi
Taken On A Ride
When Narendra Modi addressed an election meeting in Dwarka earlier this year, he took a helicopter. This time he chose to ride the Delhi Metro to address a meeting of 'intelligence' officers. Barring the official photographer and securitymen, no passenger was visible in pictures released by PMO and dutifully retweeted by ministers. As the PM and NSA Ajit Doval occupied aisle seats and chatted, PMO and the PIB claimed nobody, not even Metro officials, knew of the PM's plan. The PM himself later tweeted that 'Sreedharan Ji' had been pleading with him to take a Metro ride. Finally he took one and enjoyed it.
---
Karnataka
One By Three
Is Bangalore becoming unmanageable? At one-and-a-half times the size of Chennai, its population density (11,850 people per sq km) is higher than Delhi's 7,880. The urban sprawl, spread over 712 sq km, just about half the size of Delhi, is becoming ungovernable, argues the state government. It needs not one but three municipal bodies, it says. But the decision has run into fierce political opposition, with the BJP accusing the Congress governm­ent of being guided by political motives.