Bihar
Stroke For Stroke
The PM's routine gesture of presenting a Madhubani painting to the mayor of Han­n­over has created much heartburn in poll-bound Bihar. The traditional paintings done by village women using natural colours were first recognised and promoted by art connoisseur Pupul Jayakar, a close confidante of Indira Gandhi, the painters even feted at Festivals of India abroad. But it is Modi who appears to have scored brownie points with it. "BJP leaders will now mention it in every rally and say how the PM is committed to promoting Bihari culture," cried a downcast JD(U) leader.
---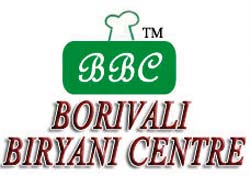 Maharashtra
BBC vs BBC
How much can a biriyani joint possibly earn? Lots, it would seem, if the Borivali Biryani Centre's (BBC) claims are true. The BBC says its profit last year was a cool Rs 1 crore and complained that a baking outlet in the five-star Mar­r­i­ott hotel in Juhu had caused it a loss of Rs 54 lakh by its trade­m­ark infringement (it's also called BBC—Bombay Baking Comp­any). The case drags on in the Bom­bay HC with the hotel holding on to its ovens, refusing to change its outlet's name.
---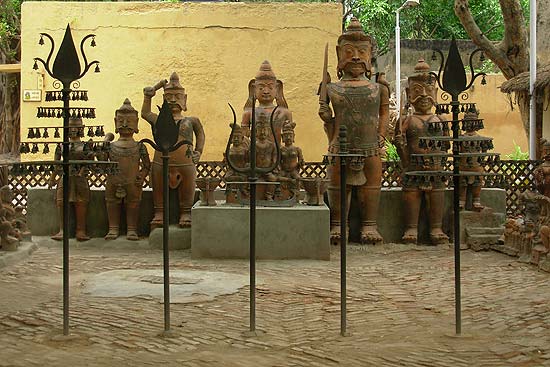 Delhi
Not So Handy
The Charles Correa-designed Crafts Museum survived for 57 years in the capital and is home to over 35,000 exhibits showcasing cent­uries of cra­ftsmanship but the Modi sarkar doesn't seem impressed. Rep­orts sug­gest the five-acre premises is being taken over for a 'hastkala academy' (handicrafts academy). Like most projects in Delhi these days, it's all hush-hush with the textile ministry unable to divulge anything more.
---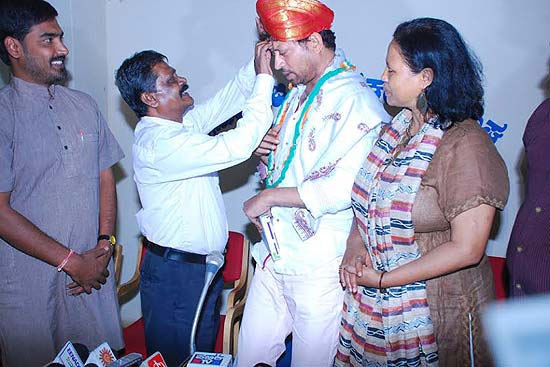 Karnataka
Lone Star
It's not a sustainable thing, driving people into migrating from the villages to the cities. Instead, villages need to be made smarter so that people can follow 'sustainable livelihoods'. This simple message of 'gram swaraj', promoted by theatre activist Prasanna in the state's villages, received a huge boost when Bollywood star Irrfan Khan (who took time out from his busy schedule—he will be shooting later this month in Hollywood along with Tom Hanks et al for the Dan Brown movie sequel, Inferno) landed up at Mysore to pledge his support. Describing Prasanna as his 'guru', Irrfan and his wife also opted to stay overnight in the village Badanavalu in solidarity with the satyagraha.
---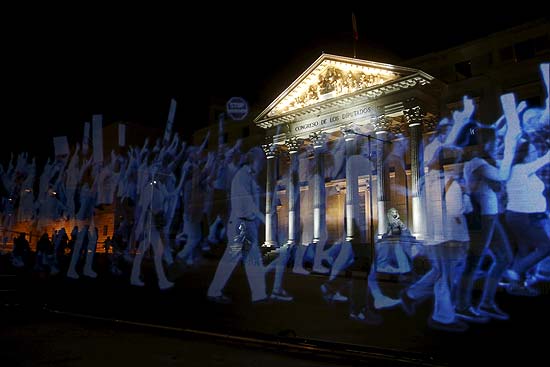 Photograph by Reuters, From Outlook 27 April 2015
Spain
Virtual Strikes
Narendra Modi addressed election meetings where he was there and not quite there. In fact, some even say his 700 virtual rallies where he was a mere hologram presence went a long way in getting the "Modi message across to the nation". Now, in what is touted as the world's first virtual protest, outraged Spaniards became moving images in front of the Cortes Generales parliamentary building in Madrid. Some 18,000 sent in videos of themselves protesting the highly controversial 'citizen security' law. These were later fused to make the holog­ram. The new law which comes into effect in July will allow individuals to be fined thousands of euros for 'unauthorised protests'. A website created to organise the protests, 'Hol­ograms por La Libertad' (Holo­gr­ams for Free­dom) says it's been a massive succ­ess. So is this the future of protest?
---
France
Non, Prime Minister
What if France's premier daily newspaper Le Monde refused to carry a pre-scripted interview with PM Narendra Modi? Rival Le Figaro was always there to pick it up. The face-saving deal was negotiated by the PMO (it helped that Socpresse, which owns the latter, is a subsidiary of Dassault, manufacturer of the Rafale jets). While Le Monde tweeted that it ref­used to carry written replies, it is not clear if Le Figaro was allowed an audience.
---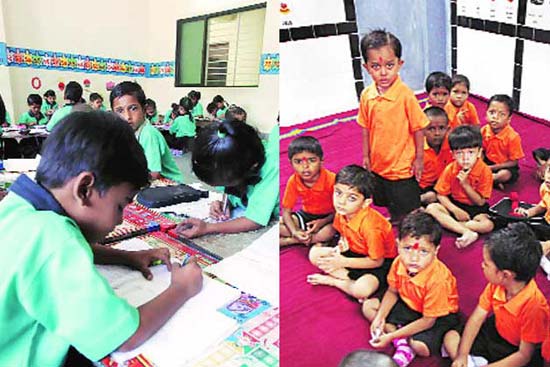 Gujarat
Uniform Colours
When the predominantly Hindu stude­nts of the first English medium school launched by the Ahmedabad Municipal Corporation in Shahpur in 2013 were prescribed saffron colour shirts, it was because saffron was deemed to be nice. Now the predominantly Muslim stude­nts in the second English medium school in Dani Limda area have been prescribed green shirts! No religious segregation, just random choice, says AMC.