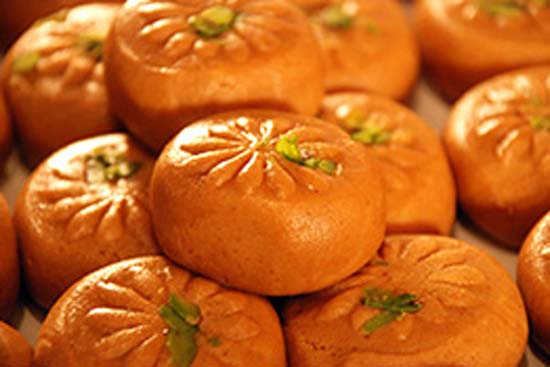 Uttar Pradesh
Online Pedas
The management of the Kashi Vishwanath temple in Prime Minister Modi's constituency Varanasi has alleged that an organisation run by sometime actor Dino Morea was "cheating" people by running a website 'ibhakti' to take online orders for prasad, sold at Rs 550 per pack. The company has already delivered the 'lal peda' against some 200 orders. Morea pleads innocent, says he's just doing a service.
---
Maharashtra
The Steakout
News of Malegaon cops seeking mugshots of cows and buffaloes has drawn international attention. While the police is motivated in showing its zeal in enforcing the recent ban on slaughter of buffaloes and bulls, an amused British media wondered how the police would match a beef steak with photos of cows; and how the cops would find the DNA of the buffalo and the beef. A section of the Hindu populace is livid though at our honourable cops being ridiculed by these old beef-eaters.
---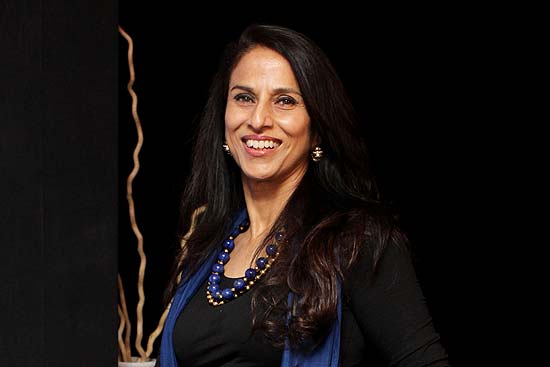 Maharashtra
Nako! Nako!
Tweeting is hazardous business, as Shashi 'cattle class' Tharoor and Rob­ert 'mango people' Vadra discovered. Now it's aut­hor and socialite Sho­bha De's turn to grovel. State MLAs took off­e­nce to her tweets on the fiat that multiple­xes scr­een Marathi films at prime time. "No Pop Corns, only Vada Pav to go with Marathi films ?" she tweeted, adding, "Deven­dra 'Dikt­atw­ala' Fadnavis! From beef to movies Nako! Nako!" De is already backing away, hurriedly averring that she "loves Marathi films".
---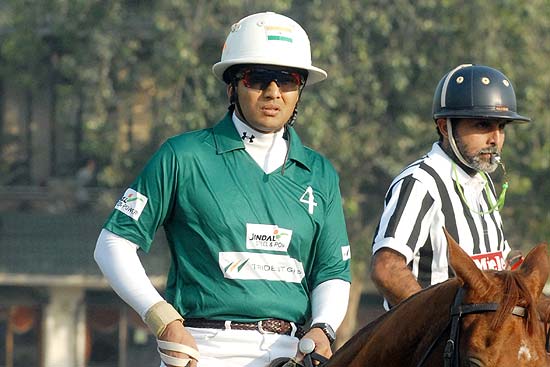 Photograph by Tribhuvan Tiwari
Haryana
The Stinger
The slugfest between the two 'hunks from Hissar', media baron Subhash 'Zee' Chandra and biz baron Naveen 'Steel' Jindal, shows no sign of ending des­pite four defamation/civil suits since 2012 when Jin­dal in a 'reverse sting' had recorded two Zee executives demanding Rs 100 crore for going slow on an expose related to the coal block allocation scam. In January, Zee devoted 20 hours in just a week to rep­ort on criminal complaints made by a lady in Chhatti­sgarh (first in 2001 and then in '10) against Jindal's executives for allegedly outraging her modesty. Last heard, Jindal had got a temporary injunction against the telecast from the courts.
---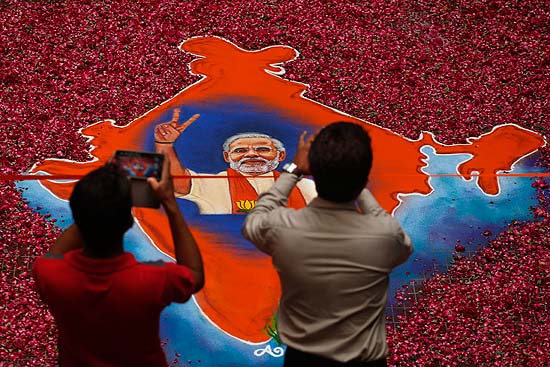 Photograph by AFP, From Outlook 20 April 2015
Gujarat
Modi Travels
Some as they say are born great, some attain greatness while greatness is thrust on a privileged few. Not content with hagiographies, comic strips and video films on Prime Minister Narendra Modi, Gujarat Tourism has now launched what it calls 'Modi Tourism'. This follows the 'Modi Kurta' and the 'Modi Temple'. Sign up for the Modi circuit and you will get the grand tour—tourists get to see his birthplace, the primary school he went to and even the lake he spent his leisure at (where purportedly he also caught baby crocodiles and then released them). Tourists will also get a chance to speak to the PM's "batchmates". Even Barack, the PM's friend from the US of A, does not yet have a Obama tourist circuit yet. Chalk one up for the Modi juggernaut. Did anyone say hallelujah?
---
West Bengal
Shifting Gears
A six-door limo costing Rs 5 crore, a Rolls Royce worth Rs 3.5 crore. Then there are the Audis, BMWs and Mercedes cars, all seized by the Enforcement Directorate from Gautam Kundu, arrested belatedly for raising undisclosed amounts from people in 11 states to run his Rose Valley Group, which advertised lavishly in the media and produced a number of films among other ventures. But the news isn't that—here, the ED is finding it difficult to get space to park the super luxury automobiles.
---
Orissa
Who Did You See?
A KIIT Law School student in Bhubanes­war wants to know the names of all the people PM Modi has given appointme­nts to since he took over the top job. A far from amused PMO declined to part with the info, pointing out that disclos­ure could "threaten the integrity, sovereignty" of the country. The resour­ceful student has now fished out a CIC order through which the then PMO was orde­red to part with similar info in 2013. But that might not help here, since there's no CIC to take up the matter anyway.