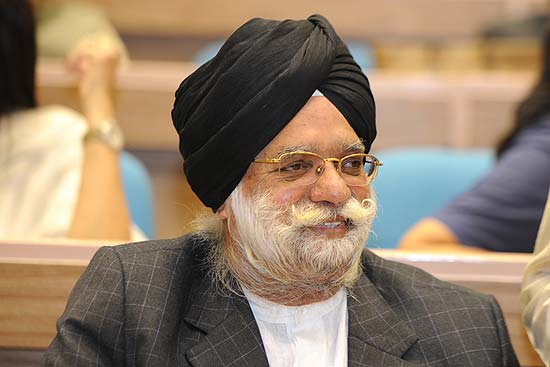 Haryana
Legal Fees?
The earlier B.S. Hooda government had paid special counsel K.T.S. Tulsi Rs 5.5 crore as fees to come up with a foolproof prosecution case in the Maruti Suzuki Manesar plant case where industrial unrest had led to arson and death of a manager (over 200 wor­kers were jailed with no bail in '12). But it seems it was to no avail as a trial court released a majority of the workers citing lack of evidence. Now the new BJP regime is asking questions on the money spent on Tulsi, a Cong Rajya Sabha MP.
---
Maharashtra
We Have Beef
After seeing deer and kangaroo meat being served in a five-star hotel, actor Rishi Kapoor tweeted his disgust at people back home equating food with religion. He himself was a "beef-eating Hindu", he said, which of course set off the trolls and their viral abuse. But Kapoor wouldn't back down, adding fuel to the fire by adm­i­tting that he liked his pork chops too. Later, irritated over the unending abuse, he disclosed that he was more devout than most and did his puja twice a day too.
---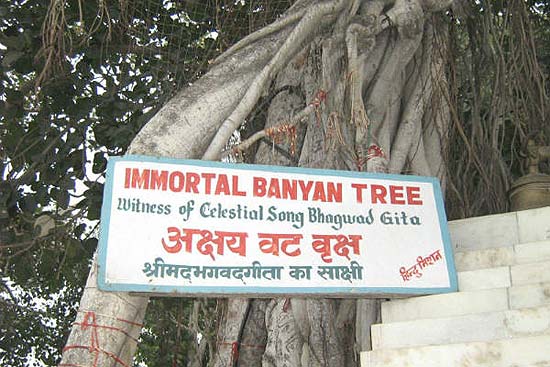 Haryana
Biggest Banyan
The 'Bania' trading class connection may be a sore point, but there's no denying the banyan tree's place in Indian lives. The oldest banyan in the country is said to be 800 years old but the government's 'heri­t­age' status is going to one in Kur­uks­hetra (Haryana), below which Lord Krishna is said to have delivered the Gita sermons. Apparently, it's all part of the Centre's commitment to pro­mote the 'Krishna circuit' tourism.
---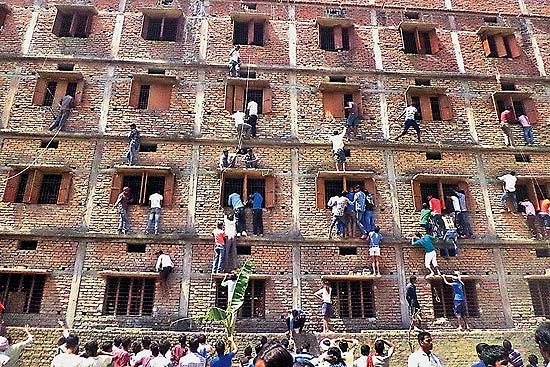 Bihar
Love In A Chit
Till this photograph drew international attention, the connection between cheating and chivalry in the cow belt was tenuous at best. But it seems the 'Spidermen' who scaled the walls of this rural school, at great risk to life and limb, were motivated by a desire to help the female examinees, some of whom they were still wooing while some they were 'eng­aged' to. While the boys ensured that the damsels in distress received the books/pages they needed to copy, politicians debated the virtues of an 'open examination system' even as the education minister rued the futility of cracking down on the use of unfair means. A far from amused state, however, was busy imposing fines, suspending teachers etc.
---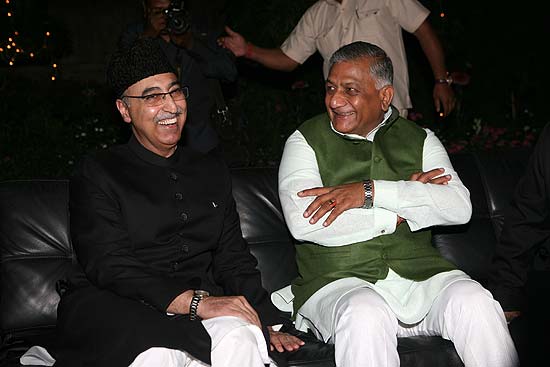 Delhi
It's Unofficial
A green jacket that the MoS for external affairs wore for the Pakistan Day funct­ion (held to commemorate the 1940 resolution that called for creating the sep­a­r­ate country of Pakistan) could well have been a goodwill gesture. But not an insignificant number seemed to see it as a red rag with a TV channel stopping just short of calling the ex-army chief General (retired) V.K. Singh a traitor. His tweets later in the evening were to the effect that it was "duty" that forced him to go to the do and that he felt "disgust" at having done so. But photogra­phs in social media showed the retired General having a good time with the Pak ambassador. Which again did not go down too well, with the Twitte­rati wondering whether the tweets were 'official' or 'unofficial', much like the man's famed date of birth. Now all we need is a PMO explanation on why it chose to send him and not, say, Smriti Irani.
---
Punjab
Bloodline Traits
Bhagat Singh was barely 24 when he was hanged in 1931. As the country recalled the legacy of the young 'communist' and observed yet another anniversary of his martyrdom, Valentino Bagat­singh from the Philippines was busy finding out if his ancestors were related to the great man. His family had mig­rated from Banga, close to Bhagat Singh's Naw­ashahr, and are now an influential political family there. The new generation is now searching for their roots and proof of blood or honour that will bind the family tree.
---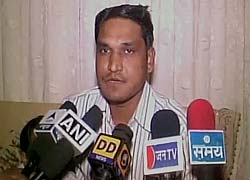 Rajasthan
He Too Serves
BJP legislator Heera Lal Verma is a postgraduate in three subjects, a gold medallist and a former deputy director in a state government department. One of his sons is a graduate, a daughter is pursuing BEd but since his second son was weak in studies and failed to pass Class VIII, Verma believes Hansraj (in pix) may make a good peon. So in true Sangh style, he's made him apply for the government post.