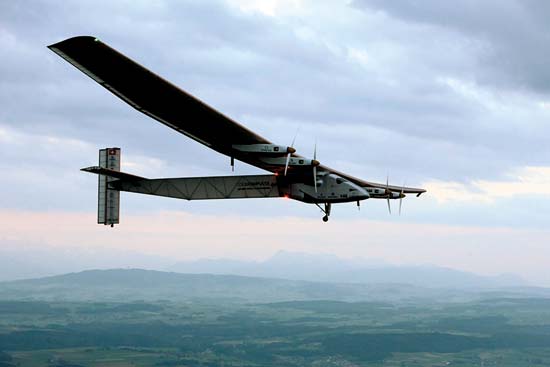 Gujarat
Going Up, Going Down
By today's standards the aircraft is slow, flying at just about 100 km an hour, but then it's solar-powered. But while Solar Impulse 2, on its epic maiden flight, flew in to Ahme­d­a­bad and offered to take aerial pictures of the Ganges at Varanasi to humour PM Narendra Modi, his babus seemed to have let him down. The paperwork delaying their departure to Myanmar prompted pilot Bertrand Piccard to quip, "Every day we ask for 'stamps', we are told, 'tomorrow'."
---
Delhi
Map Of The Mind
RSS weekly Organiser is not the first publication to have unwittingly used a map from the internet which shows Jammu & Kashmir as part of Pakistan. Still, the embarrassment can't just be glossed over by statements in Parlia­ment that "this is not the view of the RSS or the BJP". For the 'offence' actually is deemed to be seditious and punishable. One can only hope the present BJP dispensation will be as charitable when others make a similar mistake.
---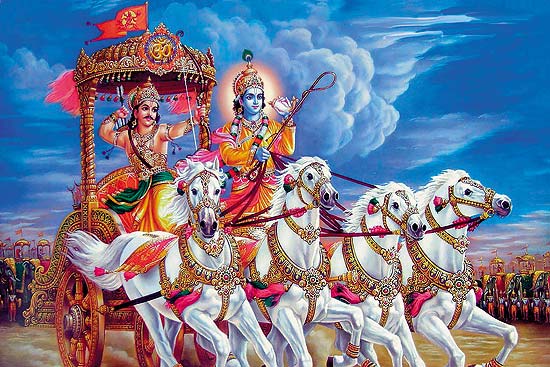 Haryana
Godly Profits
Bhagavad Gita publishers are hoping to make a killing following CM M.L. Khattar's decision to make it comp­ulsory reading in all government schools right from Class I. The state has even identif­ied the shlokas (two in Class I and five in higher classes) that students will learn by heart. That the kids will be doing this even before they learn the alphabet though puts a question mark on the whole exercise.
---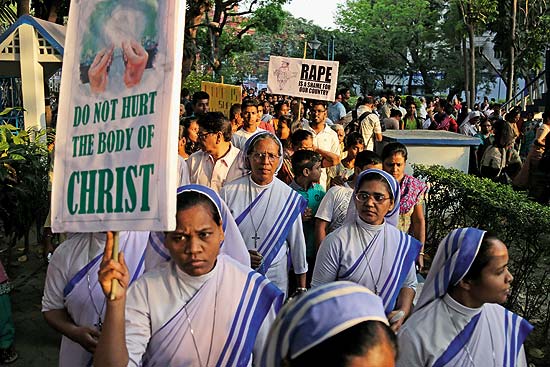 West Bengal
Church vs State
The poignant admission by former Mumbai top cop Julio Ribeiro that he suddenly feels like a stranger in his own country found an echo among several prominent members of the small Christian commun­ity after the shocking 'rape for revenge' of a septuagenarian nun at Ranaghat, two hours from Calcutta. And it wasn't just in Bengal, the demolition of an under-construction church in Haryana (where vandals installed a statue of Hanuman), and BJP leader Subramanian Swamy declaring in Assam that a mosque and a church are mere buildings unlike temples which are abodes of god, it almost seems the Hindutvawadis seem to be ganging up en masse.
---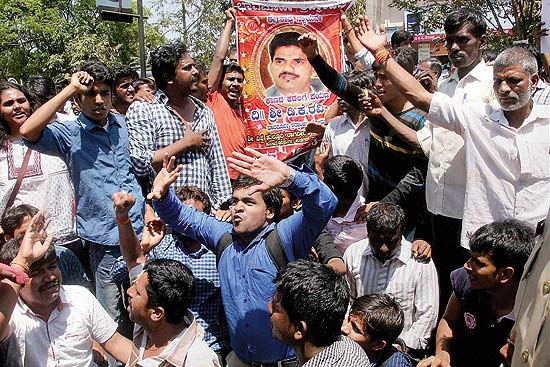 Karnataka
An Officer And A Government
An upright IAS officer in Bangalore leaves his office after just 20 minutes of work on a Monday morning, but nobody apparently found it unusual. As on other Mondays, D.K. Ravi, a 2009 batch officer, had driven in from his in-laws' house where he usually spent the weekend. When his wife opened the door of their flat in the evening, she found him hanging from the ceiling fan. The spontaneous outpouring of grief and anger by the public highlighted the officer's popularity (he'd taken on the land mafia at his earlier Kolar posting). The state government meanwhile lost much goodwill by insisting that he committed suicide for personal reasons and there was no reason to bring in the CBI, even as protest spread and his fam­ily threatened to commit suicide.
---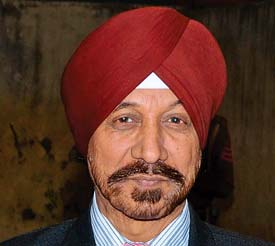 Delhi
Boot On The Other Foot
When the BBC produced a documentary on rape victims in Britain, it called it "I never said, yes". Why then did it have to call Leslee Udwin's work India's Daugh­ter, argues businessman Harvinder Singh who posted a YouTube video 'UK's daug­hters' with clips from the BBC docu itself to show up how Britain has the fifth highest number of rapes and that a third of Britons believed that the women were responsible for rape.
---
Tamil Nadu
The Write Stuff?
Abducted, assaulted, forced to flee home and slapped with a police case for spreading communal hatred, Tamil wri­ter Puliyur Murugesan's riposte to it all, "Should I write on cookery then?" went viral. His book, Balachandran Is Also My Name, depicts the life of a transgender forced to marry and who then kills his fat­her for getting into a relationship with his wife. Meanwhile, the men who assaulted him and vandalised buses got away with just a case against unknown persons registered by the cops.