Nobody's Child
Budget takeaways for whom?
Despite having over 280 mn illiterate people, primary, secondary education spends cut by 16%
Health and family welfare budget cut by 15% despite high level of disease burden, malnutrition
Rise in service tax from 12% to 14% will make healthcare and education more expensive
Over 97% cut in central funds for Panchayati Raj, municipalities
14% cut in farm sector funds baffling, considering promises of raising farm income
Allocation of funds to Swachh Bharat Abhiyan almost halved
***
Where's A Desi Rocket
No big-bang reforms, Mr Jaitley? Here are five for starters
Subsidies Account for Rs 2,50,000 cr (food, fertiliser and petroleum) in 2014-15, a roadmap to reduce some subsidies is needed
Smaller Government Bimal Jalan panel's recommendations on expenditure management are ignored
Taxing Agriculture Surely Jaitley could have belled the jumbo in the tax chamber and taxed rich farmers
Labour Reforms Ensure that workers get their legitimate rights, including providing a social security network
Banking Reforms Bringing down govt holding (to 51%) in public sector banks, reduction of NPAs and creating a holding body for banks
***
"Has Modiji forgotten us?" That was the disappointed refrain heard at Kharad village in Muzzafarnagar district of Uttar Pradesh, when finance minister Arun Jaitley finished presenting his first full Budget in Parliament on February 28. Scores of sugarcane farmers gathered at the village chaupal had been pinning their hopes on Prime Minister Narendra Modi's promise at a rally in nearby Baghpat, that he would help them get their long-pending dues from the sugar mills and avail cheap farm credit. They got nothing. Not even assurances.
Already agitated with the proposed amendment in the Land Acquisition Bill, hundreds of farmers from several states including UP, Punjab, Haryana, Karnataka, Tamil Nadu, Maharashtra, Rajasthan and Uttarakhand are planning a major sit-in strike in the capital from March 18 to seek a better deal for the "forgotten" farm and rural sector. "We were hoping a lot more for the poorer sections of society. I am disappointed that except for the pen­sion plans, there is nothing provided for the millions of rural poor—rural empowerment is one huge area of neglect in the budget," says Gandhian activist and Ekta Parishad founder P.V. Rajagopal.
The NDA government's first full budget, as is gen­erally the practice, is more of a political sta­te­ment of intent. It hinges more on public sector push in roads, high speed rails and ports development alongside mega power plants to move to a higher trajectory of growth. Critics say the budget remains a top-down model, banking on the tric­kle-down effect of high growth. "It's the worst budget farmers have experienced in the last several years," says Prof Sudhir Panwar, member, UP Planning Commission, and president, Kisan Jag­riti Manch. Worse, outlays have been reduced on all social sector spending (see graphic).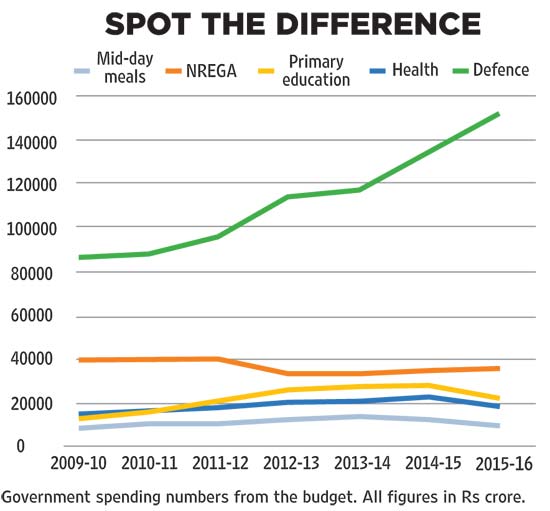 Development experts are upset because they view this in the light of the incentives provided in Finance Bill 2015 to the corporate sector (lowering of corporate tax from 30 to 25 per cent over the next four years). The government's plan to woo private sector and foreign investment through rationalisation of taxes in tandem with levels in the ASEAN region and withdrawing discretionary incenti­ves to industry has cut no ice with critics. "Nobody was demanding a dec­re­ase of corporate tax. The revenue foreg­one due to lowering of corporate tax could have been used to support the country's six lakh MSME units," says Jose Jacob, dir­ector of the Thiruvananth­apuram-based Gulati Institute of Finance and Taxation.
The corporate-friendly budget, toget­her with the Modi government taking on board the 14th Finance Comm­i­ssion recommendation to axe several centrally sponsored sch­emes while increasing the share of states in central tax revenue by 10 per cent to 42 per cent has met with mixed reactions. The grant of greater autonomy to states on how they utilise their enhanced allocation has been a long pending demand, which Modi had promised to deliver as a push towards greater cooperative federalism. Jaitley's plans to fully or partially cut the funding for many centrally fun­ded sch­emes has raised concerns both among experts and states.
Prof S. Mahendra Dev, director (vice-chancellor), IGIDR, says because of the devolution, res­ources to states have risen but whether they will utilise the resources for social development or not remains to be seen. "Earlier, utilisation of central scheme funds came with some directions and the states had to contribute 25 per cent of the funds but now they may want to spend that on something else. If they spend the resources on populist measures then the resources will go waste. That risk remains," says Dev.

India Inc on Feb 28. (Tribhuvan Tiwari)
Echoes development expert N.C. Sax­ena, "Unless centrally sponsored sch­e­mes are wound up, state fiscal freedom is a mirage...who knows, the rogue states may use those funds for more airports in ministers' constituencies, or to send mlas to Switzerland, or appoint a large number of Class IV staff on patronage basis." These fears aren't without basis. A case in point: ex-Uttar Pradesh CM May­a­wati's penchant for spending lavis­hly on creating grand parks with eleph­ants (her party symbol) sharing space with Dalit icons, even as the state's qua­lity of education and healthcare became a casualty. In fact, her tenure witnessed the unraveling of one of the biggest diversions of public health funds ever. Similar examples abo­und in many states.
Economist Rajiv Kumar of the Centre for Policy Research raises a contrarian thought. While "social sector autonomy is a good thing"...there has to be some direction to it based on consensus. What the government can do, and this is where NITI Aayog can come in with innovative ideas, is to get states to agree that a certain percentage of the funds would be earmarked for particular sectors. "So you can actually firewall or ring-fence them so that the states don't use the funds for general purposes and burn it all away. This is where the Finance Commission could have come in with some conditionality-linked incentives," says Kumar.
Economist Narendar Pani of the Bang­alore-based National Institute of Adva­nce Studies too shares concerns about the abrupt manner in which the Centre is cutting funding for many important social sector schemes. "States should be given more time and financial resources to take on the responsibility that the Centre is abandoning. The transition of more resources to the states is a good thing but if done overnight without adequ­ate support, the cost will be very high," warns Pani.

Farmers rally against new Land Acquisition Bill, Palwal, Haryana, Feb 20
Currently, the situation is not in favour of the states, opine exp­erts. In absolute numbers, the increase in devolution of res­ources is around Rs 1.36 lakh crore. At the same time, as the funds allocated through centr­ally sponsored schemes, grants and loans has gone down from Rs 3,38,000 crore to Rs 2,05,000 crore, a net reduction of roughly Rs 1,34,000 crore, the net additio­nal resources transferred to sta­tes is just around one per cent.
Kerala rural development minister K.C. Joseph is unhappy with the cut in rural development and social sector sch­emes, pointing out that they are areas of major focus in the state. "Kerala spends a lot on welfare schemes and so we exp­e­cted the Centre to listen to our requests but that has not been the case. Under NREGA in 2013-14, we had spent Rs 1,800 crore on employment because the guidelines were very liberal. But under the BJP government, there are many restrictions which will result in over 40 per cent drop in employment," warns Joseph.
There are expectations that once the goods and services tax (GST) comes into operation from April 1, 2016, there will be greater revenue flow to the states which would help bridge some of the resource gap due to the cut in central schemes.
A major bone of contention is reduction in weightage to population in calculation of resource distribution among sta­tes (impacting den­sely populated states like UP, Bihar). "With the Finance Com­mi­ssion giving less weight­age to population and more to forest cover, UP's share out of the enhanced divisible pool for states stood reduced from 19.6 per cent to 17.9 per cent," points out UP principal finance secretary Rahul Bhatnagar. He stresses that though an additional sum of Rs 7,580 crore out of the states' divisible pool should have flowed into the UP kitty, due to the Centre cutting contribution on centrally sponsored schemes it'll actu­ally raise the state's burden by Rs 8,480 crore.
What has made matters worse for the Akhilesh Yadav government is the Modi regime's decision to delink some Rs 5,500 crore worth schemes like Backward Reg­ions Grant Funds and National E-gov­­er­nance, which the state is in no position to discontinue. The decision to discontinue central contributions towards construction of roads, bridges, canals and primary schools is expected to further raise UP's burden by Rs 3,269 crore. "In a nutshell, the recommendations of the Finance Commission would make Uttar Pradesh poorer by Rs 8,922 crore," says Bhatnagar.
Owing to increased pressure on resour­ces, diversion of funds would not happen as quite a bit of money would be required for reallocation towards sche­mes which the Centre has decided to discontinue or delink from. This could have manifold repercussions. Sociologist Nandini Sard­e­sai stresses that all social sectors—parti­cularly education—conti­nue to be treated like a stepchild. "When you allocate more spending for higher education, it shows who you are catering to. When you look at rural areas, people walk long distances just to access prim­ary/secondary school education. Drop­out rates are high yet priorities are skewed," she says.
Rajagopal is blunt when he says policy­m­akers are disconnected with ground rea­lities. As example, he points to MP villages like Mandela and Bindori, where even now opening a bank acc­ount is a difficult thing, despite the much publici­sed Jan Dhan Yojna. Worry­ingly, whether it is the backlog of wages that will eat into the NREGA kitty of states, or the higher service tax that will hit edu­cation, health and even tourism, the states will just have to do their best. If they fail to deliver, India will have to pay a heavy price even as Modi pursues his corporate-focussed India Shining dream.
---
By Lola Nayar with Sharat Pradhan in Lucknow, Minu Ittyipe in Kochi, Prachi Pinglay-Plumber in Mumbai