This weekend he is set to swagger on to the big screen in a never-before-sported moustache, khaki uniform and kitschy glares, swinging his hips, wooing his woman, bashing up the goons and saying with a touch of desi James Bond: "Hum yahan ke Robinhood hain, Robinhood Pandey". Catcalls and wolf-whistles are expected by the millions to greet the crazy cop Chulbul Pandey and Bollywood, in turn, is hoping to celebrate its best Id ever, all thanks to the man who puts on the role, the enigmatic bad boy, Salman Khan.
Advertisement opens in new window
The anticipation for Dabangg has been unprecedented. Of course, there's the media overkill which accompanies every other film these days. However, beyond the usual sound and fury has been the tangible delirium of the Salman "Bhai" fans when the first trailer unspooled in theatres. The catchy item number Munni badnaam hui has been blaring from every other auto and taxi and the cheesy dialogues from the film have been by-hearted by the masses weeks before its release. "Exhibitors are extremely hot on the film," confirms Delhi-based distributor Sanjay Mehta, so much so that the question is not whether it will be a hit but how big a hit.
No wonder Karan Johar had to advance the release of his production We Are Family by a week fearing Salman's Chulbul would wipe off the combined might of Kajol and Kareena Kapoor at the box office. Friend Aamir Khan was impressed enough at the premiere to say he'd watch Dabangg a second time. Meanwhile, Salman himself is his usual brazen self: "I've never seen a film's promos become such a big hit," he says, casually, promising that "the film will be even more fun". However, this time something bigger than "fun" is happening with a Salman film. Dabangg is exciting even those who are not necessarily his hardcore loyalists. Like veteran media man Pritish Nandy who recently wrote, "I am going to watch it first day first show."
Advertisement opens in new window
Like everything else about Salman, it's difficult to explain. The key to his persona lies in his unpredictability.

Forget 1988, when Salman Khan began his Bollywood journey with Biwi Ho To Aisi, such incredible universal adulation is not something he could garner even when he delivered the monster hit, Wanted, last year. Despite his unquestionable star appeal, box-office clout and exclusive membership of the Khan trinity, Salman has largely been sidelined as the B- and C-centre hero, the one loved by the masses but inconsequential for the classes. "He has been the dream of every adolescent from the marginalised quarters," says adman and columnist Santosh Desai. Some of his films, like Hum Dil De Chuke Sanam, have worked magic at the multiplexes but the touch of class continued to elude him. He was even dismissed as the icon of the "lumpen proletariat" and an "overgrown adolescent". He reminds Shohini Ghosh, professor at the AKJ Mass Communication Research Centre, Jamia Millia Islamia, of Dharmendra, always an "abiding star" but not quite as feted and acknowledged as others. But, unlike Dharmendra, much of it has been because Salman's bad off-screen reputation has preceded his performances and his misdemeanours have forced the 'thinking' men and women to be judgemental of him as a star as well.
Not that it has affected Salman in any significant way. "I've been in the industry for 22 years and am still misunderstood," he's once reported to have said, tongue-in-cheek. The star continues to be himself: sleeps 2 1/2 hours, cycles, works out and keeps it simple (he does not wear expensive branded clothes off screen lest his fans become self-indulgent) and thinks that of all the Khans in Bollywood, Kader Khan is the biggest and best.
Advertisement opens in new window
It's this sense of rootedness that enthuses Shohini. She confesses herself drawn more to his stardom than that of the other two Khans. "His appeal cuts across divides," she says. "He can speak to anybody. He's not disconnected," she says. "He is hamara banda, the nukkad king of India," says social anthropologist Shiv Visvanathan. The director of Dabangg, Abhinav Kashyap, confesses being deeply inspired by something as basic as Salman's one-handed push-ups in Maine Pyaar Kiya. "I was 16 then. He defined good looks and brought in the culture of body-building for us," he remembers.
What gives now? As Desai would put it, why are the "educated embracing the one they once reviled"? Why this sudden interest in the shirtless wonder of our times? Like everything else about Salman, it's difficult to explain. The key to his persona lies in this unpredictability, the fact that he is the ultimate bundle of contradictions. "His stardom is a collage of confusions," says Visvanathan. "He's ruthless yet affectionate, threatening yet nurturing." He's given mind-boggling blockbusters and interspersed them with series of even bigger flops. Every Wanted has been followed by Veer and Main aur Mrs Khanna. "He has experienced notoriety just as he has seen fame," says Shohini.
Advertisement opens in new window
Salman might drive rashly and kill a person on the pavement yet runs a charity for the destitute, Being Human. He can endear himself to women with his protective nature and put them off just as easily by being domineering. He may hunt for blackbucks but be deeply secular. He is known to charge a royal packet for various public appearances, but none of it goes into his own account; it funds his social work. "He's not the unbeatable hero like Aamir, nor is he the posterboy of corporates like SRK. The dark side of him represents the complexity of our times," says Shohini. "He's not crafted like SRK, nor intellectual like Aamir. He's primordial and flawed," says Visvanathan. And it's this aspect which has begun to fan interest. His series of appearances on TV shows and spontaneous interaction with the fans have also begun to endear. "He doesn't preen excessively, is unselfconscious, unaffected and honest," says Desai. "The media can't put words in his mouth," says Abhinav.
Advertisement opens in new window
On a different note, he's being called the last action hero which Salman himself is quick to deny. "I don't just do action, I entertain," he claims. He has worked in all kinds of films—action, drama, romance, comedy. "He's a complete package," says Mehta. So, rather than reinventing his persona, Dabangg reinforces that larger-than-life quality. His Chulbul has lots of shades to him—he is comic, great at action, romantic and has an emotional side too. Desai finds the visible self-parodying interesting. "It seems like an ironic, tongue-in-cheek, over-the-top depiction of Salman himself," he says. Abhinav himself claims to have rewritten the role eight times to incorporate Salman's persona, the way he walks and talks.
---
Bhai's ScreenSpeak
What's a Salman Khan film without those wacky one-liners guaranteed to bring the house down? The many ways the superstar has spoken in his 22 years on the screen.
Advertisement opens in new window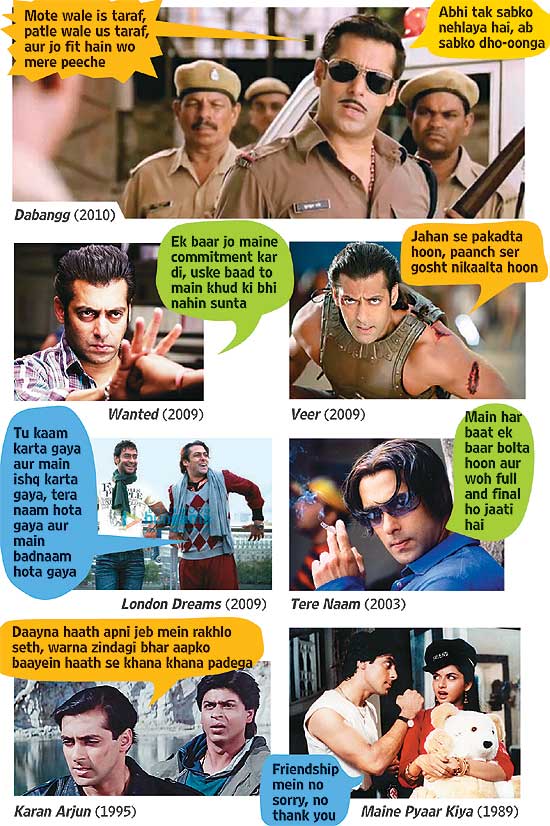 ---
Filmmaker-writer Paromita Vohra loves Chulbul's "old-fashioned, believable masculinity" as against the recent metrosexual heroes. As a film, it seems to winningly combine kitschy mass appeal with a touch of the urban cool.
Most of all, Chulbul comes to theatres at the right time. We are nearing the end of the year and haven't had a single film which has 'entertained' in the classic sense of the term. "There's been a virtual drought. And Dabangg has been pitched and timed very well," says Mehta. As another exhibitor puts it, "It has been a long spell of rozas. Time now to lay out the Id feast." With Salman Khan cooking it up, it's bound to be spicy.