There are two Kumbhs, one seen and the other unseen. The first is brought to you by the media, sponsored by the likes of Cox & Kings, and is a packaged deal. Epic, exotic, extraordinary. But in that phantasmagoria, one image comes across strongly, vividly. That of the Pilgrim. He's part of a million-strong crowd, but his mission is strongly individual, his faith entirely personal, a journey he takes alone, in the company of others. Photographer Prashant Panjiar and correspondent Sagarika Ghose set out for Kumbhnagar, Allahabad, on the eve of Makar Sankranti to become part of this Pilgrims' Progress.
***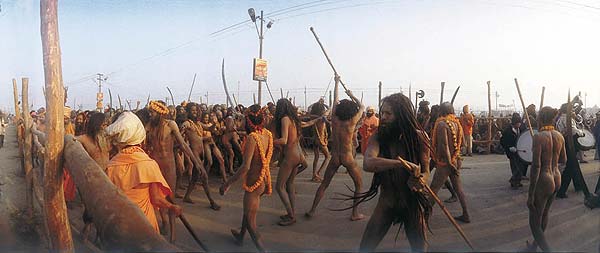 BEYOND the spectacular lies the ordinary. The Mahakumbh 2001 is an image rendered grander by roaring processions of naked Naga sadhus, strutting their penises and their dreadlocks, delirious babas staging performances and nirvana-hungry westerners lapping up all the exotica they could find in one place. The formidable lakhs that gather for the shahi snans, the horrifying tales of stampedes and deaths form but another part of the epic dimension of the event. But away from the media's gaze, unaffiliated to any ashram or akhara, simple but rustic and pious folk trudge the miles, make their way to the Sangam for the holy dip and map their individual route to salvation.

Filing past the frilly canopies of the mandaleswars and mahamandaleswars (akhara heads), and along the well-lined walkways, is a motley crowd of kisans, clerks, railway workers and petty traders, with small potlis of sattu, a tin trunk on their heads, a betel leaf and batasha in their hands. Across the barricades from the strident Nagas, small groups of housewives huddle in silent community, preparing the evening meal. And as the bloodied sun dips into the river, heralding the eve of Makar Sankranti, Swami Girijanandji's shobha yatra takes off, with five elephants, four horses, two Sumos, 13 motorbikes, glittering chhatris and the customary band of bagpipes and trumpets. Oblivious to his clamour, on a small islet in the Sangam, a Nepali family offers shraadh for their dead mother.

Long lines of ashrams and akharas stretch for miles in the vastness of Kumbhnagar. Ornate bamboo gateways identify these variously as Baba Kali Kamaali Wala Panchayat, Ayodhya Bhakt Mal Shivir, Bharatiya Buddha Parishad, Taponidhi Shri Anandraj Akhara. A neon 'Om' and swastika revolve menacingly outside one, fairylights adorn thatched roofs of others. Thermocol deities stand upright on sandy flats outside a few tents; others house ornamental temples within. A tuneless kirtan screams out from the endlessly blaring loudspeakers even as enthralled crowds watch a Raslila. Elsewhere, clusters of sadhus sit around a dhuni (fire), trishul at the ready.

Far removed from all this, Godavari Devi, a railway worker from Ajmer, and Shashi Prabha and Uday Shankar Srivastava from Allahabad, enumerate their reasons for being there. "I have come," says Godavari Devi, "because my daughter died last year." Will they seek shelter in the ashram? "No, we will sleep on the sand," says Srivastava, "we'll do kalpvas. Sadhu log sab swarthi hain (sadhus are all selfish)." Sant Ram Lalvani, Amrit Lal and S. Sharma, both office-workers from Rae Bareilly, are here on a Sunday outing. "We'll have a quick bath, look around the mela and then go home. Nothing much else to do here," they say. Santosh Singh Thakur, a farmer from Chhattisgarh, is here with his mother and wife. "My mother's old, she may die soon. Maybe this will be her last Kumbh." Vijay Kalsi from Rampur is an IAS aspirant. "I'm studying for my civils," he smiles, "and I hate these sadhus. They are just here to exploit the faith of simple village people." Why will he bathe? "For my exams," he replies, "and for moksha, of course." Durga Prasad Pal Chaudhuri and his wife Deepali Pal Chaudhuri from Calcutta are struggling into their clothes, wincing for space in the throng. They've spent the night on the banks and are on their way to Varanasi. "We do teerth like our parents. We do it for their atmas."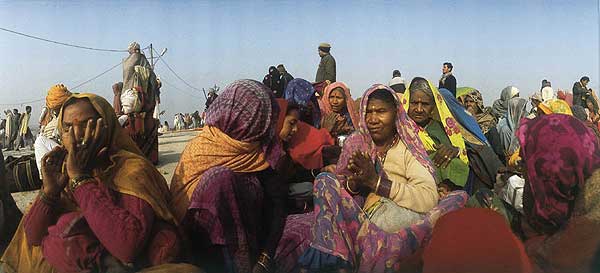 It's a weird psychology that marks out the Mahakumbh pilgrim. Raghu Sinha, a psychology professor at Allahabad University, in a research paper on the psychology of Hindu pilgrims, delineated three types of pilgrims here: those who believe in an awe-inspiring god, those who believe in god as a close companion and those secular in their approach to the Kumbh. The enduring image of the Kumbh, says Srivats Goswami of the Gambhira Ashram of Vrindavan, is the pilgrim. "The amazing fact is not the freaks, but the fact that each person in the immense crowd is an individual," says Goswami, "with an individual relationship with the sun and the river."

You might call the Kumbh schizophrenic. Crowds jostle on the narrow pontoon bridges but among the crowds, life is municipal. Advice is quick and forthcoming. How to get the fire going, how to bear the 15-minute queue for the mutralay (the toilet). It's also about a mad frenzy. Floating on a boat in the Sangam, Sarita Pandey from Allahabad casts off her pallu. Bare-breasted and drunk on holy water, she shouts aloud, throws an intoxicated tantrum and kicks her legs about. The madness is temporary. Her husband beckons, she wraps her pallu around her head and gets back matter-of-factly into the family boat. At the Raslila in Shri Jagadguru Badri Ka Shankaracharya's ashram, frenzied crowds sway and chant to 'Hari bol, hari bol'. Janaki from Andhra Pradesh chants and rocks, "My Balagopal is here, will I get my Balagopal?" Has she heard of the Ram temple? She nods dreamily. "No, no, I don't want any temple."

But in the the VHP tent, the workers are preparing for the dharam sansad. "Nahin bachega ek bhi minar (not one minaret will survive)!" shouts Paramhans Swami. "Muslims have to live like Hindus, else leave India." A signature campaign is in full swing. "Must build mandir," signs a computer professional from Allahabad.

And for every VHP sant who shouts for an early building of the temple, there are mahamandaleswars who refuse to accept its programme. Swami Asanganad Saraswatiji of the Mahanirvani akhara says he'll attend the dharam sansad only for a few minutes. "I am not in favour of starting temple construction now," he says. "There will be too much trouble."

Trouble though is not what one smells here. Kumbhnagar smells of life: of ghee, jalebis, khurchan, sindoor and agarbatti, of the evening woodsmoke of remembered villages. Yet almost every person who takes the holy dip is not thinking of life here and now but of the snan as a bridge to the afterlife. This is a shamshan virakti crowd, detached from life. Pious, not celebratory. United in the arrangements for the final journey.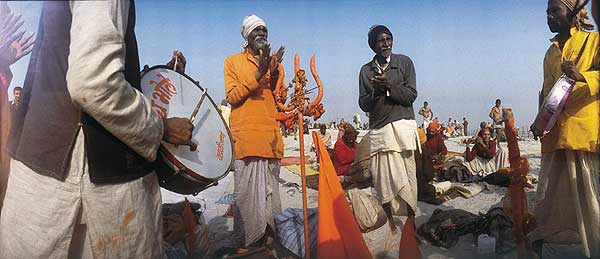 Makar Sankranti dawns foggy and weak on the banks of the Sangam. At 5.30 am, it's still dark. The waters lap darkly, pierced by frail bamboo enclosures. Across the barricades, the police have cleared the banks for the akharas to take their snan. The crowds move unobtrusively. The sadhus by contrast barrel along to the river in decorated tractors and horse- and cow-drawn carts. The order of the bath can be controversial and bloody. At Haridwar last year, several Nagas assaulted civilians because of a dispute between the akharas about who should bathe first. Of the 13 main akharas, Mahanirvani—scholarly and senior—bathes first. Then comes Niranjani—generally moderate and very rich—with its contingent of naked Nagas who function as a private militia to clear the way for the saffron-clad vidvans. And the next to bathe is the last of the three main akharas: Juna. The dreaded Juna, the Hell's Angels of the Kumbh, the largest, oldest akhara with the most villainous Nagas. Minutes before Juna is to arrive at the Sangam, mounted police gallop through the crowds. The press are moved far back. The crowds pushed behind bamboo barricades. 'Juna ka atank', (the terror of Juna), says Hirabai, farm wife from Jabalpur.

Suddenly, a huge swarm of naked Nagas comes raging across the banks. They are gratifyingly 'Oriental', complete with matted locks and ash-smeared bodies, picture perfect. They bare their teeth and growl. They run and scream, brandishing swords and sticks. 'Har Har Mahadev!' One of them lashes at a photographer as he runs into the river. After the bath they put on a dance. "Bajao Naga baba ke liye," one of them orders. The bagpipes strike up a rousing tune. To the incompatible rhythms of the Scottish highlands, one Naga wraps his penis around a sword while another jumps on the same sword. "The strength of the brahmachari," declares Rampyari from Punjab. In truth, some of our athletic young babas look a little sheepish. And their hair is suspiciously short.

"The Kumbh exists because the Impossible exists," says Ashtkosal Mahant Raghunandan Bharti, 35, a Naga sadhu and mahant in the Juna Akhara. "Because amidst rogues and tricksters, faith continues." Raghunandan is naked and skinny, his head piled with dreadlocks and his body smeared in ash. He became a naked sadhu in his 20s after a degree in chemistry and Sanksrit from Kashi Vishwavidyalay. He insists he wanted to be closer to God, he wanted his soul to progress. But he confesses to a love of science and describes how he conducts small experiments to rid the air of carbon monoxide. He uses the Net to reach his comrades in distant maths and says if he hadn't been a Naga, he'd have been a scientist. What drove him to sanyas? The call of god? Or rural unemployment?

Talking of the economics, Shree Deevanjee, worker in the Parmarth Niketan ashram, says the base of the sadhus has always been rural and mofussil. Now with the shrinking of the rural economy, a number of sadhus—except those attached to the rich akharas—face severe marginalisation. "Most of these young boys become sadhus because they cannot earn their own livelihood. Their families push them into akharas." "I have been through a lot of pain," Raghunandan admits at last. The Kumbh illustrates the crisis of Indian unemployment as much as it is a celebration of Indian spirituality.

A Vaishnav mahant says a number of Nagas are in fact local impoverished Harijan youth recruited for Rs 100 and a pauwa to make up the numbers of the akharas during the shahi snan. A number are criminals on the run. Many, indeed, seem simply mentally unfit for society. Yet others may be representatives of big zamindars and are able to buy themselves important posts like mandaleswars of the akharas by paying up to Rs 10 crore.

"A society as poor and as varied as ours evolves its own welfare mechanisms," says Bhaskar Bhattacharyya, filmmaker and consultant with Channel 4 who's lived among the sadhus for several years. "In the West, the bums and dropouts go onto the dole. Here, they go to the sadhus. And the sadhus look after them and nurture their delinquency." "Rent-a-Naga," says a mahant, "is lucrative business because every akhara wants to show their strength at the Kumbh."

"The Kumbh is just a village fair," says writer Arvind Krishna Mehrotra, "but this Mahakumbh idea is a bit of a joke, simply an exercise in marketing." Hieun Tsang, according to him, never mentioned the Kumbh and there is no evidence to show it has existed from time immemorial. "Levitating yogis! Snake charmers! Fortune tellers!" a Cox & Kings poster screams. But yogis don't levitate anymore. Only the lucky ones get to ride a Tata Sumo. According to a recent paper by Kama Mclean, the Kumbh is a "quasi-religious combination of combat and commercialisation". Sadhus have always been skilled warriors and astute traders; Kumbh melas are fora where they seek new clients. Tricks over, business deals are struck.

Goswami says it would be 'mental slavery' to accept the West's version of the images of the Kumbh, to accept that everything noteworthy about India is sensationalist and degraded. The spirit of the Kumbh is being buried in outlandish images and political posturing. Robyn Beeche, a London-based photographer, says the western press has raped the Kumbh. "The press looks so shallow that I'm ashamed to be a foreigner." Ask pilgrim Durga Prasad Pal Chaudhuri if he's upset with the press and he counterposes: "Have they come here only for photographs? Won't they bathe at all?"

"When you shine a torch in the dark," Goswami says, "you think you've seen a snake. See it in daylight, you'll find it's only a rope." Contrary to official estimates of 70 million bathers, observers say only 50-60,000 bathed on Makar Sankranti. Contrary to tales of stupendous filth, the walkways and the river bank are fairly clean. While mahants issue fractious statements, thousands cook, clean and pray in peace. Under the extraordinary clamour of the Kumbh, there's unremarkable quiet, quite ordinary.