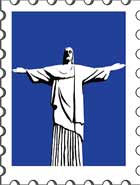 Senna in the Year of Football
You don't need an excuse to party in Rio. On the city's silvery beaches and countless botecos (street bars), the locals—known as Cariocas—always find a reason to drink and dance. And during the Carnival, partying is a full-time job. It began a bit late this year. The days were balmy, but the evenings were cool. The whole city—six million residents and one million tourists—looked high on booze. At every corner, a few pairs of feet were moving to samba beats. But the real show was in the Sambodrome, the avenue where the famous parade takes place. It was packed with 80,000 people, mostly foreign tourists, some of whom expected it to be a topless show. But it's a serious business for thousands of poor people who toil hard make it a success. The parade is actually a competition between 12 samba schools based in favelas (slums), with each of them presenting a story with 4,000-6,000 drummers, dancers and spectacularly decorated floats. Each school chooses a theme with specially written samba songs. The drummers of all schools are led by Samba Queens, called rainha who are dressed in a plumed headdress, high-heeled shoes and micro-sized bikinis. This year, one school told the story of Rio de Janeiro; another one showed the life of Brazilian football legend Ronaldo. After two nights of tough competition, the trophy was won by Unidos da Tijuca for their tribute to Brazilian racing hero, Ayrton Senna. Even in the year of football, Senna rules the Brazilian imagination.
---
Blame it on Brazil!
This is the year of Brazil. The football World Cup is happening in June-July, followed by the BRICS summit. In October, Brazil will elect a new president. Always called the 'country of the future', the Brazilians know their moment has arrived. But a lot of people are worried that stadiums, hotels and airports may not be ready in time. At a beach, a crew from a sports channel was stopping foreign tourists to know their views about Brazil's 'preparedness'. Nothing worries Brazilians more than what others think of them. Standing by a huge electronic clock on which a '100 days to World Cup' reverse countdown is ticking non-stop, the TV crew looked hassled as one tourist pointed to the piles of garbage by the road. During the Carnival, the city's garbage collectors went on a strike. The World Cup is expected to bring 6,00,000 visitors and a similar strike can be crippling. By the time the Carnival was over, the mayor agreed to raise the workers' salary to 1,200 reals ($515) a month, plus daily food allowance of $10 and overtime for work on holidays.
---
The Holiest Watering Hole
A trip to Rio is not complete unless one pays homage to Vinicius de Moraes, diplomat, poet and composer whose song Garota da Ipanema (The Girl from Ipanema) still fires a million romances globally. Legend has it that Moraes and his musical partner Tom Jobim composed this love anthem sipping beer in a bar. It was their daily routine to have beer in a bar on a crowded street while studying the forms of human life that swirled by them. Then one day in 1962, a 15-year-old, green-eyed girl walked into the bar and the two friends composed this song on the spot. Today, that bar is known as Garota da Ipanema. It serves strong caipirinhas and grilled meat and plays Moraes' bossa nova compositions.
---
End of India's World Cup Dream
In the Home of Football, India is known as a Cricket Country. "Do you play football in India?" is a question often tossed at me. It's followed by another question: "When will India qualify for the World Cup?" It's rather embarrassing to answer these questions and to talk about the state of Indian football to Brazilians. India did have a chance to showcase its love for the Beautiful Game here last week, but it ended in a disaster. At the Street Child World Cup, organised by a global NGO and supported by legends like David Beckham, the Pakistani team beat India 13-0 at a game played in a Rio suburb. After this thumping, it was hard to believe that India had won the inaugural event in South Africa four years ago. It's even harder to tell the Brazilians that we do play football.
---
Kiss like a Gandhian
On a crowded street, I bump into two men dressed in white turbans and kurtas with the Mahatma's face printed on them. They are from Filhos de Gandhy (Sons of Gandhi), a samba school. In the '40s, as the carnival in Salvador, capital of Bahia state, was rocked by violence, a few workers who had heard of Gandhi formed a group to ensure the carnival was peaceful. Now come the carnival, young girls go out looking for handsome Filhos de Gandhys, who're never refused a kiss. These two were trying their luck in Rio. It pays to be a Gandhian during the Carnival.
---
Hard fact
Ruy Castro's brilliant biography of football legend Garrincha is banned here. The footballer's family has got an injunction against the book which said Garrincha was a hard drinker, a fact, ironically, a majority of Brazilians actually admire him for.
---
Sao Paulo-based Shobhan Saxena has reported from South America for The Times of India and The Hindu; E-mail your diarist: shobhan.saxena [AT] gmail [DOT] com