Offence Bandwagon
Bajrangi Bhaijaan (2015) The film angered VHP and Bajrang Dal, who said the film's title hurt Hindu sentiments.
Vishwaroopam (2013) Hindu Makkal Katchi ­demanded a change in the Sanskrit title to a purely Tamil one.
RamLeela (2013) Hindu groups felt its title, trailer and pictures were offensive to Hindu mythology.
MSG (2015) Banned in Punjab after protesters claimed the film by Dera Sacha Sauda chief would hurt Sikh sentiments.
Haider (2014) A migrant Kashmiri Pandit protested after the Sun Temple in the song Bismil was portrayed as the 'devil's den'.
***
"Chite ki chaal, baaz ki nazar aur Bajirao ki talwar par sandeh nahin karte! Kabhi bhi maat de sakte hain," thunders a very chiselled Ranveer Singh in near-perfect Marathi accent, setting the tone for the ambitious, melodramatic and action-packed magnum opus that is Sanjay Leela Bhansali's Bajirao Mastani. There cannot be a better subject for a blockbuster—the love saga of one of the finest Maratha warriors, who conquered large tracts of land in India, almost reaching Dilli's doorstep, passionately in love with his second wife Mastani (played by the radiant Deepika Padukone), someone who fought 40 wars and died at 40. Yet, only protests have greeted the film, from varied stakeholders.
The first wave came with the song Pinga (uncannily similar to Dola re from his earlier Devdas). The des­cendants of the Peshwa and Mastani came together to protest against "factual errors" and "vulgar representation" of roy­alty. "People get away with disclaimers and talking about cinematic liberty but there are so many objectionable scenes," says Mahendra Peshwa, a ninth-generation descendant of Bajirao Peshwa, settled in Pune. "It is alri­ght to project a love story but don't show objectionable content such as Pinga and Vaat Lawli, which is unacceptable."
History has it that Bajirao, from 1720 to 1740, helped Chhatrapati Shahu Maharaj, whose prime ministers the Peshwas were, expand territory and establish the Maratha empire. When Bajirao helped King Chha­trasal fight a Mughal invasion, he offered his daughter Mastani's hand in marriage not just as a token of appreciation but also to forge an alliance to protect his own territory. Folklore or legend puts it differently, where Bajirao is said to have fallen in love with Mastani and fought social norms and opinions of the then ministers to be with her. Mastani had her palace away from Pune; it was only in the last few years of their lives that she moved to Shanivarwada.
She is said to have been so beautiful, her skin so translucent that one could follow betelnut juice going down her throat. She is also said to have led Bajirao to drink wine and eat meat. She didn't want her children to be Hindu. Her son Shamsher died of inj­uries after the battle of Panipat, proving that he was very much part of the fold but it is not clear when they adopted Islam.
"The movie has to be stopped. They have portrayed my forefathers in bad light. They don't even say Shrimant before Bajirao," says Nawab Awais Bahadur, eighth generation, including Bajirao and Mastani's son Shamsher. "Initially I was happy that someone was making a film about Bajirao but when we saw the songs, we were sho­cked. Even the way the taveez is tied is all wrong." They want the court to see the film so that people do not think of them as what "Mastani is portrayed to be", more like Anarkali and less like a royal queen. His wife Shaheen, if anything, is even more vexed. "I was so proud when I came into this family. Mastanibaisa is so respected. She was so brave and so beautiful. She was an exceptional lady and see how they have shown her. The following generations were freedom fighters. I will do whatever I can to get a stay on the film."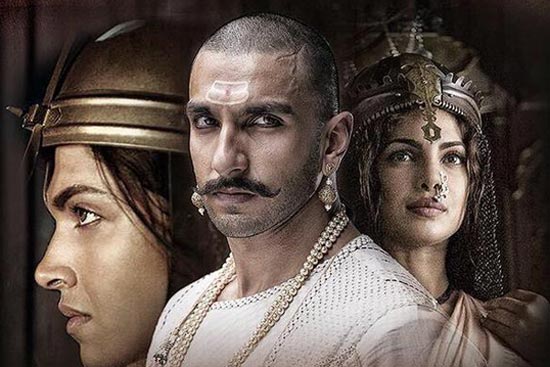 Art Form The film poster
However, that's not much of an option. Both families claim they were never consulted and no permission was sought for making this film. According to legal experts, the law does not require a person to seek permission if the story is part of history or literature that is more than 50 years old. According to the filmmakers and producers, the movie is based on N.S. Inamdar's novel Rau and that they had consulted historian Ninad Bedekar, who recently passed away. They would also be showing a disclaimer before and after the movie. But he Peshwas claim that it would have been impossible for Bedekar to have approved of the film in its current avatar. "Distorting history is not called creative liberty," says Shripad Kulkarni of Shrimant Bajirao Peshwa (Pratham) Smruti Pratishthan from Indore. "He was the greatest warrior and we have taken a lot of effort to preserve the samadhi and memorial."
Culture experts say that despite the powerful (positive or negative) impact the movie might have, creative liberty is an unchallenged right. "There needs to be better perspective," says Shanta Gokhale. "If you are allowing a filmmaker to touch upon a historical subject, you are giving him the right to take a few liberties. Historical films are also only stories in the end. Here, it happens to be about somebody who con­trolled an empire. But Shakespeare did exa­ctly what he liked with history." Even a meticulously researched film like Jodha Akbar, where director Ashutosh Gowariker delved into details like where exactly people stood in the court, met with criticism over Jodha and Akbar's romance. "History itself is an unsettled terrain, be it Tipu Sul­tan, Rana Pratap or Shivaji Maharaj, but you can construct a plausible narrative, not based on ideology and prejudices, but avai­lable evidence," says art and culture expert Sadanand Menon. "However, in a racy, ent­ertaining movie like this one, it just bec­omes khichdi, and history takes a backseat. It's in a freefall in movies like Bajirao." But does it merit a stay on the film?