It surely had the wind in its sails after the Lok Sabha polls. The Congress has now applied that momentum to conjure up the appearance of being a more cohesive entity today, especially when compared with the fractured opposition. So it's not that surprising that it has retained power in Maharashtra (in alliance with the Nationalist Congress Party) and Arunachal Pradesh. The results in Haryana, however, prove that complacency and arrogance can still show you up. So, despite a divided opposition and a non-polarising Jat leader like Bhupinder Singh Hooda ensconced as CM, the party fell six seats short of a simple majority, with Jats outside Hooda's Rohtak-Sonepat circle crossing over to Om Prakash Chautala's Indian National Lok Dal (INLD). Indeed, the Haryana results may have been worse for the Congress had the BJP not broken up with the INLD.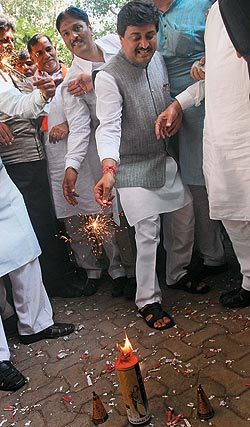 Bang on Maharashtra CM Ashok Chavan celebrates with a sparkler in Mumbai
That said, the electoral verdict from these three states will impact national politics in the coming months. The Congress's bargaining power vis-a-vis the smaller parties will go up. And after the BJP's dismal showing—especially in Maharashtra, where its pairing with long-time ally Shiv Sena failed to convince people to vote against a decade-old Congress-NCP regime—its allies elsewhere may begin to doubt its capabilities. In Bihar, jd(u) leader and CM Nitish Kumar will surely drive a hard bargain when that state and neighbouring Jharkhand—currently under President's rule—go to the polls. Nitish may even be tempted to do a Naveen Patnaik, sever ties with the BJP altogether.