In 2009, when the historic Delhi High Court judgement decriminalised gay sex, Udayan Dhar, based in Bangalore at the time, took it as a sign from the gods to launch a venture he had been planning with friends for some time. Just a few days after the ruling, in early July, gay and lesbian e-zine Pink Pages was born. "There was very little discourse on issues of sexuality in mainstream media at the time, and we had about 5,000 downloads within the first two weeks of the launch," recalls editor-in-chief Dhar. Pink Pages today has over 10,000 subscribers. As the e-zine evolved to attain a more "mainstream" quality, so did the community. Between then and now, India's queer community has acquired many shades, with a newly assured, determined tone in reaction to the legal immunity.
The backlash now, therefore, hurts more. For all the talk of it being a "min­­uscule" community, too insignificant to be of relevance to the larger pop­ulace or 'require' justice, there are enough counter-arguments. As Shohini Ghosh, who teaches media studies at Jamia Millia Islamia, told Outlook soon after the Supreme Court ruling: "LGBT rights have become mainstream. There were no protests on the streets after the 2009 Delhi High Court judgement. When so much is out in the public dom­­ain, only the very blinkered can imagine that it is a minuscule minority.

QRadio's Vaishalli
In the last few years, projects such as Kashish Mumbai International Queer Film Festival, Nig­aah Film festival, publishing initiatives by Queer Ink and Yoda Press, boutiques and travel ventures, and of course half a dozen gay lifestyle magazines have helped the community gain a voice, and more platforms to engage. "Over the past four years, I have seen a tremendous evolution," says Keith, editor of the Pune-based lifestyle magazine The Queer Chronicle, or TQC as it is known. Its readership peaked at 1,25,000 for one of its editions this year. "I have seen launches of queer-owned-queer-operated enterprises, magazi­nes, parties, support groups, com­­m­unity initiatives, and so much more. The LGBT community has a much stronger sense of pride, community and belonging. It is no more underground, and I am certain that the movement will never go underground again."
Shobhna S. Kumar, founder of Queer Ink, an online store and publishing house, has seen "layers of closeted fear give way": a new confidence in how people are willing to leave their hometowns so they can assert their identity, others who've been able to negotiate space within conservative families, women in burqas expressing joy at being able to access queer literature at liberal reading spaces (they certainly couldn't take those books back home).

Nolan Lewis, 3rd from right, at the 2013 Mr Gay World
On December 13, two days after the apex court made gay sex illegal again, Imphal's Bhagyachandra open air theatre hosted a beauty pageant for the transgender community. The 'Trans Queen Contest Northeast 2013' pul­led in an audience of over 700. "It wasn't just a queer crowd," observes Pawan Dhall of Saathii, who was in the audience. "There is a greater visibility for the queer community in all spectrums, be it the performing arts, in media, law, health forums," says Cal­c­utta-based Dhall, whose work involves putting together book readings, interactive events and workshops with students on gender and sexuality.
"The court can take back our rights but it cannot reverse the attitudinal shift that's happened over the years."

How far the 2009 ruling helped the community is evident in a case like that of 22-year-old Madurai-based student Gopi Shankar who says it's helped redefine the rules of society—"we're able to question ourselves, our sexuality and preferences". Shankar set up Srishti Madurai, a student-led LGBT body which now has 2,800 members and works as a Tamil-language academic resource and counselling centre for the community. "I coined terms for 25 genders in the local language, because most didn't exist. We take plays to villages around Madurai to create awareness about the community," says Sha­n­kar, breaking the myth that the queer community has only become vocal in the metros. In Bangalore, the first LGBT internet radio station, QRadio, which launched this Sept­em­ber with much fanfare, received its first call from Amritsar. "It's a platform for people to share their process of coming out, from issues like bullying, rejection, self-doubt to acceptance," says Vaishalli Chandra, channel manager at QRadio. She hosts a show called 'HqO—In the Element' thr­ice a week, highlighting personal stories and what Section 377 means to them.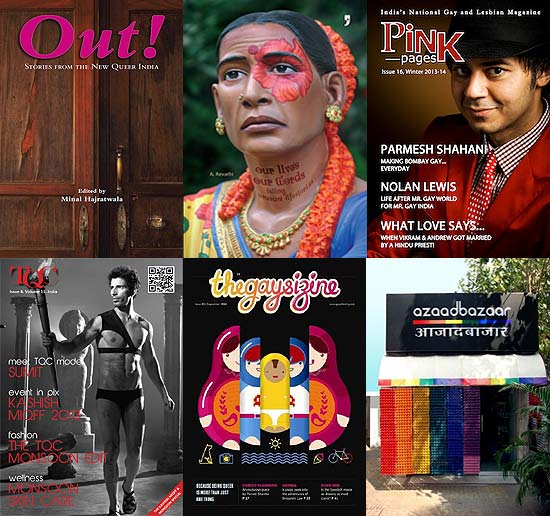 Clockwise from left top, queer lit Out! and Our Lives, Our Worlds; e-zine Pink Pages; Azaadbazaar in Goa; the gaysizine, TQC
What last week's ruling has done is put a dent to this spirit—that is already evident. Nolan Lewis, the 29-year-old Mumbai-based tarot card reader who made it to the top 10 at the Mr Gay World pageant in Belgium this summer, is in turns buoyant and disheartened. "When I came back from the pageant, my entire building in Mumbai—which is full of conservative Hindus—came out to congratulate me. It showed me how society had become more accepting. I decided to start an Indian pageant for gay men, and was in the process of setting up a company. But now that 377 is back in action, I've put the project on hold," says Lewis.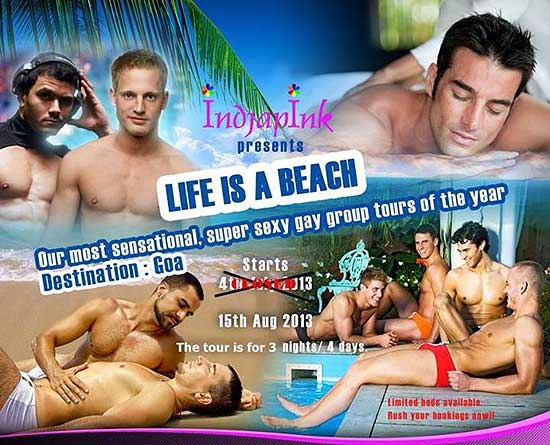 Ttravel portal Indjapink
People with a gay-centric business now have to take stock of things after this ruling, for while the letter of the law applies only to sexual activity, it's a certainty that there will be attempts at extortion and harassment, he says. Similarly, Shobhna S. Kumar at Queer Ink finds herself in a bit of a dilemma. "The first anthology on queer writing—Out! Stories from the New Queer India—which we launched in January this year was so well rec­eived that I had moved onto a second anthology. I received double the submissions, nearly 400 stories from across India. But now I'll have to put it on the backburner."

Global Day of Outrage LGBT community protest after the SC verdict in Delhi. (Photograph by Jitender Gupta)
Not one to be discouraged, Udayan Dhar of Pink Pages feels "the court can take back our rights but it cannot rev­erse the attitudinal shift that has happened over the years". He's also been working with IT companies to introduce LGBT-friendly policies at the workplace. Vaishalli at QRadio has had many callers venting on the channel after the ruling. It's caused a dent to the momentum, yes, but "this is a good time for all stakeholders to come together, be more united", she says. Adds Shobhna, who is preparing for a major community meeting in Delhi this weekend to set a national agenda: "There is a fear setting in that gay people will be summarily arrested. We need to reassure them of their legal rights." Dhar sees it this way: "2013 is not 2009. One couldn't have imagined such outrage then." If the 'Global Day of Outrage' has said anyth­ing, it was that the fight will go on.