The 'gaumata' will be saved, and it will probably be her bowel movements that does it. Giving ideology a backseat, employees at the Kanpur Gaushala Society (KGS) are getting their hands dirty churning out products from cow dung and urine. It's their own cow-and-bull story, and it's out to prove that the bovines make economic sense, and hence deserve protection. The KGS, closely linked to Hindu nationalist organs RSS and BJP, recorded a turnover of Rs 2 crore last fiscal, proving that what goes out really has a market.
The KGS product profile now ranges from mosquito coils to aftershave lotions, from face packs to phenyl. But it is their newest offering, released earlier this year, that has really put them on the map. Goloka Pay is a cold drink concentrate laced with distilled cow urine (five per cent of total volume!) which is doing reasonably well in the market. The idea of creating a soft drink first came when Baba Ramdev lashed out at Coke and Pepsi (reportedly their sales plummeted after the rebuke). "That was when we began work and came up with this healthy alternative. Along with urine it contains herbs like tulsi, brahmi and shankhpushpi. It has done well so far," says P.L. Toshniwal, the KGS general secretary. It comes in orange and lemon flavours and over 500 one-litre bottles of the concentrate have sold so far and another batch is being readied.
The KGS, in fact, is in diversification mode, now manufacturing even tiles and radiation-absorbing distempers. Of course, all their products use cow dung and urine, which comes from the over 1,500 cows they have in the four branches they have in the state. Founded in 1888, KGS even has a section dedicated to demonstrating how bulls can be a source of "alternative energy". It's no rocket science, a pair of bulls yoked to a wheel will turn machines like a water pump or a thresher. Another wheel and you can charge a battery to power 120 CFL lamps. As Toshniwal, a former industrialist puts it, "Why send them to the slaughterhouse when they can work for you?"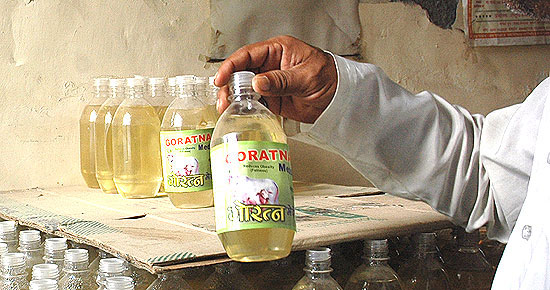 End-product: Distilled, bottled cow urine
There are close to 40 retail outlets across the country that sells KGS products now. Products are even stocked at the BJP central office in Delhi where attendants claim several party leaders are regular buyers. BJP president Rajnath Singh was an early convert and even inaugurated a biogas plant in Kanpur when he was state CM. Party MP Balbir Punj has donated Rs 10 lakh from his constituency fund. A Delhi-based exporter is now set to sell KGS products abroad after queries from the US, Europe and the Gulf.
The KGS is also a base for Om Prakash, head of the RSS's Cow Protection Unit, who travels across the country imparting know-how on managing shelters. More importantly, he gets entrepreneurs to visit the KGS with the hope that someone will transform one of their ideas into lucrative business. The day this correspondent visited, a team of businessmen from Himachal Pradesh had dropped in. "We are interested in seeing how they manufacture paper from cow dung...and generate electricity too," says one of them, Rajender Guleria.
The gaushala also employs a few scientists who 'conceive' the new products. Sabha Bahadur Singh, a member of the core group, is perfecting a battery model that uses dung and urine to generate enough power to light a CFL lamp. He says any human/animal waste has a certain charge "but I only used the waste from cows as I work for the shelter". He's adamant "there's scientific truth to what I'm doing...and if it helps improve conditions for the cows, all the better".
But there's a catch to this. For not just any cow will do, it has to be pure Indian (read desi) ones. Indeed, there is an elaborate caste system in place for milch cattle too. At the top are the indigenous breeds, labelled "mata". They corner all the reverence. The foreign ones, like Holstein and Jersey, are second and referred to as "mausi". Buffaloes, the "buas", come a disdainful third. Goats and camels obviously figure nowhere. Toshniwal, dressed in a spotless white kurta-dhoti, explains: "You will never find an Indian breed near the garbage bin. It also knows when to stop eating. And when it calls out, it's a sweet 'mmmaaaa' instead of the 'bhaaa' of the foreign ones. And anyway, it's impossible to use the dung from foreign breeds. Fifteen per cent of it is undigested matter unlike the Indian varieties, which digest their feed fully. We just keep the foreign ones out of our love for animals."
Toshniwal even hands out certificates from the numerous private and government labs certifying product efficacy. But it's clear a lot of the formulations contain ingredients already known to have qualities the KGS ascribes to cow dung and urine. For instance, the mosquito coil has citronella oil, a known herbal insect repellent. Is it really the cow dung and urine then? The jury is out on that one. Meanwhile, the scientists are working on their next dung-and-urine offering—a radiation absorber for frequent users of mobiles and laptops.