Prithi Chauthani is glad her son, a student in the US, still gets to eat the food cooked by her every day. Magic? No, tech actually. Prithi takes her son's favourites, this month it's biriyani, to Lalit Meisheri, who processes them into ready-to-eat, single-serve packs.
All her son has to do is place the packs in boiling water and, voila, out pops piping-hot mom's biriyani! The food was about 7 kg when Prithi took it to Meisheri. After being processed, it weighs less than 2 kg and is easy to transport by air. And all it costed her was Rs 2,000. "His birthday is coming up and he is sure to have friends over," she says, beaming. "I hope they like my biriyani."
More than 3,000 mothers like Prithi, from across Mumbai, come to Meisheri to send food to loved ones abroad. What sets Meisheri's service apart from other "heat and serve" products is that the food retains its nutritional value, flavour and taste and there are no preservatives added. The service is so customised that Meisheri often has mothers show him exactly how much their sons and daughters eat at each meal so that he can tailor the food packets accordingly and avoid wastage.
The idea was seeded when a friend complained to Meisheri about how her daughter had lost six kilos after going to study in the US. "I thought that it was important for our children to be well-fed when they are studying," he explains. And so the first "meal pack" was born. He has since dehydrated all kinds of dishes: from khichdi, biriyani (and its raita accompaniment), gajar ka halwa to idli and rajma. His busiest month is August, just before the students depart for their fall academic semester.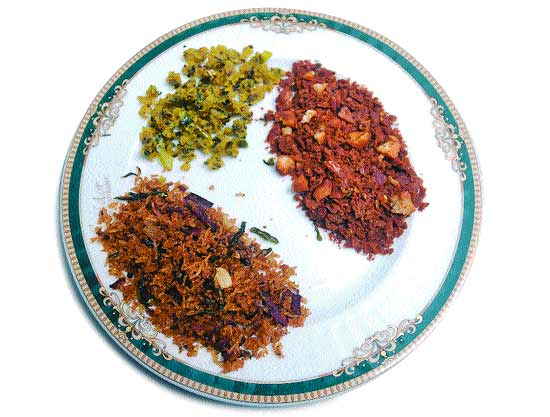 Dehydrated biriyani
Meisheri, an IIT-Bombay alumnus, started with seasonal fruits and vegetables because he "wanted to reduce food spoilage during transit from villages and also cut transport costs by reducing the bulk of the produce being transported". He claims his process of dehydrating food at room temperature retains its micronutrients—unlike the other heat-based dehydration methods. Meisheri is unwilling to go into detail about his methods, but a panel of doctors from Southampton Hospital in the UK has authenticated his claims about the food retaining its nutritional value. The Indus Entrepreneurs (tie), a global non-profit organisation that recognises innovative entrepreneurs within the South Asian community, has adjudged his method to be a "bonafide new dehydrating technology".
But the real test for Meisheri comes from those who know their food. The Birlas, for instance. Meisheri recounts the dinner test that Rajashri Birla, the wife of the late Aditya Birla, put him through recently. "They sent me dishes from Swati Snacks (a Mumbai eatery) to dehydrate and used the food packs I made from them to serve a meal at their home," he says. The Birlas had their guests rate the food: most of the dishes received ten out of ten with a few scoring 9.8! To Meisheri's surprise, he soon received an order to dehydrate 150 kilos of foodstuff. "The Birla family was going to Spain for a holiday and they wanted authentic home food during their vacation." He then started getting big orders from the rich and famous, and even has those with religious strictures, such as Jain businessmen, queueing up for meal packs for holidays and business trips.
Other savvy former "clients" are entering the "heat and serve" industry using his method. Pankti Chheda used to sup on Meisheri's food packets while completing her Masters in Global Business Analysis in the UK. Once she returned to Mumbai, she started Heat 2 Eat, aimed at Indian students across campuses, promising to not only deliver home-cooked food, but also dishes from iconic Mumbai restaurants. In three months, she already has about 80 regulars. Similarly, local Mumbai joints like Samrat and the Kamat group of restaurants are hoping their legendary dishes, like the pav bhaji and south Indian fare, can be marketed abroad using this technique. Meisheri is excited about how his method is finding new takers, but is happy to stick to the research side of things. "I'd rather other people handle the business part." Not that the end-users of his goods mind—they clamour for more home-cooked, authentic Kolhapuri mutton curry in Connecticut.