Two days before Id-ul-Zuha, Baroda-based businessman Yusuf Sheikh went for a meeting at the Swaminarayan temple in the city, to meet with the chief mahant and other religious leaders of both communities. The idea behind the meeting was to maintain communal peace during the Id, traditionally observed with the qurbani of an animal and the distribution of the meat. He showed the Hindu religious leaders pamphlets that had been distributed for the past two years in Muslim localities across Gujarat, saying that cow sacrifice was now illegal and would bring troubles on the community. He says that no one in Gujarat would be foolish enough to invite violence on themselves by slaughtering cows and if they did so should be punished. He felt that such efforts were necessary in an atmosphere where there had been tensions during the preceding Navratra festivities when images of the Mother Goddess were superimposed on that of Mecca and distributed on WhatsApp and Face­b­ook. There had been curfews and small clashes in quite a few Gujarat towns, inc­l­uding Ahmedabad, during the festive sea­son. There was, indeed, fear in the air.
"We feel it's necessary to put a ban on meat exports, beef in particular...cow smuggling in the immediate future."
Yet the efforts of individuals from both communities to keep the peace were finally futile. This Id was a nightmare for many in Gujarat. Trucks carrying goats and buffaloes were stopped at many places by the police, often accompanied by Bajrang Dal activists. This happened particularly in Dahod and Panchmahal districts, where there is an economic link between tribals and Muslims, both consumers of meat. Often people were falsely harassed for 'carrying cows for slaughter'. Yusuf says, "I don't remember an Id when so many reports of harassment came in. Now even eating bakra (goat) meat during Id can land someone in trouble. Even during Modi's rule in Gujarat, in the post-riot years, it was not like this." Achyut Yagnik, author of The Making of Modern Gujarat, comments: "Ironically, the VHP and Bajr­ang Dal, once sidelined within Gujarat by Modi, are asserting themselves now." He says it is an old pattern in the state, stopping and harassing people as they drive livestock from one place to another. In Gujarat, besides the Brahmins there are two powerful communities who are strict vegetarians: Patels and Jains. So the attempt to create a taboo around consuming meat is more successful. Ahmedabad-based activist Gagan Sethi says the idea is to hit communities involved in livestock sale economically. "At the minimum, the idea is harassment, at the maximum, it is impoverishment."
In neighbouring Rajasthan, meanwhile, the camel was declared a protected animal by the Vasundhararaje government, hence the practice of sacrificing camels in a state with large swathes of desert also came to an end this Id. The national capital too had a small dose of animal-induced human troubles during the festival season. There was tension in Bawana in Outer Delhi that has a population of 1.5 lakh, 70 per cent of whom are Muslims. On October 2, Gandhi Jayanti, 200 youths invaded the colony with three constables as they claimed some stolen cows were hidden there. They found none. They found a man called Mahesh with a cow. He was bashed up but it turned out that he was a milkman. According to a citizen's fact-finding committee, the next night a man tried to smuggle in two cows into the colony. He was handed over to the police. A group called the Hindu Krantikari Sena had put up posters in a slum cluster in the locality and was gathering people from nearby villa­ges to congregate in Bawana. One of the main organisers was the nephew of BJP MLA Pawan Sharma. The political linkages are not difficult to spot. The masterplan appears to be to harass meat-eaters by declaring them cow-eaters.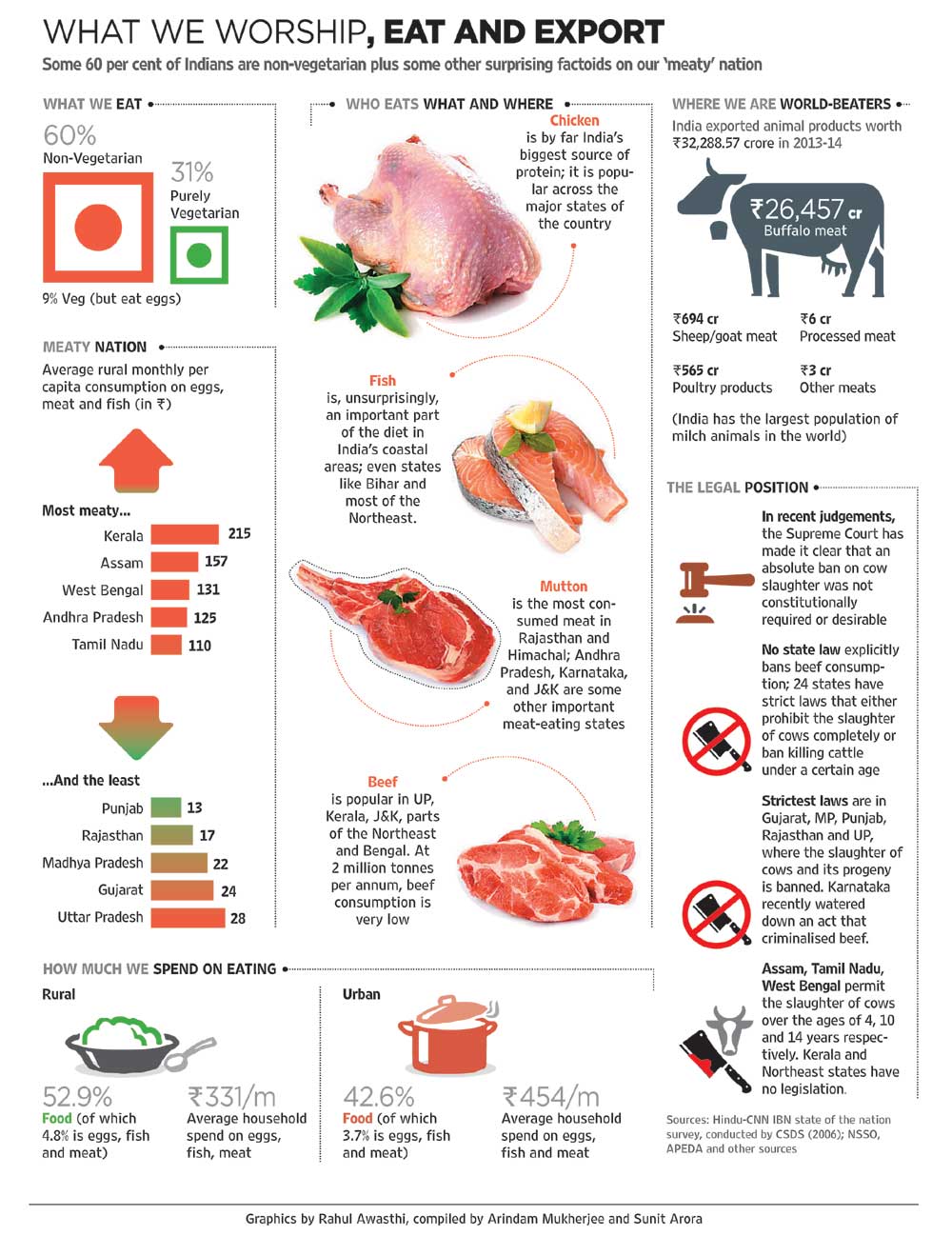 India is a nation with the second largest population of human beings in the world and the single largest of cattle. We are also an impoverished nation where many people are malnourished. We are also the country that occasioned the English phrase holy cow and one that has a history of agitations and politics over cow slaughter (it's now banned in most Indian states). Yet we return to the horns of an old dilemma because a BJP majority regime in New Delhi emboldens the entire Sangh parivar and its outfits to push their agenda with a great bullishness. Mostly, it is fuelled by hatred and stereotyping of the minority community as bearded, bloodthirsty meat-eaters. As historian Jyotirmaya Sharma says: "Sav­arkar used the term 'goat with 32 teeth' to describe Muslims." Yet he adds that the RSS attitude to vegetarianism is complex as the third sarsanghchalak Balasa­heb Deoras was a non-vegetarian and it is said that he was allowed to go out of the Sangh headquarters once a week to eat meat. "The RSS is not asking everyone to become vegetarians, they are saying that Muslims eat cows and should not do so."
"Money through trade of slaughtered animals goes into terrorism and therefore into killing us Indians."
Indeed, in his latest Vijayadashami address, telecast by Doordarshan, the current RSS chief Mohan Bhagwat said that "we feel it necessary to put a ban on meat exports, beef in particular and cow smuggling in the immediate future". RSS national executive member Seshadri Chari (formerly editor of RSS mouthpiece Organiser) says Bhagwat has given his advice that even buffalo slaughter should be stopped. "It is not just cow but gau vansha, all progenies of cow," he says. Yet, as eminent scientist P.M. Bhargava says (see interview) cow and buffalo are different species so the entire argument is unscientific, rooted merely in prejudice. The BJP itself, meanwhile, says it has no position on ending buffalo slaughter and it is not in their manifesto. Indeed, reports sourced to the commerce ministry say that as a sensible economic decision to balance the trade with China, the NDA government is even pushing for more meat exports to that country. Asked whether they intend to act on the RSS chief's "advice" in any way, i&b minister Prakash Javadekar said the party and government have no position on the issue.
Even within the Sangh, there is some ambiguity on the issue. Dilip Deodhar, a one-time member of the RSS who has written 42 booklets on the Sangh, has this to say: "The RSS has a section that sees everything from a religious perspective and is influenced by Jainism. Every now and then, Sangh leaders make statements to please the Jain lobby. But in my personal opinion this line is not viable or correct. Indeed, let me say that the oldest texts on Ayurveda talk of the benefit of eating gau maas (cow meat)." The point about Jainism possibly has some merit: recently the Gujarat government declared Palitana, a Jain pilgrimage centre near Bhavnagar, a strict vegetarian zone although 60 per of the population are non-vegetarians—not just Muslims, but even the Kolis, Siddis and Dalits.

Yusuf Sheikh (in T-shirt) with Hindu religious leaders before Id in Baroda
Still, Gujarat has its own particular dynamics and banning the consumption of a particular meat is a state subject. At the national level, it is in fact unlikely that any further meat bans would be imposed (ultimately the Sangh parivar knows that a vast number of Hindus—Dalits, tribals, OBCs, several upper castes, including many Brahmin communities—are also consumers of non-vegetarian eatables and these are communities the parivar does not want to alienate; indeed many, like the Ezhavas of Kerala, are seen as "potential growth areas"). It is also important to highlight that buffalo within India is the poor man's meat at just Rs 150 a kilo, far cheaper than mutton that costs Rs 400-plus. And buffalo sacrifice has also traditionally been common among the castes that go under the category of Kshatriya. Besides, in eastern India, animal sacrifice is part of the ritual at many temples, such as the Kalibari in Calcutta and the Kamakhya shrine in Assam. Indeed, let it not be forgotten that Swami Vivekananda himself had said: "You will be astonished if I tell you that, according to the old ceremonials, he is not a good Hindu who does not eat beef. On certain occasions, he must sacrifice a bull and eat it."
"Ironically, the VHP and Bajrang Dal, once sidelined in Modi's Gujarat, are flexing their muscles now."
Yet there is clearly an attempt by some to stigmatise meat eating. Historian D.N. Jha, an authority on ancient India who has written a book titled The Myth of the Holy Cow, says this: "If the RSS wants to demand that India becomes a vegetarian country, I can at least understand their argument. But they are not saying that. Their positions hardly deserve comment after their nonsense on love jehad. They should know that cows and buffaloes are different species but perhaps they prefer to be ignorant. And even today, they should be informed that more buffaloes are sacrificed in Nepal, a Hindu nation, than anywhere in India."
So there is fundamentally a great deal of subterfuge, lies and prejudice at the root of the exertions against eating or trading in meat. Just two weeks before the RSS chief's Vij­aya­dashami address, Union minister Maneka Gandhi had expressed concern about India being the world's largest beef exporter and claimed that the money from illegal animal slaughter was being used to perpetrate acts of terrorism. Since many of the biggest meat exporters are non-Muslims, her formulations are clearly drawn from the same level of thinking that inspired her son Varun Gandhi to be caught on tape some years ago saying at a public rally that the hands of Muslims should be chopped off if they raise their heads and hands too high (he was however let off by the courts for making a hate speech).

People at Delhi's Karim's during the festival. (Photograph by Tribhuvan Tiwari)
Still, it's not just the disinherited Gandhis who are guilty of spouting such venom (besides one could be charitable to Maneka as she is a famous advocate of vegetarianism even if she views some humans as potential terrorists). For years, the VHP-Bajrang Dal have raised the slogan in the Hindi heartland: "Gau hamari mata hai/Mian usko khata hai" (The cow is our mother/the Muslim eats our mother).
"The Sangh leaders keep making statements to please the Jain lobby, this isn't viable or correct."
Prime Minister Narendra Modi, a strict vegetarian, has also exploited the 'meat' faultline in his rhetoric. It was during the 2012 assembly elections in Gujarat that he began to talk of the "pink revolution". In speech after speech in his home state, he spoke of this distinctly coloured revolution brought about by the UPA ("Delhi sultanate"). The Congress, according to him, promoted this "pink revolution" by giving benefits to meat traders. He spoke eloquently of the "qatalkhanas" (slaughterhouses) of the UPA, where drains are filled with the blood and pink flesh of animals. Since Modi has clearly evolved as a politician, he found it necessary to raise this provocative theme only twice during the national campaign this year, in Assam and in Bihar, in areas where there was a large minority population.
Ultimately, it's all about politics and not vegetarianism, which is a legitimate life choice for many peace-loving citizens who are truly appalled at the idea of consuming the meat of animals. And let it be stressed that those agitating and trying to find cows in the possession of human beings are not necessarily animal lovers. The VHP/Bajrang Dal do maintain gaushalas where old cows are kept, treated something like the widows banished from their homes. There is also in the VHP armoury a great belief in the powers of gau mutr (cow urine) and products such as soaps, churans, shampoos and so on made from urine collected from cows.
"Perhaps the RSS prefers ignorance. Hindu Nepal sacrifices more buffaloes than anywhere in India."
The anti-meat atmospherics now is not really about any love of animals since cows and buffaloes and goats and camels across India are treated appallingly once they're economically no longer productive. For instance, if the cow stops giving milk or the oxen becomes too old to pull the plough in the field or carry passengers across India in bullock carts, they are basically left to die unless the farmer can sell them off for meat or their hide for leather. Indeed, the harness on bullock carts, a major source of transportation in rural India, is so callously designed that it's a constant living cruelty for the animal.
True, in Hindu mythology the gau mata is revered but the stark fact is that Kamadhenu, the eternally bountiful cow of the celestial realm, has little resemblance to the sickly, abandoned bovines seen eating garbage in the metros. Most of them die a nasty death, intestines clogged with plastic bags that come along with the garbage. Indian cattle past their prime do not have the leisure of chewing cud on grassy meadows. Once the milk dries up and the legs bec­ome weak, their lives are brutal. And in a nation where even the poor struggle to get a full meal, it's highly unlikely that animals would get any priority.
What is equally clear is that "meat" is once again a stick to beat other human beings with. Vegetarian vigilantism is not at all about the sort of pacifism promoted by Mohandas Karamchand Gandhi, another famous vegetarian from Gujarat. When we cut to the bone, it is quite easy to see that it is just about raw, dripping hate.
***
Holy Cow, They Are At It