By Sorit
876 No. of official crorepati candidates, some 47% of a total of 1,867 candidates, analysed from the six phases of the ongoing UP polls. In the '07 assembly polls, the crorepatis made up only about 22%.
---
"There must be some place in Neura that needs a bridge."
Digambar Kamat, Congress
The Goa CM's comment when reporters pointed out a
faux pas in the party manifesto
which promised a bridge in river-less Neura village.
"Desh ke sir ka Taj banega, UP awwal rajya banega."
—BJP slogan
"Utho, jaago, badlo Uttar Pradesh."
—Rahul ka sandesh
---
Uttar Pradesh Vidhan Sabha Performance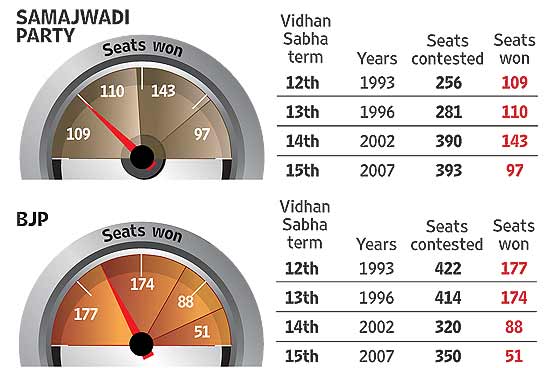 ---

Uttar Pradesh
Mr Moneybags
Cong candidate from Agra South Nazir Ahmed is the richest candidate in the polls so far with assets worth over Rs 141 crore. Declared annual income for 2010-11: Rs 22.2 cr. Spouse earns another Rs 4 cr.
---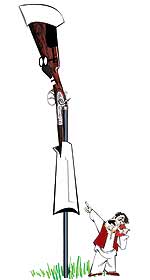 Uttar Pradesh
It's Smokin'
Elections in the Hindi heartland have in the past played out the Bollywood pastiche, guns and booze and everything in between. The Bundelkhand belt, in particular, is known as the land of the gunslinger bravehearts. But this time, with the EC keeping a strict vigil, 'procurement' has been difficult. Every other day, there's news of seizures and even travelling journalists get their car boots checked regularly. Still, there's a sense of adventure in the air and some claim darkly that "the guns are there", just well-hidden. The Congress candidate from the depressing Lalitpur district certainly sees such scenarios. He shot off a letter to the EC last week which began thus: "It is learnt from reliable sources that district officials have facilitated the procurement of guns by granting licences for them. The amount earned from this run into crores...." Now our neta may know better, and there are many shops in Jhansi selling guns, but polling day coercion is down. The only guns visible are those of the security forces on election duty.
---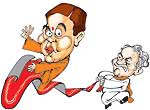 Uttar Pradesh
Caste Out
Ever since BJP president Nitin Gadkari announced that in the event of the party coming to power in UP, Uma Bharati would occupy the CM's chair, ex-CM and one-time Ram movement hero Kalyan Singh (now running the obscure Jan Kranti party) has been crying himself hoarse that she is not a Lodh from the state and that he is UP's real Lodh leader. Ergo, it is his calling to see that she loses. Uma is contesting from Charkhari in Bundelkhand and the local wisdom is that she should win the seat. As for Kalyan, having long lost his way to Lucknow, he is trying to preserve the tattered remains of his Lodh fief. The two stalwarts of the Babri Masjid demolition are both with their backs to the wall, playing their last card: caste. The world has moved on. These two sure haven't.
---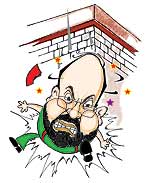 Uttar Pradesh
Stars Dim
These elections, what's been strangely missing are the Bollywood retinues flying down to canvass for the parties. It rarely translated into votes but still the stars, big and small, did help drum up crowds. As western UP goes to the polls, some stars like Sanjay Dutt and Raveena Tandon have been roped in by the Congress. Amar Singh, once a star magnet, is currently ploughing a lonely furrow with the faithful Jaya Prada in tow. He's grown a beard and is still at it with his Rashtriya Lok Manch. It must hurt that Mulayam and Akhilesh are reportedly doing well without him. Amar himself hardly manages to hold the small crowds he gathers.
---
Goa
Singled Out
The Benaulim assembly candidate of the Congress, Valanka Alemao, has a peculiar problem. When Valanka, who works with a Delhi-based corporate law firm, goes door-to-door the womenfolk keep asking her when she is getting married. They are worried that she is still single at 30! Valanka is the middle child of ex-CM Churchill Alemao. He has five daughters, four of whom have married and stayed away from politics. Sara and Aninya are graduates but have opted to stay home to raise their kids, Sharon is a psychologist in the Gulf and Wanda is a doctor. Valanka is the only apparently happily single. So women voters have this question: "When you get married, you'll move away. What's the point of voting you in?" She laughs and asks us, "How do I answer this?"
---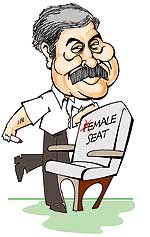 Goa
Men's Only
Former BJP CM Manohar Parrikar should have been at a loss for words when a female journalist asked him pointedly how the saffron party couldn't find a single woman candidate to field from the 28 seats the BJP is contesting in the state. But he deflected the situation with a deft apology. "I can only say sorry. We couldn't find a right candidate...that's why the BJP supports 33 per cent reservation for women in elections," was his riposte. If the past is any indication, even if it comes through the party of the gods might not be able to manage a candidate of the female persuasion in sunny Goa.