By Sorit
---

76 No. of women out of a total 1,098 candidates in the second phase of UP polls. It might be headed by a woman but Mayawati's BSP was little better, female representation in first two phases was 9 and 3 per cent. Left, Kajal Nishad, TV actress and Congress candidate, Gorakhpur Rural.
---
"I would rather drown in the Sarayu river."
Uma Bharati, BJP
The firebrand leader responding to a query about her party striking an
alliance post-poll with the SP or BSP in Uttar Pradesh
"Khula haathi laakh ka, band haathi sava laakh ka." (Uncovered elephant: Rs 1 lakh. Covered one: Rs 1.25 lakh)
—BSP slogan
---
Poll Meter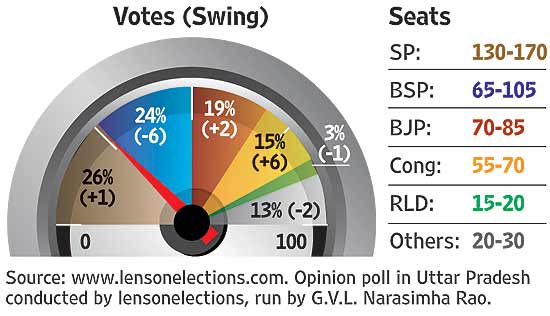 ---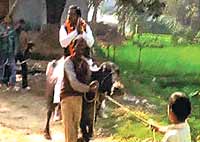 Uttar Pradesh
Buff Up
Ghamalu Chaudhary, Prajatantrik Congress Party candidate, Basti Sadar, campaigns on a buffalo. "Fuel prices are at its peak. The big netas from big parties campaign sitting in luxury cars, but I work with the poor people. I know their poverty, so I campaign sitting on a buffalo," he says.
---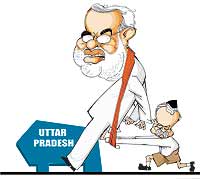 Uttar Pradesh
The Big Trip
Narendra Modi cannot be made to do anything he doesn't want to. After all, he is the only lion left roaming outside Gir in Gujarat. So now it seems the highest authority in the great Hindu parivar, RSS sarsanghchalak Mohan Bhagwat, has been roped in to "persuade" Modi to do his bit for the cause in Uttar Pradesh. Bets are still on, will he, won't he? Modi, so far conspicuous by his absence in Uttarakhand and Punjab, has apparently been sent "clear instructions" that his absence in the BJP's UP campaign will not be accepted. Specially as some members of the Sangh now feel he could be useful after the Ram temple issue has been resurrected. But will Narendrabhai agree, given that his old bete noire Sanjay Joshi is in charge of the UP campaign? And anyway is the Sangh brains trust right on Modi, or the temple? As a vote-catcher, he's flopped in the past in UP as has the Ayodhya issue.
---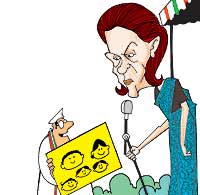 Uttar Pradesh
Who's That?
National-level leaders aren't faring too well in the UP campaign. Sonia Gandhi had one rally in the state and it didn't draw a good crowd. Son Rahul has however been more consistent in his campaign, but even the response to him varies from place to place. Priyanka is as usual all charm in the home borough, the Rae Bareli-Amethi belt. And as has been the case in most election campaigns of the Congress, PM Manmohan Singh has virtually no role to play. That said, sources say he will attend two rallies in the course of the long, staggered election—one in eastern UP, another in the western part.
---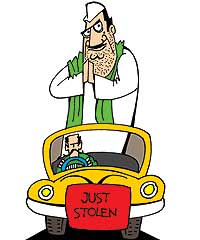 Uttar Pradesh
Shifty Gears
Elections in UP can bring out some of the worst in our democracy. Like what was revealed when the Mumbai police arrested one Nusrat Ali Khan for murdering a businessman in the city. It turned out that Khan had reportedly stolen over 200 cars to help finance the electoral campaign of his brother, Barkat Ali, a little known candidate from Pratapgarh. Even the insignificant players turn on the nasty in our heartland games.
---

Goa
Odds On
Local betting circles in Goa are already buzzing with pre-poll wagers. On the markers are an array of categories, including candidates who may win party tickets to those who may go on to win elections, the party likely to form the government to a possible CM candidate for the Congress. That said, punters have already awarded the 2012 duel to the BJP, a party they believe will come to power with the support of the Maharashtrawadi Gomantak Party.
---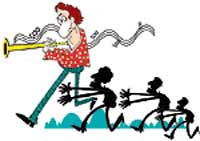 Goa
Support Staff
Daily-wagers in the state have found a better, if temporary, way to earn a living than the NREGA. With campaigning gathering speed before the March 8 polls, candidates have hired labourers in droves to pretend to be 'supporters', following their leaders (ie paymasters) on their campaigns. Unlike the daily minimum wage of around Rs 100, candidates are paying these "supporters" as much as Rs 500 per day. Not just this, there are additional perks to be enjoyed—like food, drinks, caps and, occasionally, even clothes. So widespread is this off-the-shelf "political activism" that businessmen and homemakers are complaining of a labour shortage in the market. Democracy zindabad!