By Sorit
31,000 rupees, declared assets of Ram Udaar Verma, BJP candidate from Mehnaun, Gonda district, and the poorest by far. A National Election Watch analysis of 284 candidates contesting the first phase of the UP polls found BSP candidates to be the richest, among all parties. Average assets: Rs 3.83 cr.
---
"I was like a pawn guarding the wazir."
Babu Singh Kushwaha, now BJP
Disgraced ex-family welfare minister says he was framed in NRHM scam,
says BSP chief Mayawati headed ministry before him
"Na Muslim, na Hindu, abki Gulshan Bindu (Neither Muslim nor Hindu, this time it's Gulshan Bindu)."
—Campaign slogan of Bindu,
independent eunuch candidate from Ayodhya
in the UP assembly polls.
---
Mayawati's Ticketmeter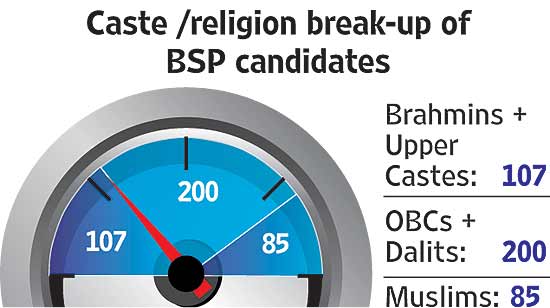 ---

Punjab
No Doosra
Manav Mehra, ex-Ranji player and BSP candidate from SAS Nagar, Punjab, says he's disappointed spinner Harbhajan Singh didn't campaign for him. As he put it, "Bhajji is a former teammate. He wished me luck but said that being a state employee (Indian Airlines), he couldn't campaign."
---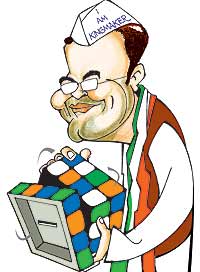 Uttar Pradesh
No Chairs
Now, any Congressman worth his fawning salt will tell you that Rahul baba has his own style of campaigning. Like his sudden stops to mingle with the common folk and listening to their problems. In fact, partymen are worried they just might have another "true leader of the masses" amidst them. This has been spurred on by his oft-repeated remark at meetings in Uttar Pradesh that his goal is not to win the assembly elections! "We are not here to win the elections; we will play kingmaker...hum kursi ki ladai nahin kar rahe hain," is what he's telling partymen in his own parliamentary constituency, Amethi. While the idea behind it appears to be an acceptance of ground realities, it's become a cause of concern for many insiders who feel it has a demoralising effect on the Congress rank and file.
---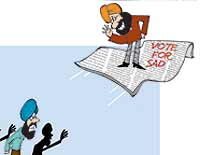 Punjab
Photo Finish
It's all about timing. A day before Punjab was to go to polls on January 30, the Sant Samaj, a religious outfit, urged its followers through well-placed ads in three vernacular dailies to vote for the SAD-BJP combine. The ads had pictures of several babas associated with the Sant Samaj. The trouble began the very next day. Not only did the Congress (naturally) object to the "motivated advertisements", some of the holy men pictured declared they are not with the Akali Dal and that the pictures were used without their permission. The EC issued notices to the three dailies and the Congress threw a tantrum. But as a wag noted, the damage was done and it was too late to undo it. Such are the devious last-minute devices employed during elections.
---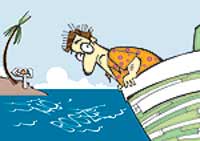 Goa
Watch It
Polling in Goa will be a little different this time, thanks to the Poll Monitoring System (PMS). It seems the EC feels that Goa is the ideal state to test the PMS, since it has just 1,612 polling booths spread over 40 constituencies and 10.57 lakh voters. So what is this PMS? Well, all voters will be photographed by webcams and digitally fingerprinted. PMS was tried out successfully during the bypoll to Valpoi assembly seat in October 2010 and the state had sent a proposal to the EC to sanction a pilot project covering the whole state. An addendum to this is that polls in Goa will be between 7 am and 5 pm. The extra hour is because 40 additional seconds is needed for every voter to complete the PMS formalities.
---
Manipur
Hunger Pangs
Despite the violence that marred elections, pork and fish sellers in Manipur say they never had it better than on polling day, January 28. With candidates looking at ever new ways to lure voters, it was no surprise that prime cuts and the best catches were on offer. One fishmonger from Kongba in Imphal East district claimed he sold over 200 kg on the day, compared to the average 100 kg, and charged 'customers' premium prices. Candidates who found that the local produce had run out even went in for imported ones. Manipur, on the day, witnessed many grand feasts, all reportedly organised for mundane reasons like "birthday celebrations".
---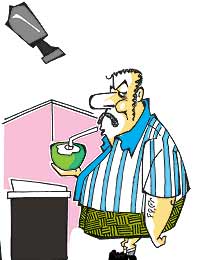 Goa
No Last Pegs
Tourism brochures love to emphasise that Goa is a land of fun and feni. But the EC diktat that bars can't serve liquor after 11 pm till February 5, and after 10 pm between February 6 and March 6, has caused outrage. The tourism industry is lobbying hard for an exception —at least for food to be served after 10 pm till the annual carnival (Feb 18-21) is over. Footfalls at local bars/ casinos have fallen by over 70 per cent. Casino owners are now pleading with the authorities to relax the ban, saying candidates "cannot afford" to buy voters drinks at their joints. Entry to an onshore casino costs Rs 500, it's Rs 2,000 for the offshore ones.