By Sorit
4,343 The number of illicit arms factories unearthed and sealed in the run-up to the polls in Uttar Pradesh. Unlicensed weapons seized so far: 2,431 and counting. Licensed weapons compulsorily 'deposited' at stations: 1,88,000 plus.
---
"Farzana's husband is retired. He's a fused bulb now."
Razia Sultana Congress candidate from Malerkotla, Punjab
The wife of ADGP Mohammed Mustafa criticising Farzana Alam,
SAD candidate and wife of retired DGP Mohammed Izhar Alam.
"Beware of parachute candidates."
—A hoarding in Dehradun asking voters to shun outside candidates
---
Star News-Nielsen Poll Of Key Parties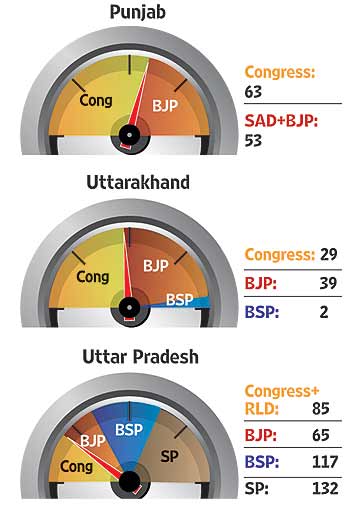 ---

Goa
Cross Over
Diving from the pulpit straight into the poll hustings? Catholic priest Bismarque Dias is an independent candidate from Cumbharjua, Goa. "My life has always been for the people. Now it will be for all people, not just Christians," he says. Corruption, urbanisation are some pet peeves.
---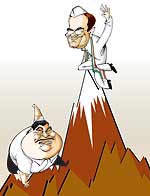 Uttarakhand
Summit Woes
Snow, rain and the bitter cold may be good enough reason for star campaigners from national parties to miss out on Uttarakhand but it seems the Congress is still doing a tad better than the BJP in the hill state. With voting day just round the corner, the Congress has managed to get its heavy hitters to address rallies. Rahul Gandhi made an early start and last week even Sonia Gandhi made up for earlier cancellations with an appearance in Roorkee and Tehri. Her visit was followed by more rallies by Rahul and PM Manmohan Singh. For the BJP, so far only party president Nitin Gadkari has managed to make an appearance in Uttarakhand. This after bad weather had him failing to reach Rishikesh last week. The only other star campaigner for them so far has been Murli Manohar Joshi. Sushma Swaraj was to address a rally last week but is said to be indisposed.
---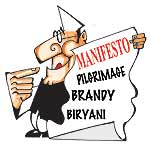 Goa
Voter's Prayer
It was biriyani and brandy till yesterday, now even God has been made complicit in the bag-the-voter schemes Goa's netas think up. Apparently, parties are now organising "religious tours" for prospective supporters—sending Christians to Velankanni in TN or Potta in Kerala and Hindus to Shirdi in Maharashtra. Chief electoral officer S. Kumaraswamy confirmed three busloads of the devout were flagged down when they got a tipoff on a sponsored pilgrimage to Shirdi. Thankfully for the pilgrims, they were allowed to carry on. But EC officials put the fear of God into the travel agent —apparently the political party had spent `4,000 per head for travel, boarding and lodging. Poll officials are at their wit's end trying to distinguish the sponsored devotee from the regular one, more so because of the recent introduction of a direct train from Vasco da Gama to Velankanni.
---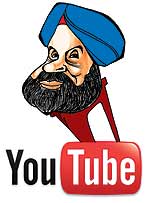 Punjab
Watch Out
Even though the Akali Dal was the last to release its poll manifesto in Punjab, it made up by being the most active in the virtual world. Consider this: 91 videos of Sukhbir Badal, the son of the CM Parkash Singh Badal, have been uploaded on YouTube. Each footage is a two-minute "development show" of him inaugurating projects. The sad has also sent some 12 lakh e-mails to prospective voters and its arrangement with Google ensures that whenever a user types Punjab, or Akali Dal, they will be shown the party's advertisement. And if one were to click on the ad, it leads one to the party website.
---
Manipur
Mean Spirited
Despite being a dry state, with a generous exception for the large contingent of army and paramilitary forces and a few tribal areas, authorities are taking no chances in Manipur. Authorities will enforce a blanket ban on alcohol in the state for 72 hours. The first dry spell will begin at
3 pm on January 26 and will last until 3 pm on January 28, polling day. Another no-alcohol round would be on March 6, counting day. Over the last month, enforcement agencies have seized close to 7,500 litres of countrymade liquor and 174 cases of imfl.
---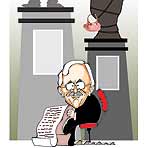 Uttar Pradesh
Bust 'em Up
The Mayawati and jumbo statues may have been covered up in Uttar Pradesh but the controversy itself refuses to go under. A PIL filed by an Allahabad-based organisation, the Adivasi Samajotthan Evam Kalyan Samiti, in the high court has called for all statues of Nehru, Indira Gandhi and Rajiv Gandhi in the state to be wrapped up. The petitioner argues that public money has been spent on these statues and the Congress, like the BSP, should not be allowed to derive electoral mileage from them. Quite a poser here.