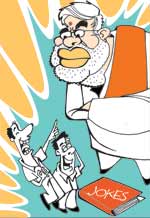 Aliens Vs Modi
While Team Modi's been busy churning out material like comics depicting the man's evolution—like the time he caught a crocodile in his childhood!—his critics haven't been lying idle. A popular website holds that Modi may now have his own book of 'facts', to be taught as official state history some time in the future. Samplers from it: Gujarat is so developed that flies, mosquitoes are only found in photographs now; to hit back at the US, President Obama has been denied a visa to Gujarat; there are no alien sightings in Gujarat because they are all afraid of Modi. And the list goes on.
---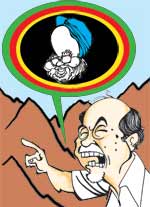 Ten-Year Gap
Manmohan Singh's inability to visit Nagaland "even once in 10 years" has prompted three-time state CM, Neiphieu Rio, leader of the Naga People's Front, to jump into the fray for the state's lone Lok Sabha seat. Rio is bitter over the perceived snub by the outgoing PM. Accusing the UPA regime of not implementing the special package for the state (announced by the NDA government) and diverting funds meant for developing highways, the CM has declared that his presence in Delhi and in Parliament is necessary to further the state's interests. He, of course, plans to support the NDA.
---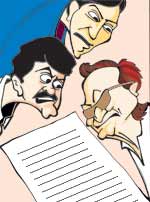 No Paper Trail
Filing nomination papers is a tricky business, which several candidates have discovered now. Jagjivan Ram's granddaughter Medhavi Kirti was in tears at Sasaram after discovering her nomination papers were incomplete without an alloted party symbol. The '60s chocolate hero and TMC man from the South Delhi seat, Biswajeet, found out he needed keep his voter ID in hand. And Kerala finance minister and KC(M) boss K.M. Mani's son Jose K. Mani got a rude shock when he reali­sed his papers required party chairman C.F. Thomas's sign and not of papa who's been running KC(M) like his fief.
---
Who's Your Amma?

Kolaveri di After Modi masks, it's now Amma ones. AIADMK supporters wear masks resembling CM Jayalalitha at a party rally in Chennai, Mar 21, 2014. (Photograph by Reuters, From Outlook 07 April 2014)
---
The Curator
5 things we learned this week
---
Opinion Polls Dewormed
To our dear pollsters, care to explain the numbers put out for different channels?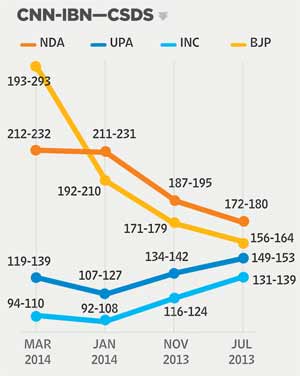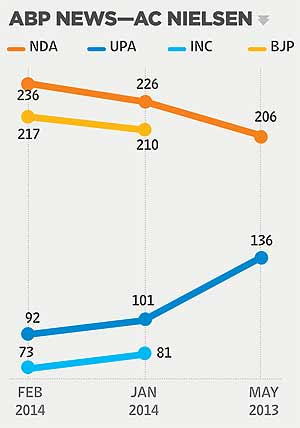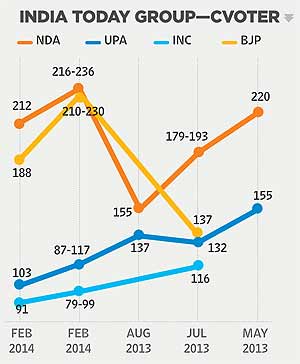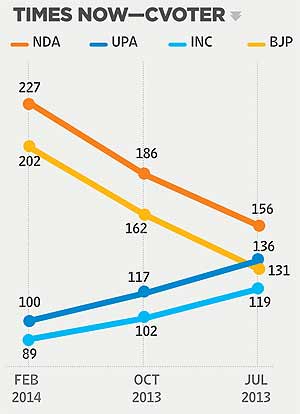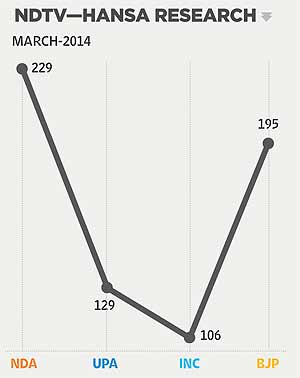 ---
Farmville
In Indian politics, having cake and eating it too takes a completely different meaning. The time tested pre-Independence tradition of political families aligning with different power blocs has continued with immediate or extended family members professing allegiance to different, often opposing political parties.
The paradox of Amitabh Bach­chan rooting for Narendra Modi's Gujarat as brand ambassador while wife Jaya gets busy campaigning for Samajwadi Party's candidates in Uttar Pradesh is hardly an exception. There are all too familiar examples of Rahul (Congress) and Varun Gandhi (BJP), Vasundhararaje (BJP) and Jyotiraditya Scindia (Congress), Ravishankar Prasad (BJP) and Rajiv Shukla (Congress) and, of course, Uddhav Thackeray (Shiv Sena) and Raj Thackeray (MNS) that spring to mind.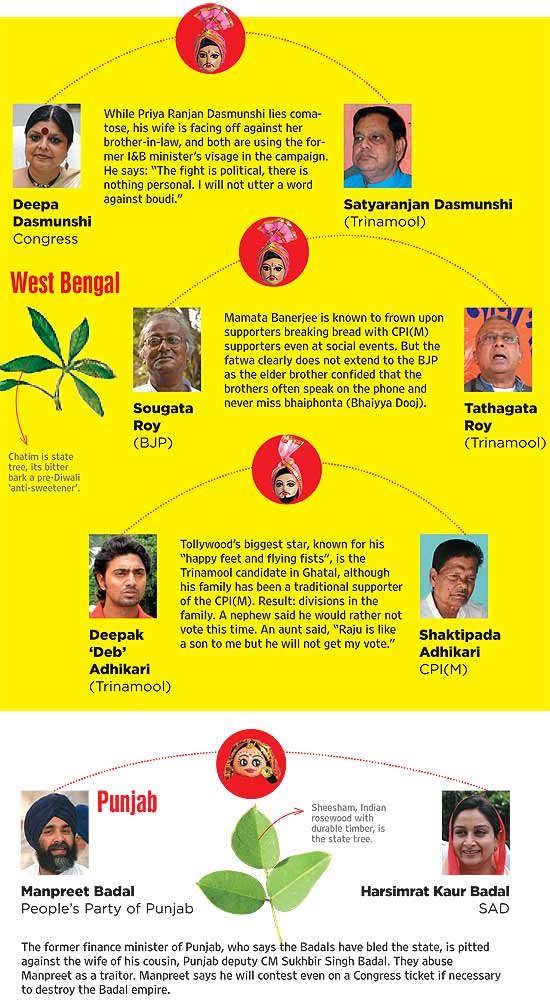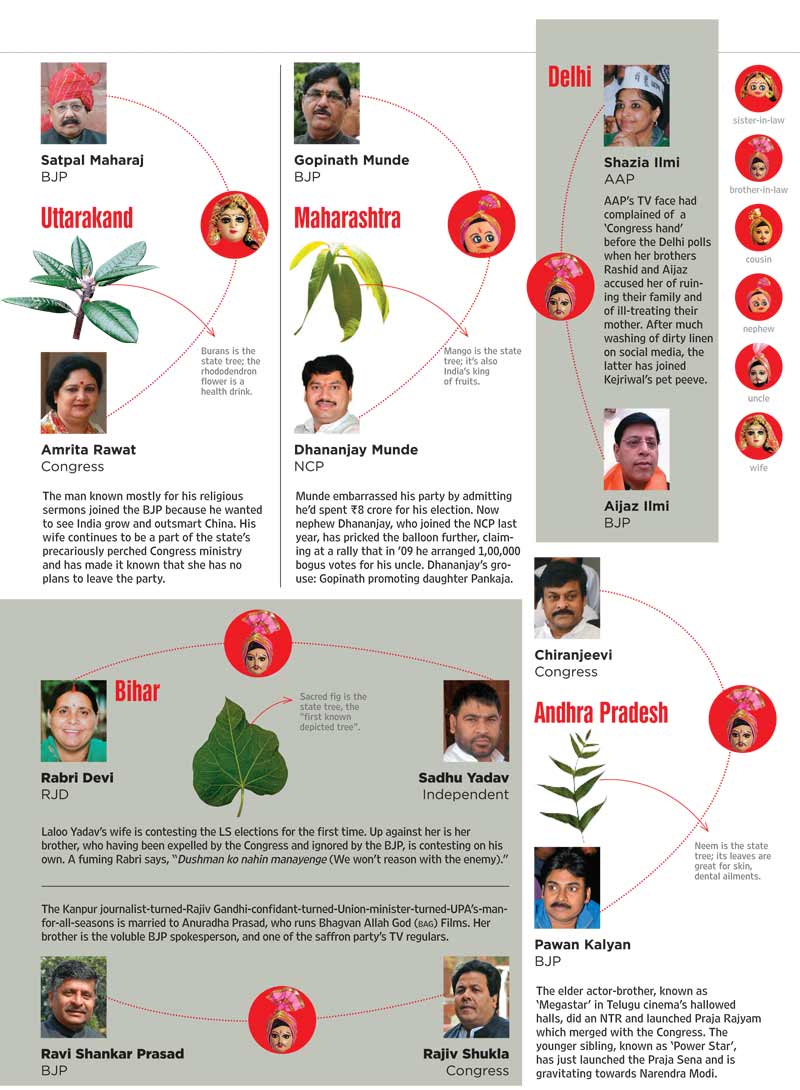 While they seem to live happily enough, the divides are not always peaceful. The nomination of Dr Heena Gavit by the BJP for the Nandurbar constituency in Maharashtra this time led to the expulsion of her father, Vijay Kumar Gavit, from both the NCP and the state cabinet. The poor father, however, is unable to join Heena in the BJP as several corruption-related probes against him are at advanced stages.
In Orissa, BJP state president K.V. Singhdeo will have a face-off with sis-in-law Prakruti Devi Singhdeo, wife of his younger brother and a BJD nominee in Patnagarh. The royal family soap opera has also pitted K.V. Singhdeo's wife Sangeeta agai­nst brother-in-law Kalikesh Narayan Singhdeo (BJD) at Bolangir. Luckily, ex-CM Gird­har Gamang (Congress) narrowly missed facing wife Hema, who has joined the BJD, at Koraput. Hema will now contest for the assembly. Clearly, the musical chairs are here to stay.
---
"BJP in Tamil Nadu has only an alphabet soup, it's of no electoral value."

Karti Chidambaram, Congress
The FM's son, contesting from Sivaganga, on the BJP's alliances with DMDK, MDMK, PMK, IJK and KNMK.