In the rest of the nation too, the death toll in Dantewada is felt deeply. It's a cause for immediate shock and anger. Everyone identifies with the grief. But, inevitably, it is a momentary phase. For the people who actually lose their own, it's permanent. It changes their lives. Forty-four of the dead victims were from Uttar Pradesh. Several of the state's villages had stories of irreparable loss to tell. It's as if their inconsolable cries ask that Dantewada never be forgotten.
---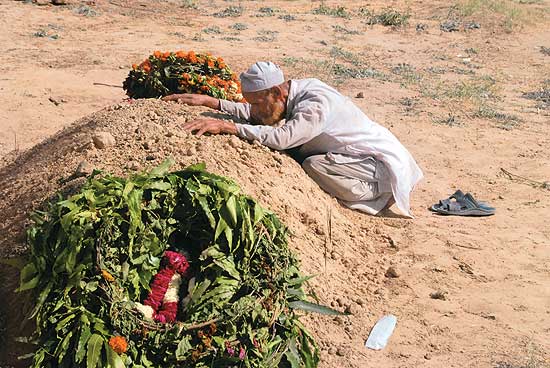 Khalil Khan, 29
Fazalgarh | Ghaziabad district | UP
The senior Khan says he can't comment on the Maoists for "whatever happens is already written by God".
Like 43 other fathers in the state, Fakhruddin Khan is a broken man. Walking to his son Khalil's grave, he tries hard to keep the tears at bay. He whispers, "We have nothing, we have never owned land. I had three sons. The other two live in Delhi and Mussoorie, just about able to fend for themselves. Khalil was the only support I had." Looking skyward, Khan says he can't comment on Maoists or their politics, because "whatever happens has already been written by God". After seeing the news on TV, some neighbours had urged him to go to the Bhojpur police station to try and find out more. "I found out there that my son was no more...." Khalil leaves behind a wife and two toddlers, aged three and one. Brother-in-law Salim Saifi says that he had an inkling that something dreadful was in store for the family: "Khalil would say, once you go to Dantewada, you are lucky if you can come back alive." Khalil didn't.
---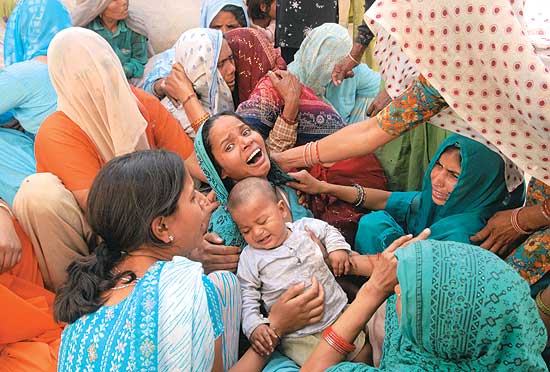 Narendra Kumar, 29
Mehmoodpur | Ghaziabad district | UP
A group of women sit huddled in a corner, beating their chests and wailing uncontrollably. Shridhan Singh sighs, "I am not crying like them, but my soul is." As he mourns the death of his 29-year-old son, CRPF head constable Narendra Kumar, Singh's voice turns from a squeak to a sob to a roar, all in the space of a sentence. "Seventy-six jawans have never been killed like this...the government must do to them what they have done to us." The greying Singh is interrupted by his eldest son, Krishan Pal, who explains, "We are five brothers." The grieving father quickly snaps back, "Now you are only four." There's a small audience and Shridhan Singh, a humble labourer, recounts the days when his only college-educated son was posted in Srinagar. A curfew had been on for five days and Narendra's diligence had so impressed a dig he is said to have told him that "the nation was safe in such a soldier's hands".
Meanwhile, in a corner Narendra's widow Saroj Kumar is crying so hard that every once in a while the men stop themselves mid-conversation and hold their heads helplessly. Completely unaware of the sombre mood, the couple's nine-month-old son Kunal smiles and crawls his way to his father's bed. Plastered above the nearby TV is a poster. It reads, "All the fruits of tomorrow are in the seeds of today."
---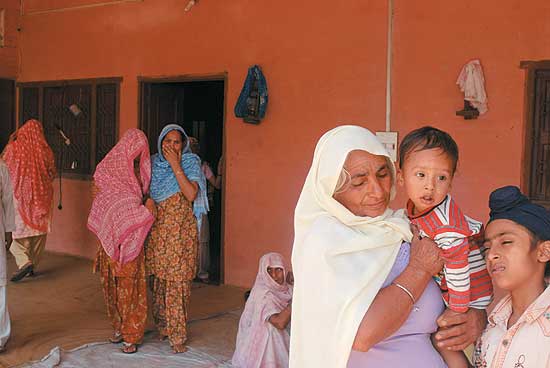 Udaivir Singh, 35
Badlla | Meerut district | UP
"We are Sikhs, it's a matter of great pride for us that my son laid down his life for the country," says Udai's father.
Udaivir Singh's body reached his home in Badlla village around midnight on April 7. The cremation, attended by over 1,000 people, happened immediately after. It's the following morning in this quiet village of a few Sikh families and there are no visible signs of mourning. "We are Sikhs and it's a matter of great pride for us...my son laid down his life for our country," says father Sardar Dharmender Singh, a marginal farmer. Udai's seven-year-old son Gurdeep brings out photo albums to show us the family pictures. The child shows remarkable composure as he says, "My father is a hero. He fought for the entire country. I saw bullet marks on his forehead...." Wife Asmit Kaur though can't hide her grief, sobbing gently as she rocks her infant son.
---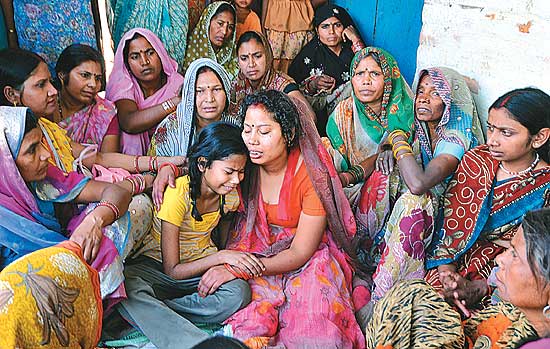 Sushil Kumar, 39
Kurari Kalan | Unnao district | UP
His cobbler father died when he was just 14. But Sushil Kumar shrugged off that loss and went on to join the CRPF. Now his wife and family are shell-shocked as news came in that he had been killed. Sushil's octogenarian mother, Yashoda Devi, repeats the same line to visitors about her brave son. His 35-year-old wife Sunita Devi is inconsolable: "He has left me alone. How will I bring up these little children?" she asks, her eyes on her two children, Saumya and Nikhil. Sushil was clearly the sole breadwinner. Though the couple were married in 1996, Sushil and Sunita hardly spent much time together. "Sushil was forever on the move, his postings taking him from one corner of the country to the other. It was only during his annual leave that he got to spend time with the family," says a relative. The last time he was home was in November 2009.