Tulsi Pipe Road, running north from Mahalaxmi to Mahim in central Mumbai, would have been just another arterial stretch, script brown-grey wall separating railway tracks from a smattering of old-and-new apartments and commercial complexes—were it not for an irresistibly bright, impressionistic riot of colours.
Over the last six months, five km of the wall along Tulsi Pipe Road have become home to wall art. The artists—a motley group of young professionals, collegians, pavement-dwellers, even vagabonds—justifiably claim it as "our wall" and rush to clean up any defacement. What's more, the stuffy Brihanmumbai Municipal Corporation (BMC) has adopted The Wall Project (TWP), chaos and all, as part of its policy to beautify Mumbai.
Public art is what public does; therefore the wall displays maturity alongside madness, rude graffiti alongside preachy slogans. Sample this: a splash of bright colours advertise the advice, "Save Trees", another piece of wall goes edgy with "Earth ka kuch karo warna 'unearth' ho jaayega!". There's also AIDS awareness, climate change, cleanliness, anti-fur arguments, even politically incorrect stuff like "Kasab la faansi dyaa" (hang Kasab), and somewhere along the route, a vibrant Che Guevara portrait.
In this mosaic, there is attention to colours and hues; there is also, alongside, complete disregard of the colour palette. There is purpose, and also a delightful purposelessness; and a dazzling diversity of thought and expression. Young filmmaker Dhanya Pilo, one of the initiators of TWP, which has an active online presence and growing membership, says, "Creating something is addictive, especially if it can be shared and people smile".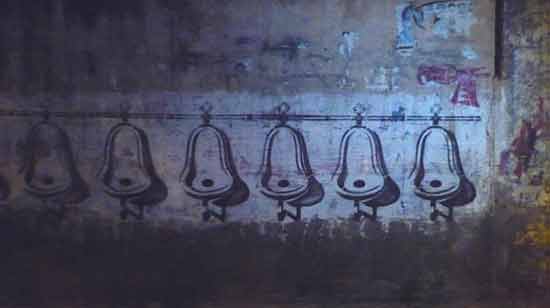 A line of painted urinals on the walls outside Deshbandhu College, Delhi
Wall art is not restricted to Mumbai. Across Calcutta, Chennai and Bangalore, and even smaller cities, it is making its presence felt. Civic authorities in several cities seem to have hit upon it, almost in unison, to prevent the defacing and disfigurement of walls by posters, urine and bills; not just "beautify" but to try and create, almost, a new morality for the city. But other aims have sprung up alongside—making space for creative expression, giving work to needy artists, reviving dying art forms, stating regional pride.
"I wish the BBMP bureaucrats had consulted Bangalore's artist community. The paintings are tacky and out of place. I hope the monsoon will be strong enough to wash them away!"
Walk down Phoolbagan road in north Calcutta and you are greeted by a sea of colourful images, from the archetypal Sita being whisked away by Ravana to lovingly detailed paintings of Bengal's greatest men, a municipality project to prevent walls being used as toilets. In Bangalore, after banning film posters on walls, the Bruhat Bengaluru Mahanagara Palike (BBMP) has chosen to guard them, not with fines but calendar art. About 7.5 lakh sq ft of wall has been painted on 63 main roads in the city, with more to follow. There is a method to this arty madness: Buxom ladies dancing in the darbar hall and an obese maharaja in a Nehruvian pose liven up walls near the Bangalore palace; near a playground, there are portraits of sportspersons, elsewhere lush reproductions of Karnataka's monuments.
After last year's Supreme Court ruling banning posters that distract drivers, the Chennai City Corporation has also embraced wall art in a city once notorious for outsize portraits of narcissistic leaders. Instead of gazing at Karunanidhi as they drive past, motorists now take in Tamil icons like the Tiruvalluvar statue at Kanyakumari and the cave temples of Mahabalipuram. No less distracting perhaps, but at least, more artistic to some!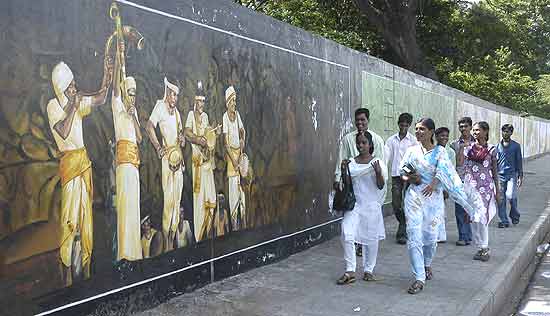 Making melody The work of an unnamed artist adorns a wall in Chennai
"Different arterial roads will have different themes—sculptures, temples, traditional arts and crafts," waxes J.P. Krishna, president of the Tamil Nadu Artistes Association. He has reason to be enthusiastic. About 60 out-of-work artists have already benefited.
Ujjain has moved a step ahead on the Art for a Purpose ladder, with wall art being used to resuscitate a dying art form. Ram Rajesh Mishra, former vice-chancellor, Vikram University, had the 3.5 km boundary wall painted with maandanas, the Malwa region's traditional folk art motifs, usually done on mud houses. "Maandanas are becoming history as people move from kachcha to pucca houses," explains Mishra.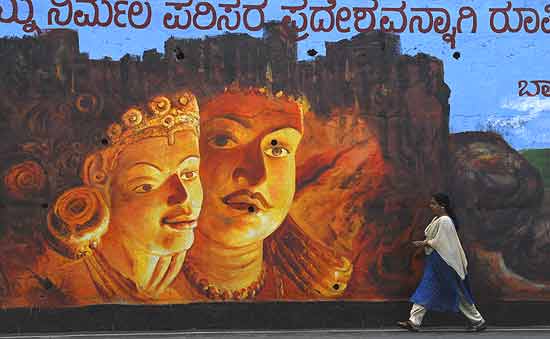 A depiction on a Bangalore wall
Many international cities sport stretches of wall art, and while it has its fans, it has also often been rubbished as low art, against the high art displayed in galleries. In India too, the current outbreak has generated debate. In Bangalore, for instance, the debate is not about clean, plain walls vs painted ones (it seems to be a given that walls will never be clean!) but about what should be painted. Says Ravi Kumar Kashi, a well-known Bangalore artist: "I wish the BBMP bureaucrats had consulted Bangalore's vibrant artist community before executing this mega project. The wall paintings they've commissioned are tacky and out of place. I hope the monsoon will be strong enough to wash them away!"
Urban historians like Sharada Dwivedi are, however, by instinct staunch in their defence of zanier manifestations like Mumbai's TWP. "It's the expression of people as they see life and their own city, it brings harmony and a community feel to the area," she says.
If enthusiasts have their way, our cities will be plastered with wall art. Calcutta mayor Bikash Ranjan Bhattacharya told Outlook: "Our city is culture-conscious. There are poets and artists in every home. They can transform our walls." Media professional Nisha Jacob, a member of Mumbai's TWP, says: "We want more people to start wall art in their own areas." Indeed, it is already happening, especially in the upscale Bandra-Khar neighbourhood (where a hotel has even roped in director Baz (Moulin Rouge) Luhrmann to paint a wall.
However, critics point out the movement does little to address key urban issues. What purpose is wall art, they ask, when well-known activists like Nayana Kathpalia and Neera Punj—of the ngo Citispace—were physically attacked and received death threats this month in Mumbai for daring to preserve open areas in a congested city against the intrusions of the politician-builder-criminal mafia triumvirate. But ask Bhikaji, the slum-dweller outside Mahim station, for whom the wall on Tulsi Pipe Road has been home for years. "It's at least pleasant and nice to look at," he concedes, though adding mournfully, "I can't use the wall as I did earlier." He and TWP members like chocolate-importer Karan Nevatia occasionally find themselves at loggerheads, with Nevatia and his friends prowling around, removing defacements. It's the sort of activism that any civic body would welcome—active participation by the people without really disturbing the larger status quo.
---
By Smruti Koppikar with Sugata Srinivasaraju, Snigdha Hasan, Pushpa Iyengar and Dola Mitra