Countdown To Suicide
2010 Madhorubhagan, a novel, is published
2013 Its English translation, One Part Woman, comes out
Dec 26, 2014 Fringe groups and the RSS protest. The Kongu Vellala Gounder community, to which Muru­gan belongs, joins the protesters, saying his portrayal of Gounders is defamatory.
Dec 28, 2014 Protests turn to a call for ban on the book.
Jan 7, 2015 Murugan meets community members, agrees to drop references to where novel is set. But the call for the ban continues.
Jan 13 Murugan announces on Facebook that 'Perumal Murugan the writer is dead.'
Jan 20 Progressive Writers and Artists Assoc­iation moves Madras High Court in support of Murugan.
***
We are on our way to meet a dead writer. It is dusk and long shadows fall on the small house at the end of a narrow lane in Kongu Nagar in Namakkal district, after a 200 km road trip from Coimbatore. There are policemen around, and an eerie uneasiness hangs in the air. A hundred questions are asked. Why have we come here? What do we want? We tell them we've come to meet the writer, all the way from Delhi. Finally, they give in and we are face to face with 49-year-old Perumal Murugan, Tamil writer, hunted and hounded by his own land-owning Gounder community and Hindutva groups taking offence at his work Madhorubhagan (translated into English as One Part Woman), leading him to declare on his Facebook page: "Perumal Murugan, the writer, is dead." It's a declaration made in pain—after standing up to the threats for some weeks—that he will never write again. "All of a sudden, our life has changed," says his wife Allaiarasi, a poet and teacher of Tamil literature. "There seems to be no other way now. The irony is, we too don't know why all this has happened."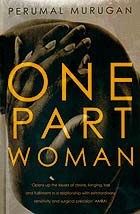 Indeed, when Madhorubhagan (also the local name for Ardhanareeshwara) was published in Tamil in 2010, nothing had happened. But all hell broke loose about a month ago, centred on the English translation. The novel is set in Murugan's native town of Tiruchengode. After a childless Gounder couple, Kali and Ponna, suffer the taunts of family and community, the woman is cajoled into attending a ritual at Ardhana­rishwaralayam, part of a 14-day religious festival and fair: it's believed that on the last day of this chariot festival, all the men are considered gods and any childless woman can have sex with any man she fancies to conceive and the child so born is considered saami pillai (god's child). Murugan is said to have done extensive field work and research for the novel and the ritual is known to have existed in many parts of Tamil Nadu, but the Gounders and right-wing groups found this part of the novel offensive.
The vicious attacks started on WhatsApp in the third week of Decem­ber. It flared up as the Hindutva groups got into the act. Shops were shut down, and Namakkal, which has rarely seen caste-based or other violence, was simmering. Copies of the book were burned and there was an outcry for the arrest and jailing of the author, driving him to commit a symbolic 'artistic suicide'.
But though Murugan may have cut out a part of himself, all he can talk about is books­—he has had 35 works published, including nine novels, short-story, poetry and essay collections, and a dictio­nary from Kongu (spoken in Kongunadu, comprising eight districts) to standard Tamil that won a state best book award.
Thangavel, an activist, says the uproar is the work of forces close to the BJP, which wants to pull Gounders to its side.

He says he wrote his first poem when he was in Std iii, and the next year, one of his poems was broadcast by All India Radio, Trichy. "I wrote my first novel­—Aru Veyi (Rising Sun)—in 1991, at the age of 25, while doing my PhD at Madras Uni­­versity," he says. His second work of fiction was translated into English as Roots; and another of his popular books is Current Show, about those who sell soda and popcorn at small-town cinemas, something he has done himself. Other­wise, he is rooted in Kottapalli, Tiru­chengode, and his world and his works revolve around the region. Of his own works, his favourite is Kullam Mathiyar (translated into English as Seasons of Palm), describing the life and times of an Arunthatiyar farmer's family and its migration—very close to his own life.
What is caste for him? He pauses and says in a low voice, "I have never considered caste a big issue, it does not matter to me. But in the real world it is still a big issue. Nobody knows how to come out of it. It is the easiest way to organise people, cause them to agitate." He teaches at an arts college near Namakkal, and, as he said in his Facebook declaration, will continue to remain a teacher.
He believes he belongs to the legacy of Periyar E.V. Ramasamy, the atheist-rati­onalist ideologue of the Dravidian move­ment, who had opposed casteism and social dogma. "These days," he says, "I remember Periyar more often. He was a great thinker. In the literary world, my role model is the great Tamil writer R. Shanmukha Sundaram. I have faith in Marxist ideology and in Ambedkar." In fact, he had dedicated his book Pyre to Divya-Ilayarasan, whose runaway marriage (Divya is a Vanniyar and Ilayarasan, who was killed, was a Dalit) had created caste tensions in Dharmapuri district.
Support had poured in for Murugan over the One Part Woman controversy after the news hit the national headlines. Writers carried placards saying 'I am Murugan' and extracts from the novel were read out at litfests in Chennai, Bangalore, Delhi, Calcutta and Jaipur. After the Facebook post, the Pro­g­ressive Writers and Artists Association filed a PIL in the Madras High Court, seeking that the peace meeting called by the Namakkal administration in which Mur­u­gan was made to tender an unconditional apology be declared null and void.
"It's good there's a lot of solidarity onl­ine, but it's the responsibility of a sec­u­lar government to ensure his freedom of expression," says Kannan Sunda­ram, Murugan's publisher and friend. Prof Muthu­swamy of Namakkal, however, says the nationwide support for Murugan means that he has won.
We visit the Ardhanareeshwar temple, where a senior priest, Sabarathna Murukal, says childless couples still pray there and conceive positively. As for the practice described in the novel, he says, many rituals die over time. But M. Thangavel, an activist, says the practice continues across the state, and this uproar has been created by forces close to the BJP just to pull the Gounders into its ranks. "They wanted polarisation, and have succeeded as they are politically influential. Seven ministers belong to the Kongu Vellar Gounder caste...Murugan was made a victim," he says.
What are Murugan's plans? "I have seven or eight books in my mind, I have made rough drafts, plot outlines," he says. "I am deeply hurt. I need time. My conscience tells me to stop. But nob­ody can stop me from writing. Not even me. I will write in my hear­t—not on paper."
---
By Bhasha Singh in Namakkal, Tamil Nadu