If we go by the rhetoric and pamphleteering, then Pakistan, by proxy, has become a player in the high-profile contest in the holy city of Kashi. The day after Arvind Kejriwal took a holy dip in the Ganges and announced his intention of contesting against Narendra Modi here, the PM candidate finally condescended to acknowledge the existence of the AAP leader. AK-49 (the number of days Kejriwal was CM of Delhi), said Modi, and then described him as "an agent of Pakistan and an enemy of India".
Two days before Modi's statement, the night before Kejriwal landed in Var­anasi, BJP workers at the Benares Hindu University distributed a pamphlet that said, "Kashi pooche paanch sawal (Kashi asks five questions)" and came to the same conclusion as Modi. That Kejriwal and friends, such as law­yer Prashant Bhushan, activist Medha Patkar, anti-nuclear activist S.P. Uday Kumar and jnu professor Kamal Mitra Chenoy were all agents of Pakistan. A picture of Osama bin Laden too graced the pamphlet. Terrorists, Pakist­ani agents, jehadi enemies of the nation, you get the message!
Certainly, the BJP is all charged up in Uttar Pradesh and compl­aints about this sort of pamphleteering is just water off a duck's back. The party's Varanasi office is buzzing at 8 pm. In one room sits the treasurer for 14 districts of Uttar Pradesh, Prem Kapoor, who admits to unprecedented col­lections and support. He makes light of the pamphlet and says the Bhagat Singh Kranti Sena has released it and "they are not formally the BJP". Laxman Acharya, president of the Kashi BJP, says the main point is the people of Kashi believe they are voting for a prime minister. He reveals the preparations: hoardings across the city paid for by "well-wishers", five video vans across the town, 15-20 cadres for each booth. Modi himself will come only early next month.

Photograph by Nirala Tripathi
"We will say Har Har Modi. He's an avatar of Shankar bhagwan. He is standing from every seat in India."
In another room, the IT cell is active. It's headed by Sailesh, who left the Indian navy eight months ago to work for the Modi campaign. He says their main job is to facilitate the net registration of BJP voters and fine-tune booth mana­gement. He too dis­t­ances the party from hate messages and polarisation and says it's just some hot-heads who indulge in this. On the net, he bel­ieves only the AAP is as energetic as the BJP.
Indeed, the Modi campaign in Varanasi is like well-oiled machinery. It is all things to all people. Many believe it is genuinely about a fantastic development model pursued by a man whose brand has been sold to them. Others say it would be good to get an MP who could be PM in a town that is falling apart on every indicator, where people survive amidst filth and garbage and a collapse of all infrastructure.
But the campaign is equally about ass­erting a strong Hindu identity, although that may not be how it is packaged. The Pappu chai shop, an institution on the Assi ghat, was once known for intellectual openness. It is now overtaken by BJP supporters who do not let others get a word in edge-wise. Rajnish Kumar Singh, a student leader, says that "when there was a lot of evil Shankarji came to Kashi. Aurangzeb also came to break a temple but it is the city of Shankar Bhagwan. Modi now comes as a doot of Shankar. If Kejriwal's mission is to stop Shankar, then he is a force for evil." Ashok Pandey, a state BJP spokesperson, says, "We will say Har Har Modi. He is an avatar of Shankar bhagwan. He is standing from every seat in India."
Deepak Malik, retired bhu pro­f­e­ssor with an old Communist mov­ement association, says years of party-watching have led him to conclude that the BJP is the most "intelligent" politically: "They systematically build strategies. They float an idea, withdraw it, they try another idea, then back it with cadre str­ength. They take different shapes and avatars and now they come with a well- packaged persona of Modi." He bel­ieves the RSS has "carefully chosen the site of intervention into India's democracy".
"Everyone makes calculations based on Kashi's 16 lakh voters. But what of its 16 lakh spirits? Do not be sure of anything yet."
Vishwanbhar Nath Mishra, the mah­ant of the Sankat Mochan temple in Varanasi, is an influential figure here. Modi has called on him, as did Kejriwal earlier this week. He told Kejriwal that just knocking the system is not enough, "please also take responsibility". Kejri­wal gave him his version of why he quit the Delhi government. But the day after, Mishra says that it is not part of Benares culture to attack, abuse and throw things at someone as was done to the AAP leadership. Mishra denies rumours that the Congress has sounded him out to stand from Varanasi. And then he says with a smile: "Everyone makes calculations based on the 16 lakh voters of Varanasi. But this is also the city where there are 16 lakh ghosts and spirits. Don't be sure of anything yet."
The big political question, of course, is can a relative lightweight like Kej­ri­wal really give Modi a fight? The SP and BSP candidates are not strong and the Con­g­ress is yet to announce its choice though there are rumours of Digvijay Singh entering the contest. In Varanasi, in the recent past, it is not the conventional parties but mafia don Mukhtar Ansari who has been a powerful force. In 2009, he had contested on a BSP ticket and given a tough fight to Murli Manohar Joshi, who finally won but by a small margin. Currently lodged in Agra jail, this time he will fight on his own platform, the Qaumi Ekta Dal. Athar Jamal Lari, the don's man in Varanasi, says that "if leaders like Mulayam Singh are not wearing half pants under their dhotis, they should create an anti-Modi platform behind Mukhtarbhai. He's the only one who can give a fight to Modi".

Looming over Weaver Maqsood Alam's wishes are for AAP's Kejriwal this time. (Photograph by Nirala Tripathi)
The don has a Robin Hood-type image among the Muslim community—one of the largest voter blocks in the seat. They apparently see him as a "dabang-type" leader. Ansari will not be short of funds and muscle power. The BJP would also like to see him contest as it fits their stereotype of bad Muslim vs good Hindu.
Yet, early signs are that the Muslim community may view Ansari as a non- winning proposition as this time there is no BSP ticket and therefore no Dalit vot­e­bank to build on. Besides, many of them have begun to realise that a Mukhtar-type figure in the fray also suits the BJP as it's easy for votes to polarise against him. Indeed, as Rashid Ansari, a shopkeeper says: "Why say that Mukhtar almost defeated M.M. Joshi? The fact is that bhai also ensured his win as Congress voters also came out for the BJP neta because they hated the Musalmaan."
"There will be abuse and attacks on us as the BJP's working style is to intimidate people, call them anti-national. We are prepared."
So will the Muslims consider Kejriwal a serious candidate? Contrary to conventional wisdom, among the many pundits of Kashi, Kejriwal is being looked at with fascination and hope by the Muslim community. The day after his rally, in a part of the city where the poorest weavers live, they were watchful but slowly opened up to talk. Maq­sood Alam is a young man who sits on the looms for 10 hours each day. "Is baar tamanna hai Kejriwal ko dene ki," he says. Almost all the younger Musl­ims viewed Kejriwal as an appealing candidate. Yet it's early days and the community will try to galvanise around one candidate. The refrain was that Kejriwal has shown guts and we shall see....
There is something tragic about the frenzied pursuit of the Muslim vote across UP, especially in Varanasi where the community remains both backward and besieged. There is a small prosperous merchant class among the Muslim weavers in this town but the majority are poor and illiterate. Indeed, they still do not send their children to school as they need them on the looms. At the most a few years in a madrassa and then a life spent in the ghettos, in narrow lanes, between garbage dumps and cramped houses where people sleep around their looms. It is their votes that will be so fiercely fought for again, with even the BJP producing the token Muslims from Gujarat to make the point that secularism is rubbish and the real model is Modi's!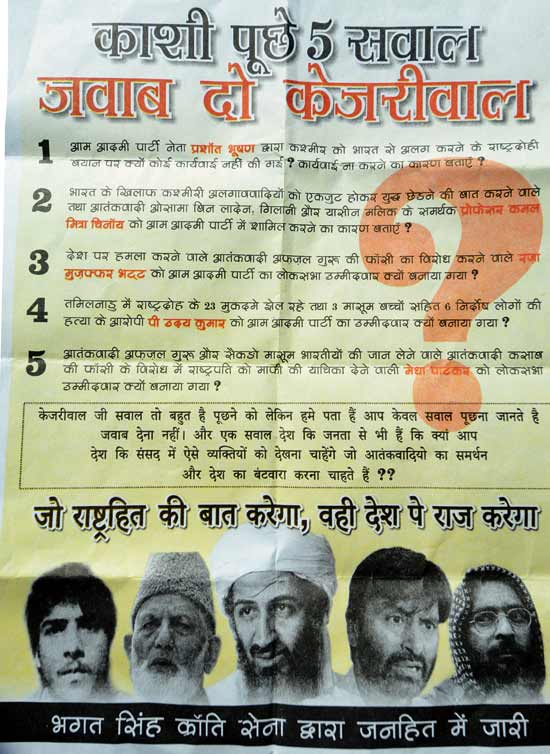 The fiver Saffron posers to Kejriwal
So how will Kejriwal play the game in this ancient land where caste and community have been the single-most powerful unit of mobilisation? By April 14, when the Delhi and Haryana elections are done, he will move to Varanasi to do a door-to-door campaign till voting day on May 12. He will be acc­o­mpanied by many of AAP's top leaders—Yogendra Yadav, Rakhi Birla, Manish Sisodia. Core committee member Sanjay Singh, in charge of the UP campaign (he's from Sultanpur in the Awadh belt) says they are contesting all 80 seats but will put their might into Varanasi and Amethi.
And they will repeat the methods used in Delhi: a manifesto for the city, a personalised campaign, building up the local cadre, along with bringing in at the peak about 5,000 AAP volunteers into Vara­nasi. Like the BJP, the AAP too plans to have about 15 volunteers in each booth.
The AAP is working on the model of building a cadre committed to their ideas, who take time off and work for the party at their own costs. They live in houses provided for by benefactors and supporters. For instance, Sanjay Singh is living in a house packed with volunteers sleeping across the floor, sharing a common kitchen.
And although anti-corruption will be the thrust of Kejriwal's campaign, there will be a targeting of specific castes and communities. For instance, there was a good response to the Kejriwal roadshow from the Valmiki samaj and AAP's Dalit face Rakhi Birla will later campaign among them. Says Sanjay: "There will be abuse and attacks on us as the bjp's working style is to intimidate people and call them anti-nationals...as if they have a patent on it. But we are prepared."
In the short history of AAP, this is also the election when they will rely to a far gre­ater extent on making specific com­munity-centric appeals. At his rally in Varanasi, Kejriwal paused when it was time for the azaan and it was of some symbolic significance when he accep­ted a cap from a Muslim maulana (unlike Modi who refused it last year). Kejriwal also concluded the rally by breaking into an old Hindi film song about universal brotherhood.
But the real significance of Kejriwal's fight will not be about secularism or whe­­ther he can appeal to Muslims, Dalits and the upper castes who oppose Modi. By attempting the apparently impossible task of trying to defeat the Gujarat CM, Kejriwal will be playing to a national aud­­ience and contesting the accepted and prevalent model of gro­wth and dev­e­lopment. He will insist on telling the peo­ple of Varanasi about Ambani and Adani and Gujarat's flawed model. And he will be persistent and tenacious. He will be targeted, shown black flags, get some more ink and eggs thrown on him, be torn apart by the media. But he will have built AAP into a fighting force ready to charge into the most impossible battles with the odds stacked against them.
After all, as Kejriwal said quite pointedly at his Varanasi rally: "What is this stability that the media keeps talking about? Whose stability? Ambani ki stability?" He then went on to predict another election in a year from now. He has already provoked Modi into calling him that most famous of his insults—a Pakistani agent. That itself shows the level of irritation he's caused in the man who looks so invincible.