Flashpoint 1 Appalling infrastructure makes Arunachalis wonder how New Delhi can ignore such a sensitive border state
Flashpoint 2 It's particularly shameful when you look at all the development just across the border, on the Chinese side
Flashpoint 3 There is resentment over dilution of tribal identity, especially on account of the imposition of Hindi
Flashpoint 4 A corrupt electoral system is helping elect people who have the money but don't necessarily represent people
Flashpoint 5 Hydel projects will lead to influx of migrants and hasty environmental
clearances will wreak havoc
***
Travelling through the plains of upper Assam one late October afternoon, wending our way from picturesque Tawang to Arunachal's capital Itanagar, an irony keeps hitting us at every turn. To access one part of Arunachal from another, we must suffer this tedious journey through Assam. It's here that we run into Ritesh (name changed), an indigenous Arunachali who's a journalist with a government media agency based in Itanagar. He recalls the day he went across the McMahon Line, which divides India from China, for the first time in his life—and saw what China was all about. Actually, Ritesh didn't really see mainstream China but the region euphemistically called the Tibet Autonomous Region (TAR).
"A Naga tribal's as alien to me as he is to you. Then why should we be clubbed together as the Northeast?"
Ritesh could cross the McMahon Line because of a tradition that the Indian and Chinese military follow diligently every year. On August 15, a Chinese delegation crosses over to Tawang at Bum La; on October 2, to commemorate the Chinese National Day, an Indian delegation crosses over into TAR. On these two days, both sides jointly hoist the respective flags of their countries. Amidst bonhomie, each delegation shows off its country's achievements to the other. It was on one such trip that Ritesh witnessed China's progress. "The roads were beautiful," he reminisces, "the villages swank and the infrastructure fantastic. Then I recalled the road I'd taken from Tezpur over two days to get there and I began to wonder where Arunachal would have been had it continued under China post-1962."
The visit was a mind-bending experience for Ritesh, prompting him to take a relook at his assumptions, at the idea of India he had inherited. He, after all, belongs to what can be called the post-'62 generation, those born in the years following the Indo-China conflict. They know of China as the aggressor, an image recurring in the narration of their grandfathers. Now, however, Ritesh has seen the other China—a superpower in the making, hurtling down the road to development at breakneck speed.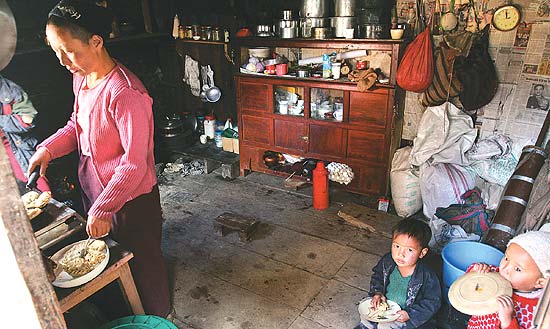 Whose goose is being cooked: Arunachali tribals resent the loss of their way of life and dilution of their tribal identity
Quite understandably, China dominates the thoughts and memories of most Arunachalis. The tribes here still lingered in their pre-industrial ways of life when in October 1962, as the winter chill set in, the Chinese stormed into India through Bum La on the west and the Dibang valley in the east, sweeping past Indian defences to advance to the gates of Tezpur in Assam. The '62 war sent shock waves countrywide. But for Arunachalis—indigenous people aeons away from the mainstream in material culture—a modern war machine playing out its drama on their territory marked the end of innocence. Indeed, 1962 isn't just a year for them. For many, it is the beginning of the end.
Says Moji Riba, an erudite and articulate filmmaker whose father was briefly the chief minister years ago, "Our society developed at such a speed that we couldn't catch up post-'62. Most people like my grandfather never saw a wheel when they emerged from the jungles. And yet, they saw jets flying in the air. From pre-wheel to jet age in 40-odd years, can any society evolve in this manner without consequences?"
The Arunachalis have found their stories under Chinese occupation banished from contemporary history.
The '62 war became part of the Indian consciousness. But Arunachal and its people, ironically, were pushed to the margins of this consciousness. Somehow, there was no zeal to develop this vulnerable border state. Today, as you travel on the potholed roads, struggle to make a call, encounter a generally appalling infrastructure, Arunachalis have just one question to ask: how could a disputed state such as theirs be so neglected by New Delhi? Worse, as Arunachalis languished and lagged behind other states, they found their stories under Chinese occupation lasting two months—the only people in independent India to have suffered this—banished from the pages of contemporary history. The war had left behind a people who'd remember those months for generations to come. The invasion began to shape their lives, their future, their identities.
Riba belongs to a new generation of Arunachalis in search of their ethnic identities, frustrated as the youth is with New Delhi's insensitive policies. "They club us as the Northeast. But a Naga tribal is as alien to me as he is to you. Then why should we be clubbed together and why should our paradigm for development be the same?" Riba now spends his time travelling through the state documenting the oral histories of the various tribes of Arunachal. It is, in a way, his protest against the post-'62 onslaught of Hindi.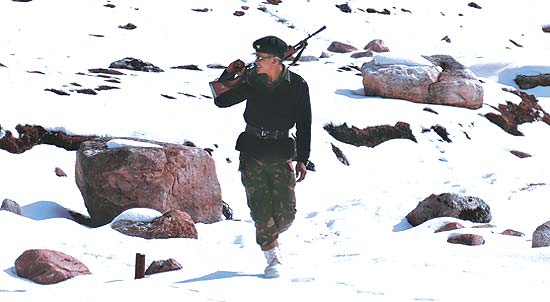 What are we defending?: An Indian army soldier patrols the snow-clad mountains of Tawang
Riba explains, "People of our age now speak to each other in Hindi, our second language, because it was taught for years in our schools, while our ancient tribal languages were forgotten. New Delhi never bothered to understand or value our culture. Now, we seem to be getting lost in the deluge." For many like Riba, Delhi is a colonial power, imposing its will on a people and deciding their fate. And what a fate New Delhi has decreed for them.
"The PM comes in a special plane, makes lofty announcements, and leaves. How will he ever understand us?"
"Look at the roads," says Mamang Dai, the daughter of a former civil servant who managed to escape the Chinese troops by a whisker and trekked through the jungles for days to reach Assam. "But the Indian army viewed him with suspicion, thinking he was Chinese too. Sometimes, just because we look different makes it impossible for us to be identified as Indians. In fact, many of our fellow Indians barely know us on the map."
An accomplished fiction writer, Dai makes her disappointment with Delhi quite evident through her writings in the local papers. Citing Prime Minister Manmohan Singh's October visit to the state as an example, she notes sardonically, "He comes in on a special plane, makes lofty announcements, waves and then leaves. How does he expect to understand us? Look at the special Rs 24,000-crore package he announced for Arunachal in January last year. Has any of those proposals moved beyond the files? Nothing." In fact, Dai's anger was articulated in a letter current chief minister Dorjee Khandu submitted recently to the PM in Delhi (see box).
Local journalists estimate each winning candidate spent at least Rs 15 crore these assembly polls to get elected.
Much of the Arunachalis' frustration stems from the rampant corruption that has now become synonymous with elections here. Tongam Rina, a columnist with The Arunachal Times, noted how three Congress MLAs, including CM Khandu, were elected unopposed from their constituencies. "It has got everyone talking in the state. Thankfully, the other 57 seats saw some kind of contest." Most politicians are willing to switch parties for a price; local journalists estimate a winning candidate spent at least Rs 15 crore in the recent assembly poll to get elected. Rampant electoral corruption has skewed the system, sending to the legislature those who may be rich but don't necessarily represent the people or their interests.
Perhaps this also explains the lack of development in the state, its decrepit roads and poor communication facilities. Ironically, in Arunachal's border districts, the Airtel signal pops up on cellphones from towers located across the McMahon Line. These districts are yet to get similar mobile towers on the Indian side. Likewise, a strategically important road such as the Tezpur-Tawang-Bum La highway resembles a dirt track. "How can a state that India claims is so important have such pathetic roads?" asks Dai. Lost on New Delhi is the fact that these are the very roads that 2,420 Indian army officers and soldiers died defending, fighting the Chinese with their bare hands after exhausting their ammunition. Says taxi driver Tsering Dondup, who takes 18 hours to cover the 465-km distance between Tawang and Tezpur, "A few trips on these roads are enough to condemn any vehicle. How do you expect people here to survive? We hear the Chinese have trains running to Tibet. Here, we can't even build roads."
A trans-Arunachal highway was slated but bids for it "were rejected by the surface transport ministry".
Worse, Arunachalis fear that the Centre's development plan could swamp them completely and dilute their identity further. For instance, as the state signs a spate of MoUs to begin hydel power projects (worth Rs 2,50,000 crore), the people hear fear the advent of migrant workers, believing they are bound to be settled on tribal land. Smaller tribes such as the Eidu Mishmi feel it's a holocaust in the making. "The money will disappear into private coffers, while small tribes like ours will get washed away by the deluge of migrant workers," says Tone Mickrow, general secretary of the Eidu Mishmi students' union.
New Delhi's chattering classes often cite India's democratic credentials as one reason why Arunachalis would never want to live under the Chinese. Ironically, it's this very democracy which is playing havoc with the Arunachalis. Alleges Bamang Tago, who has been fighting the planned power projects in the Dibang valley, "Just look at the statistics. Over 30 MoUs of the 103 power projects were signed in the five months preceding the 2009 Lok Sabha elections. That means the funds for the elections came from the MoUs."
In Arunachal's borderdistricts, the Airtel signal on your cellphone pops up from towers on the Chinese side.
With big boys like the Jindals and Reliance rushing into Arunachal, rules for securing mandatory clearances for power projects have been bent with impunity. Says Neeraj Vagholikar, who is with ngo Kalpavriksh and who has worked in the region for the last eight years, "Public consultation and green clearances have been reduced to a farcical cosmetic exercise as project developers have already paid huge 'upfront premiums' at the time of signing agreements (MoUs) with the Arunachal Pradesh government." The 'upfront premium' is the one per cent of the total project cost that the developer deposits with the government even before mandatory clearances are obtained. For a region that insists on all Indian citizens securing an inner line permit to enter the state, such a development paradigm is fraught with grave consequences.
All this has alienated Arunachalis from India. They believe they have been exploited and neglected, their tribal identity deliberately diluted. Lack of development has begun to agitate them because they have woken to the possibilities, illustrated by what China's achieved across the McMahon Line. Democracy and freedom are India's advantage over China. But as Dai points out, "With democracy playing havoc with Arunachal Pradesh, there's a murmur in our society asking: wouldn't we be better off under Chinese rule?"