Why do people talk about the Big Fat Indian Wedding like it's some kind of post-liberalisation phenomenon? They bemoan the influence of Sooraj Barjatya and
Sanjay Leela Bhansali, of Madhuri Dixit's backless purple choli-sari, of champagne, Swarovksi and Singaporean orchids, and talk about the good old 1940s when Indira Nehru married her Feroze clad in a simple pink sari woven out of yarn spun by her father in prison. Shaadi, khaadi and azaadi. Those were the days! Where have they gone, they wonder?
Hello, I want to tell these people, Indians have always revelled in humongous, obscenely expensive weddings. I don't have any evidence to prove it, but I'm pretty sure that 'Sita Weds Ram' was a magnificent affair. Ditto 'Draupadi weds Yudhisthir-Bhim-Arjun-Nakul-Sahdev'. Ditto Mumtaz weds Shahjahan. All the way down to Bhawani 'Bubbles' Singh of Jaipur weds Princess Padmini of Sirmur.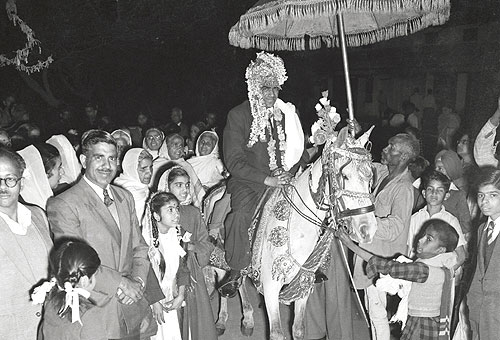 You may argue that these were all royal weddings. That royals are allowed, even expected to pull out all the stops. But that's the whole point, isn't it?
Now that India is a sovereign, socialist, democratic republic and there are no longer any nawabs or princelings around, everybody has the fundamental right to aspire to fill that particular social vacuum. To be a king, to live like a king, to marry like a king. And everybody is pursuing that particular fundamental right with unbridled gusto.
Ma-in-laws-to-be may protest that they're not doing a Mughal-e-Azam 'Durga Khote for a day' giant ego trip.
That's why people book huge palace-hotels in Rajasthan to get married in. Why grooms alight from sixteen-horse- driven gilt carriages or gold-canopied elephants or whirling helicopters. Why they dress in gem-encrusted zardozi achkans and elaborate head-dresses cost more than the GDP of small African countries. Why their brides wear lehngas that could feed an entire village in what Arvind Adiga calls 'The Darkness' for over five years. Why the bride and groom always sit on massive, carved, gilt 'thrones'. Why they call major movie stars to dance at their weddings, rather like how Anarkali danced at the Mughal durbar. The whole country is on some kind of orgiastic mein-bhi-Hrithik-Roshan-in-Jodhaa-Akbar trip.
Bollywood, of course, is thrilled to constantly provide inspiration for all of us wannabe-royals. Kabhi Khushi Kabhie Gham is a classic case in point. Yashvardhan Raichand and Fly lived in a Scottish castle (very close to Chandni Chowk!) and travelled to office in choppers. Glittering in red, black and gold, flashing the smug, beatific rictus made famous by Arun Govil in Ramanand Sagar's Ramayana, the Raichands electrified the nation's imagination.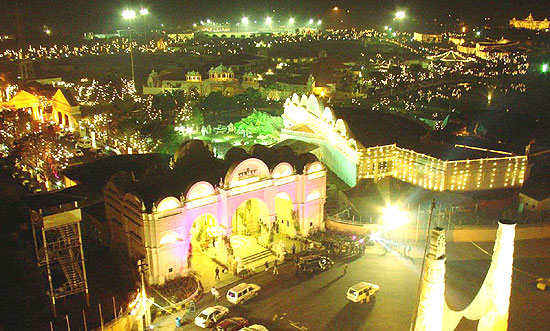 Sahara Shahar, Lucknow, glistens for the weddings of Subroto Roy's sons in 2004
Television has given us some excellent role models too. We've been presented with the Virani khandaan, the Aggarwal khandaan, the Basu khandaan, the Walia khandaan.... All quasi-royalty, all obscenely rich and all with surreal quantities of Family Honour which is constantly under threat from scheming women with extra-large bindis. All peopled with women who load themselves up with about fifteen kilos in silk, metal and paint before they descend to their garishly hued modular kitchens to chop bhindi and tinda for the family's lunch. No wonder the Mishras or the Guptas next door, all want to be the Mishra khandaan and the Gupta khandaan!
At this point, a lot of ma-in-laws-to-be may protest that they're not attempting to be Mughal-e-Azam's Durga Khote for a day just because they're on some giant ego trip. Or because they've got to keep up with the khandaan next door.
Oh no. They're just trying to do their duty by the children.
But let's not kid ourselves.
The truth is that we good ol' middle- class Indians always need some kind of social sanction before we're able to let our hair down, pull out all the stops and have a blast. So we never just "hit the hills for a holiday". Oh no. We "go on a pilgramage (sic) to Vaishno Devi". Never mind the fact that we buy spiffy fur-lined leather jackets for the trip, travel in heated coaches, eat burgers and fries along the way, maybe even take a quick nip or two of alcohol to keep out the cold!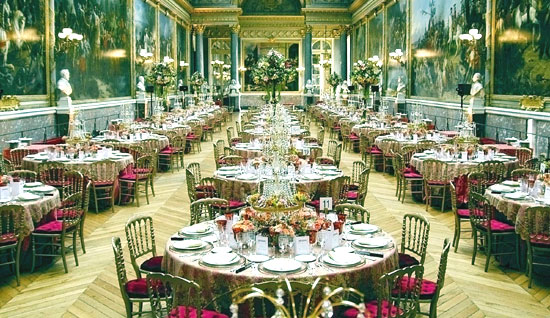 Chateau de Versailles decked up for Vanisha Mittal's nuptials in '04
We never have "rocking all-night parties". We have Dandiya and Durga Pujo.
We don't do 'road trips with a gang of friends'. We undertake a kawar yatra.
And finally, we don't splash out in an orgy of conspicuous consumption for no reason at all. We don't sell our ancestral land, mortgage our family home, or break the fixed deposits just to have a damn good party. That would be insanity, right? Instead, we give our kids a good wedding so that tomorrow no one can say ki ma-baap ne koi kasar chhod di.
Your kid's wedding is the litmus test of your standing in society; how much can you spend...and not feel the pinch?
With the result that we've managed to spawn a Rs 2,00,000 crore industry that's growing at 25 per cent a year. All catering to people who're out to prove that while Lakshmi Mittal may be the king of Billionaires Row in Mayfair, they're the king of the Ball Bearing Merchants in Jhandewalan. The newspapers are full of reports of how a paan-bidi stall owner spent more on his daughter's wedding (proportionate to his income) than Lakshmi Mittal spent on Vanisha's. How a wedding reception in a Dharavi slum had more choices in cheese than a Swiss supermarket. There was even a pickle-n-papad aisle plus a choice of seven 'Conti' and four desi desserts. And sadly, there are also reports of how a certain so-called 'lower caste' family invited the wrath of a so-called 'higher' caste by throwing a wedding party that was beyond their designated social standing (or aukaat, to use a particularly obnoxious North Indian word.)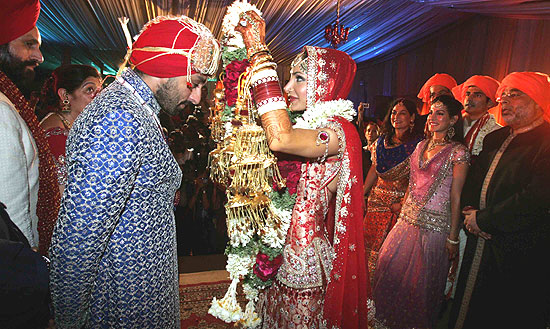 Priya Sachdev weds hotelier Vikram Chatwal in Delhi in 2006
Your child's wedding is the litmus test of your 'standing-in-thee-society', it shows exactly how much you can spend without feeling the pinch. And so suddenly everybody develops the most amazing pain thresholds. I've been to middle-class weddings where the whole set-up bears a surreal resemblance to a Republic Day parade—there are literally jhaankis of food from every part of India. Appams and stew served at stalls mocked up to look like Kerala houseboats, Hyderabadi cuisine served from a mini Char Minar, momos served out from behind a giant Gompa (with matching waiters). And much larger than the sign that reads Bunty Weds Pinky is the sign that reads 'Tomar Tent House, Wedding Catereres' (sic).
No wonder that when genuine 'royalty' get married, they're under severe pressure by the paparazzi to prove that they've spent big bucks. Look at the Abhi-Ash wedding. Can you imagine the media's consternation if it had been a simple little affair, with Ash wearing a simple pink sari woven out of yarn made by Bachchan Sr on a wooden charkha? If there had been no elaborate baraat, no three-day celebration, no Shivangi with slashed wrists outside the gates of 'Pratiksha'. How completely cheated the entire country would've felt!
Basically, that's exactly how we all feel when anybody in our social circle does us out of a proper, paisa vasool shindig at a wedding. On which we can carry out an exquisite post-mortem for weeks.
Of course, some conscientious objectors would ask why we can't just marry our kids off in court and give them all the money we've saved as a wedding gift. Or even, if we're rich enough, to donate that sum to charity and earn the blessings of those less privileged than ourselves. Because, says this sage brigade, it's all pointless anyway! No matter what you do, or how much you spend, there will always be at least one guest who will go home grumbling about the lousy food, the state of the loos, the lack of parking or the hideous quality of the sari they were presented with. They'll make sure that's all everybody remembers of the wedding. And the money you receive in the royal-looking red envelopes will never ever cover your expenses.
I confess I'm currently one of these conscientious objectors. Every time I go to a wedding, I eye the inevitable orchid-and-gerbera-festooned gates, shudder in horror and tenderly advise my children to elope with the mate of their choice when their time comes.
But who knows? My eldest is just 14. I'm perfectly willing to believe that the fever to be queen-for-a-day may totally hit me 10 years from now. I may just burst my stays, go the whole hog and mortgage my home for imported hors d'oeuvres. And why not, India's a democratic country and I've just as much right as anyone else to aspire to be King!
---
(The author has created many popular ad campaigns and recently published her first novel, The Zoya Factor.)