Two men, both with rock-solid reputations for integrity. In any other circumstance, they would have made for a great team to lead the nation's defence forces. Instead, they have been pushed into doing battle with each other. One, possibly the "victim" of "a hidden agenda", refuses to take things lying down. The other—his political boss—hobbled by the remote-control handling of his ministry by people more powerful than him, can do nothing more than wring his hands in despair.
The General V.K. Singh saga is destined to go down as one more example of the UPA government's misgovernance, irrespective of whether the army chief goes now or in May, when he's due to retire. The redeeming aspect of the entire fracas, though, is the issues it has thrown up. Is there something drastically wrong with the armed forces' interface with the civilian leadership? Why are the armed forces' concerns on defence security and preparedness not being addressed? How powerful is the shadow of the arms lobbies in senior defence appointments and vital procurements of arms and equipment? The questions are piling up thick and fast, and the needle of responsibility has slowly but surely shifted from defence minister A.K. Antony to Prime Minister Manmohan Singh and his leadership. It is now clear that as the UPA government busied itself in battling scam after scam, it reacted to the growing disquiet within the armed forces with petty point-scoring.
In the last six years since Antony has been the defence minister, a chair he occupied after Pranab Mukherjee vacated it to move to the finance ministry, his handling of his charge has been viewed with dismay by defence-watchers. He is in many ways perceived to be of the same mould as his prime minister. Their personal image may be blemishless, but both are seen as ineffective leaders presiding over a growing culture of "anarchy and chaos" around them. Would the army chief's controversy have played out the way it's doing currently had it been capped with some deft handling early on? The UPA government, and Antony in particular, underestimated V.K. Singh's capacity to take the "injustices done to him and to the army" to their logical conclusion. "This is spinning out of control," says Major General Ravi Arora (retd), who heads defence magazine Indian Military Review, "because we have a weak leadership in Antony. He has not even exercised his discretion on a small thing like the DoB controversy which, if handled maturely, would not have landed the defence establishment in an embarrassment. This is undoubtedly bad leadership which is allowing unaccounted-for bureaucrats to have their way. Just being honest won't do."
"This is spinning out of control because we have a weak leadership in Antony, which is allowing unaccounted-for bureaucrats to have their way."
The issue, though, is not just about a minister sleeping on the job. More sinister is the possibility of the hidden hand of arms lobbies—represented by retired officers of the armed forces and bureaucrats—in fixing tenures and appointment of senior officers in the three services. Consider the sequence of events. A 'top secret' letter written by the army chief to the prime minister detailing the abysmal state of defence preparedness due to alarming shortages in arms and equipment is quietly leaked during the ongoing session of Parliament. The timing is perfect; it immediately leads to a clamour from parliamentarians for the general to be sacked. The implication being that the "leak" has come from his camp and is designed to embarrass the government as it did not accept his request over his DoB. The leak comes within days of the army chief giving an interview to a national daily in which he says that he was offered a bribe of Rs 14 crore by a retired lieutenant-general in return for clearing the purchase of 600 more "sub-standard" Tatra heavy-duty trucks for the army.
All through the DoB controversy, V.K. Singh's team had pointed to the role of frustrated arms dealers in having him out of the way because he refused to toe their line. The names of two army chiefs also came up, one of whom (J.J. Singh) the army chief himself raised in an interview to Outlook last month. The question of just who is out to get him assumes importance in the light of all this. As Adm L. Ramdas (retd) points out, "I'm concerned about who is benefiting from all this? It deflects attention from the main issue flagged off by the army chief."
Indeed it has. Says Adm Vishnu Bhagwat (retd), "He is clearly being framed by arms lobbies. The pregnant statement is the one made by this person who offered him the bribe. That 'people before you have taken and people after you will take'." Bhagwat, who is the only naval chief to be sacked while in office—for refusing to appoint a government favourite as his deputy chief of naval staff—goes on to explain, "The arms dealers are 99 per cent foreign companies who have Indian agents here. The disturbing thing is that the intelligence services of foreign countries—such as the MI-6, CIA and Australian intelligence—ride piggypack on these Indian agents who also double up as informers! Not just that, they subvert the services and MoD by getting people on their payrolls. The embassies are in the know and facilitate these operations to benefit their own defence industries. It is well known that these lobbies plan the careers of officers on their payrolls. Way back in 1985, we knew who'd be the air chief at that time, because of a particular person's proximity to arms dealers. Who will guard the guards?"
Is something similar at play in the present episode? What was in the realm of conjecture till a few days ago is now crystallising before the public gaze. As Col R.S.N. Singh, a former officer of the Research and Analysis Wing and a defence analyst, says, "The arms lobby has become so powerful that they decide who will be chief and how long his tenure will be. Knowing V.K.'s reputation for honesty, it was obvious to these lobbies that he had to be moved out after two years so that a more pliable person could be installed. The DoB issue was manufactured to limit his tenure, but the chief eventually went to court to sort it out. The court left the matter open and did not take a decisive view. They concluded that the resultant embarrassment would make V.K. Singh resign. But he was made of sterner stuff and refused to resign (refer Outlook interview, Mar 12). The lobby then began to build up a case to sack him. The anonymous letter which the government took note of, regarding snooping in the defence minister's office, was aimed at this end. The latest leak should also be seen through the same lens. They want him out soon—which means now!"
What makes it worse is that all this is happening under the watch of one of India's most honest defence ministers ever. Even after spending six years heading a challenging ministry, Antony has made little effort to understand the ethos of the services or the issues and sensibilities that rule their world. Service officers point to how he is the very antithesis of the dynamic service environment which lays great premium on 'josh' and competence.
"If someone is corrupt, fix him, but don't stall arms and ammunition. Infantry soldiers haven't fired their carbines in three years, as there's no ammunition!"
An army commander who commanded the sensitive Northern Army told Outlook, "As soon as Antony took charge in 2006, he was given a presentation by the director-general of air defence where it was pointed out that 97 per cent of the AD guns were obsolete. Even Delhi does not have adequate air cover." Six years on, the army chief's leaked letter refers to exactly the same situation even now. The Union minister's obsessive quest for probity in defence deals is leading to costly delays and an alarming decline in even routine procurements. The talk in defence circles is that the armed forces are paying the price for preserving St Antony's clean image. Says Maj Gen Mrinal Suman (retd), the country's foremost expert on defence procurement, "Modernisation of the Indian armed forces is considered to be lagging behind by more than 10 years. More than 85 per cent equipment is obsolescent or getting closer to it, and a paltry 15 per cent equipment is of state-of-the-art technologies. India's penchant for blacklisting foreign firms has been one of the major contributing factors to this state of affairs. We shot ourselves in the foot by blacklisting Bofors, HDW and Denel. Unfortunately, we have learnt no lesson. A.K. Antony has chosen to continue in the same vein." Adds Lt Gen P.C. Katoch (retd), serving on the council of the United Services Institution, "If someone is corrupt, fix him, but do not stall vitally needed arms and ammunition. For the last three years, infantry soldiers have not fired their carbines because there is no ammunition for their training. It is a shame on the defence minister."
Few, therefore, could quarrel with the contents of Gen V.K. Singh's letter to the prime minister. Its 'leak', though, had MPs from the Samajwadi party, the JD(U), the CPI(M), and even the Congress's own Harshvardhan Singh, demanding that V.K. Singh be shown the door. However, a scathing rebuttal from the general—"This (leaking of a top secret letter) is an act of high treason and the persons responsible for it should be punished"—and the soaring approval for his actions subsequently led to a rethink. By Thursday evening, the mood in the government had changed, the evidence of which came in the conciliatory tone Antony set in his press conference. He described the leak as "an anti-national act", and tasked the Intelligence Bureau to get to the bottom of it. Rather than sack the army chief in a rush, the best way forward, say sources, would be to watch how the situation unfolds. Removing V.K. Singh would only leave him looking like a martyr. A senior leader in the Congress party says, "Sacking the chief will only hurt the government and the defence minister. If we do that, we will give more ammunition to our critics. The government will not only be blamed for inaction but will also be called intolerant."
The BJP, careful to project its seriousness on issues of national security, adopted a two-pronged approach on the matter, with leaders like Jaswant Singh slamming the government, and Leader of Opposition Arun Jaitley expressing concern over the leak. As of now, the general has got a reprieve. Once Parliament adjourns, the knives will once again be out for him. "The government has been driven to a wall this time," warns Adm Bhagwat. "It will bide its time and strike back like it did with me in 1998. If I were VK, I would not trust these conciliatory moves." The saga continues. Watch this space.
---
Dramatis Personae: Who's Who In The V.K. Singh Saga
A.K. Antony His Mr Clean image may be intact after six years as defence minister; but there are titters about who is really pulling the strings and dictating his decision-making process.
Gen V.K. Singh Many saw the army chief as the victim in the age row, but now question the timing and tenor of his leaks and interviews to media outfits

---

Manmohan Singh The PM was abroad when the bribe bomb blew. He has typically been quiet about the age row, the after-effects of which, like all previous scandals afflicting it, threatens to engulf his government.
Lt Gen Bikram Singh Slated to succeed V.K. Singh after he retires in May, as scheduled. The genesis of the present controversy, many say, lies in part in the behind-the-scenes efforts to ensure he gets to be the chief.

---

Lt Gen Dalbir Singh Suhag Acting on a letter by a Trinamool MP, Gen V.K. Singh has ordered a CBI probe into allegations against the Dimapur-based commander of 3 Corps who is tipped to be Bikram Singh's successor
Lt Gen Tejinder Singh The ex-defence intelligence agency chief was in the running to become head of NTRO. Accused by Gen V.K. Singh of offering a Rs 14 crore bribe to clear the purchase of "sub-standard" Vectra vehicles.

---

Gen Deepak Kapoor Gen V.K. Singh's camp believes that his tough stand in ensuring the indictment of Kapoor's military secretary, Lt Gen Avadesh Prakash, in the Sukna land scam did not go down well with Kapoor
Gen J.J. Singh The planned line of succession was drawn up in 2006 during his reign. As the first Sikh army chief, many believe a lobby was at work to ensure the succession of Bikram Singh, another Sikh, after V.K. Singh.
***
Four Flashbacks
1959 Gen K.S. Thimmayya vs V.K. Krishna Menon
The Squabble: The general (left) briefly steps down following a dispute with the defence minister on the army's preparedness for Sino-Indian conflict. PM Nehru refuses to accept resignation.
Result India loses to China in '62 war
1971 Field Marshal Manekshaw vs Indira Gandhi
The Squabble When the then PM asks Manekshaw if he is ready to go to war with East Pakistan, Sam Bahadur says no, citing several reasons and offering to resign. Indira declines quit offer.
Result Pakistan surrenders unconditionally in '71 war

---

1986 Gen K. Sundarji vs Arun Singh
The Squabble As rumours of kickbacks in Bofors gun deal surface, Sundarji tries to have deal cancelled by informing the then defence minister. CBI asks the general to explain his role in deal.
Result Bofors scandal claims Rajiv Gandhi government in 1989
1998 Adm Vishnu Bhagwat vs George Fernandes
The Squabble The navy chief goes public with his opposition to the Atal Behari Vajpayee-led NDA government's decision to appoint Vice-Admiral Harinder Singh as deputy chief of the naval staff.
Result Bhagwat sacked
***

Rafale Sour grapes?
10 Unanswered Questions In V.K. Singh Affair
Have Gen V.K. Singh and defence minister A.K. Antony squandered their Mr Clean image through their recent actions and inactions?
Is somebody out to get Gen V.K. Singh? Could the powerful arms lobby and their agents and middlemen be behind leaks and plants?
Would Gen Singh have revealed the Rs 14 crore bribe had his version of DoB been accepted?
Was V.K. Singh's letter to the PM leaked to protect A.K. Antony, who was on the mat? Or to deflect attention from the offer of bribe?
Does the flurry of charges have something to do with PM's absence, the BRICS summit and defence expo in Delhi?
Are defence dealers who lost out on the £11.6 billion Rafale deal at work?
Could Gen Singh's predecessors—Deepak Kapoor and J.J. Singh—get embroiled in the crosshairs?
What impact will V.K. Singh's campaign have on successors Bikram Singh and Daljit Singh?
Could the V.K. Singh saga end up exposing top politicians across parties mired in arms deals, a la Bofors?
Will the armed forces retain the same glint in the eye of civilians henceforth? How does all this affect army rank and file?
***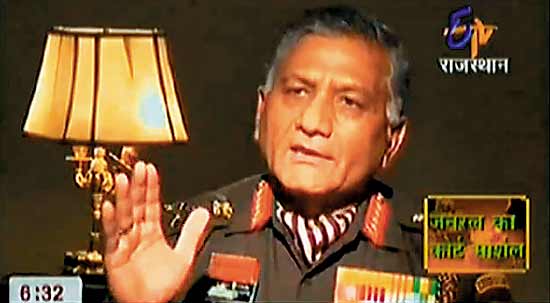 3 Months That Shook The Army And Government
Army and civilian officials have sparred before, but it is the first time they are doing it through the media, capturing the nation's attention. At the root of this still-unravelling controversy is the age row involving the army chief that went up to the Supreme Court in January this year.

March 2 A report in India Today alleges Gen V.K. Singh misused tapping facilities to listen in on what senior defence ministry officials were discussing about his age controversy. Army denies this outright, issues a press release accusing ex-Defence Intelligence Agency head, Lt Gen Tejinder Singh, of planting these stories.
March 17 ETV Rajasthan airs interview of Gen V.K. Singh with Santosh Bharatiya of Chauthi Duniya in which he claims he was offered a Rs 14 crore bribe by a senior retired army officer to clear a consignment of substandard vehicles
March 26 Gen Singh repeats the charge in an interview with The Hindu. The claim stalls Parliament proceedings for two days in a row
March 27 Defence minister A.K. Antony admits Gen Singh verbally complained about the offer, names Lt Gen Tejinder Singh. Says Gen V.K. Singh did not want to act further or file a written complaint. Orders a CBI probe.
March 27 Lt Gen Tejinder Singh files a defamation case against the army chief. Tatra too threatens suit.
March 28 The army chief's March 12 letter written to the PM, in which he draws attention to the poor preparedness of the armed forces, is leaked to DNA and Dainik Bhaskar newspapers. SP, JD(U) demand the chief be dismissed. Government orders Intelligence Bureau to probe leak.
March 29 V.K. Singh denies he had anything to do with leak of the letter; calls leak "high treason".
March 29 Indian Express reports that Gen V.K. Singh forwarded a letter written by TMC MP Ambica Banerjee to CBI alleging a procurement scam in the Special Frontier Force (SFF) under Lt Gen Dalbir Singh Suhag.
***
6 Options Before Warring Parties
Gen V.K. Singh
A.K. Antony

---

Having squandered some goodwill, work diligently toward more 'dignified' exit
Become a cause celebre, a la Anna Hazare, make military corruption hot-button issue
Call truce, with government assurance of a plum post-retirement position
Throw more light on scams and scandals involving predecessors and successors
With little to lose, provide more evidence of wheels within deals in armed forces
Mentor like-minded and serving army officials to clean up Augean stables.

Convince nation that he has been doing his job as defence minister for last six years
Ensure stench of military corruption doesn't acquire political overtones
Buy peace with Gen V.K. Singh and sort out issues, man to man
Bide time till V.K. Singh's retirement on May 31, prepare for more leaks
Sack chief right away to control further damage and appoint interim chief
Carry out overdue clean-up of armed forces to prevent electoral damage.
---
By Chander Suta Dogra with Anuradha Raman and Prarthna Gahilote