Indian women can be divided roughly into three categories today. Those who still live in the darkness of illiteracy and poverty; those who have managed to climb out, grab opportunities and become earners and therefore more assertive in their families and earned a new freedom and status; and finally, those women who are in the top echelon because they have had the huge privilege and benefits of higher education and professional qualifications. Most have successful careers or a background of wealth. It is the third category to which most leading English women's magazines cater today. They now cost Rs 50 or more and have taken on a brilliant, bold and glamorous avatar.
This category of India's women came bursting into limelight in the seventies. Three events galvanised the women's empowerment movement in India. The first was the sharp, resonant voice of those writers and activists who fostered an international awareness of feminist rights. This was inspired by three authors: Simone de Beauvoir (The Second Sex), Germaine Greer (The Female Eunuch) and Kate Millett (Sexual Politics). India was one of the countries that responded hugely to this call for equality between the genders in society.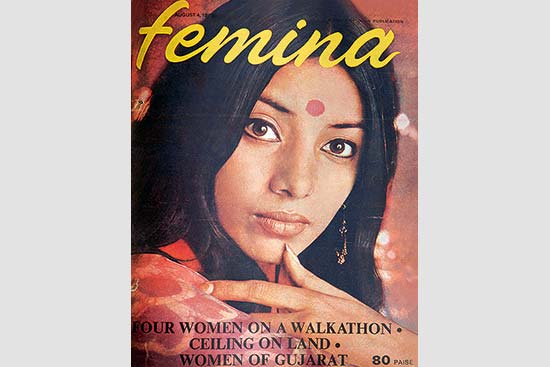 Intrepid Observers Femina provided much more than just light entertainment when legal help was needed
The second event was the coming to power of Indira Gandhi, a strong and determined woman who quietly set up the commission for the Status of Women, and passed several laws giving women their rights and freedom from patriarchal laws and the old financial system. The third event was the entry of huge numbers of women into the job market after the World War II. They were, by virtue of their earning, suddenly able to improve the standard of living for their families as well as plan for their own future security. But in social terms, they were partly trapped in the past. And Femina, launched in the late '50s, was the answer to their demand.
As more and more women came into its readership, the fortnightly magazine printed on newsprint in a simple manner and, being available at a small price, gave them support in many areas of life through its consumer forum, features on law and current affairs, and became their 'how to' magazine. It raised a dedicated voice on their behalf and asked for justice for those who approached its office or staff with a problem. An exemplary case is that of mathematical wizard Shakuntala Devi who was fighting for a loan on her name with a mortgage offered by her. The bank refused saying she should bring her husband's or father's signature to avail of its scheme. Femina intervened and succeeded in securing her loan. Of course the magazine also ran plenty features on fashion, food and furnishing for homes, but it succeeded in becoming the voice for a 'real' kind of Indian woman, and did so without any overt objectification of the female body as normally found in many other magazines.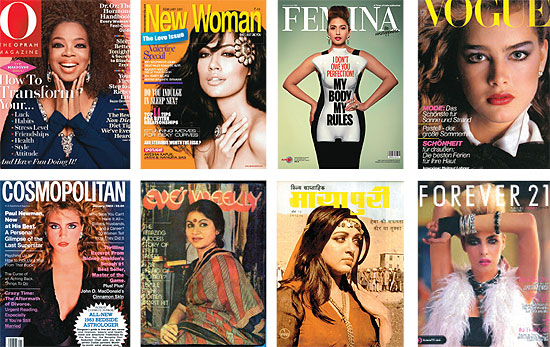 Fierce Faces Strong women­ everywhere—from Oprah Winfrey to Hema Malini­­—on the covers
Today, 25 years down the line, most women's magazines have changed dramatically in content and looks, especially the English ones like Femina and New Woman. They are bold, brilliant and beautiful to see or read. Often, however, the magazines' current avatars are criticised as demeaning to women for subscribing to the same objectification as men's magazines. The readers are mostly under 40 and do not agree. The other way to perceive the matter is to remember that women today are independent to make their choices. Curating a particular aesthetic for themselves as well as having a conventionally attractive body can be their own choice. If they want to look sexy, it may be for their own gender expression, and not necessarily to attract men. The man/woman equation today is different at least in cosmopolitan India. There is more autonomy. These young women expect the trust of their families who understand and accept the changing look and preferences of their daughters in personal matters.
Families increasingly treat their sons and daughters as equals and both have the same freedom. They accept that today men and women engage freely in urban spaces and the barriers of colour, caste, money, religion and customs are vanishing fast. They accept that sexual mores have changed and that their young sons and daughters will go out in a group or as couples to social events and dates and generally 'hang out' together. Pre-marital sex is also more common these days. Today's urban, highly educated young women choose a job as much for earning money as for a challenging career. At the same time, their appearance may have an unapologetic glamour.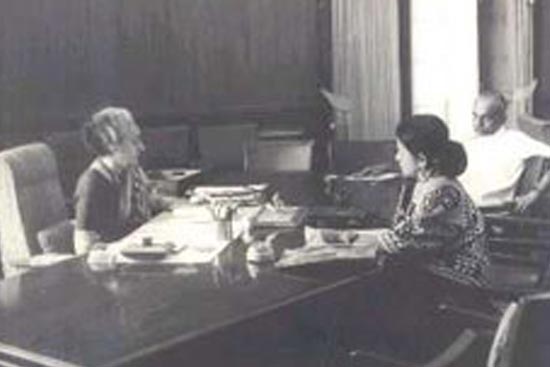 Politics Vimla with Indira Gandhi
As a corollary to that, these young women can be the biggest consumers of things like fashion, food and jewellery. As prime consumers, they attract the highest number of ads, which are as beautifully designed as the rest of the magazine. That is the icing on the cake in women's magazines today. The readers are happy, the advertisers are happy and of course the publishers are overjoyed. So all is well with the glossy, bold and beautiful magazines for women. Indian women have come a full circle in the past 25 years and so have their special magazines! Needless to say, it has not been limited to English; all other language magazines have followed the same policy to the extent they find suitable, and it has paid off.
---
Vimla Patil has been the editor of Femina for 20 years. She has also written over 25,000 features, 12 cookery books, and 64 Ways To Be Successful and Happy.