Just try to imagine Virender Sehwag and Mahendra Singh Dhoni ganging up to keep Sachin Tendulkar out of the side. Or Sehwag and Sachin pushing Dhoni out! Imagine the scene if the scores of star footballers and basketballers, who hate the sight of each other, hold their coaches and management to ransom, saying "Me or Him". Take it or leave it. Even billionaire F-1 drivers dare not do that. If threats became the buzzword and tantrums the way to select teams, you would never need selection committees of federations—not that that is such a bad idea!
Negotiations of the kind that went on between the players and the All India Tennis Association (AITA), with the sports ministry as a mute line umpire, cannot be a process of selecting national teams. It matters not whether it's the Olympics, the Davis Cup or a local tournament. It does not even matter whether you win medals or not. There has to be a sense of decorum. We may not like selection committees—most of them are not very pleasant, anyway—but we need some authorised bodies, and not individuals who have an axe to grind or wish to hold the sport to ransom. This saga of Paes vs Bhupathi, dad vs dad, coach vs coach, business vs business, Paes en Sport vs Globosport can't be allowed to go on.
Fifteen years ago, when Lea-Hesh burst onto the global scene and took it by storm, making all four Grand Slam finals in 1999—the first team anywhere in the world to do so since 1952—they were seen not just as saviours of Indian tennis, but possibly as saviours of the dying art of doubles tennis, leading singles stars crossed out doubles from their playing schedules. In one single year in 1999, they won three titles, including two Slams, and became the No. 1 tennis pair in the world. But, before you knew it, they had split up. Lack of trust, they said. That was 12 years ago. It would become a recurring theme. They kept becoming unstuck and coming together; winning titles, pouting and hugging, scowling and screaming. They won Davis Cup matches, professed "love", "respect" and "admiration" for each other. And before you could recover, they and their camps were calling each other the choicest of names. Noses were bloodied, egos were bruised, ears were ringing and hearts crying. It would happen time and time again (see box below). It started in 2000. It occurred (again) this week.
They began with chest-butting. Both Leander and Bhupathi began by talking how they could read each other and how they could sense each other on the court. But soon the chest-butts turned into left hooks and upper cuts—through friends, through the media and, if rumours mills were to be believed, there were even a few real punches exchanged. Then came salacious rumours of the kind that chase Hollywood and Bollywood dramas; stories of fights in hotel corridors over the affection of an actress/model. Those stories were never confirmed nor denied, but spoken about only in hushed whispers.
But beyond all this, they also played some brilliant tennis. Brilliant enough to win 26 titles together between 1997 to 2011. They also won another 24 each with other partners—for a colossal figure of 50 men's doubles for both. If Bhupathi has a dozen Grand Slam doubles titles, Paes has 14. And in between their now hot, now cold relationship, they won two Asian Games gold medals and 25 of the 27 Davis Cup doubles matches they played together. They were, check that, still are good. Never mind their ages. Paes turned 39 on June 17 and Bhupathi turned 38 on June 7. Hell, they even share the same Zodiac sign! Gemini.
On a more serious note, an AITA official who has been keeping a close watch over the current controversy says, "They may choose (teammates or partners) if it is the atp Tour, where they represent themselves, but not if they are representing the country. When it comes to Davis Cups, Asian Games or Olympic Games, a selection committee must take an impartial view and put forward the best players." Sports reporters should have given up on them long ago, allowing sleuths and private detectives to take over. Was Paes still with Bhupathi when he first spoke to Bopanna about London 2012? Did Bopanna breach the confidence of one or the other? Who backstabbed whom and did anyone backstab anyone else? Then, there is this small matter of who will pair up with the Indian tennis's golden girl Sania Mirza. The reason for the conundrum is simple enough: a medal in mixed doubles is more doable than in men's doubles. Ah, therein hangs a tale.
And while the Lea-Hesh, and now Rohan Bopanna, controversy continues to play out on TV channels and newpapers, where does that leave India's hopes of an Olympic medal in tennis? Even if things are sorted out and Leander-Mahesh do come out and say they have let bygones be bygones and will play for the country, can we believe them? It is said that a doubles tennis match calls for better understanding and thinking in unison between the partners than almost any other team event. Don Budge, the first man to win a Grand Slam in 1938, when asked what kind of a doubles partner he liked, said: "There's nothing worse to me than a doubles partner that can't talk it out. There are always times when things aren't going well in almost any match, and if you can talk about these with your partner in an honest way, you can usually circumvent them."
But even if there is, however unlikely, a getting around this latest spat, can Leander and Mahesh ever again play as one?
***
Anatomy Of A Split
1996: Paes-Bhupathi play their first Olympics together; lose second round to Todd Woodbridge and Mark Woodforde
1999: The pair's greatest year, win two Grand Slams, reach finals of all four. End the year as World No.1
2000, Jan-April: Bhupathi is injured. Paes hints he might look for a new partner.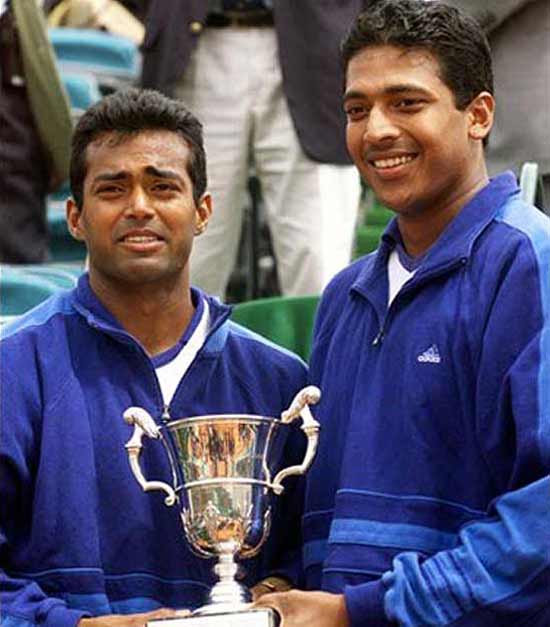 Split No. 1
2000, May: Paes's father announces a break-up, saying there was lack of trust. Bhupathi's coach Rico Piperno is cited as cause of the split.
Reunion No. 1 2000, September: With Sydney Olympics in sight, they come together, lose in second round to the Woodies.
2001: A great year with five titles, including a second French Open title
2002: Paes camp claims Bhupathi walked out after Delray Beach loss
Split No. 2
2002: Bhupathi and Paes move on to play with different partners. Bhupathi wins US Open doubles with Max Mirnyi. Paes has little success.
2002, November: They are back briefly together for the Asian Games in South Korea and win the men's doubles gold.
2003: Bhupathi does well with Max Mirnyi, wins five more titles. But Paes fares poorly.
Reunion No. 2
2004: In the year of the Olympics, they come back together. But at Athens, they lose the bronze medal playoff. They play together at Doha Asian Games.
2004-2006: At Doha, Paes, in an interview after a tough match, questions Bhupathi's commitment; within hours of their winning the doubles gold, Bhupathi said he'd never play with Paes.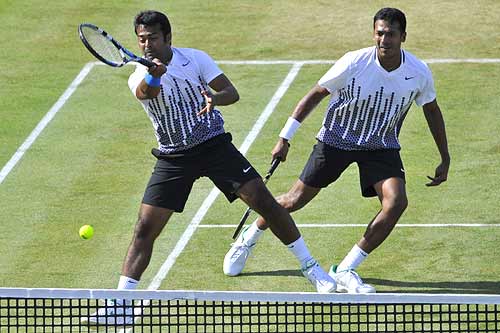 Split No. 3
2007: They stay away from each other; play with other partners.
2008: There is much speculation if Paes-Bhupathi would play at the Beijing Olympics together. They finally do, but crash out early.
2009-2010: They go back to playing with different partners, but continue to come together for Davis Cups. Both miss the Asian Games in 2010, but play at the Commonwealth Games, where they win bronze.
Reunion no. 3 2011: With 2012 Olympics approaching, the now-ageing pair decides to come together for a shot at the London Olympics. They have an excellent run, winning three titles in Chennai, Miami and Cincinnati and getting to the finals in Australia Open.
Split No. 4 2012: Amidst much intrigue, they split at the end of 2011 and Bhupathi starts 2012 with Bopanna and Paes plays with Radek Stepanek to win Australian Open.
2012, July: Mahesh refuses to partner Paes at the London Olympics; Bopanna refuses as well.