Lingua Indica
"Funny" phrases that have forced public figures to eat crow
Cattle Class! Shashi Tharoor used the idiom to complain about a lack of space while flying economy. Detractors insisted he had insulted thousands of budget travellers by comparing them to brainless farm animals.
Holy Cow! Even though Shashi Tharoor insists that his use of the phrase only goes to explain the sacredness of austerity, many in the Congress party believe that he has attributed to the Gandhis' literal bovine traits.
Headless Chicken! Tired of journalists nosing around for comments about the nuclear deal, ex-Indian ambassador to the US, Ronen Sen, used the term to describe hungry hacks. Outraged parliamentarians believed he had referred to them as tottering poultry.
Limpets! Rajiv Gandhi used this word to indict his opponents for sticking to their chairs and being power-hungry. Critics were furious at being branded sub-human, clingy invertebrates.
Staying alive! On a recent visit to the site of the Union Carbide plant in Bhopal, Jairam Ramesh held a handful of soil and said, "Look, I'm holding this and I'm still alive." Offended by this show of flippancy, livid gas victims burned his effigy.
Khub aayein, khub piyein aur pee kar pade rahein! Digvijay Singh recently 'blessed' an Indore pub owner with these words: "Let people come in large numbers, drink copiously and lie around merrily." Within hours, he was being hounded by righteous TV reporters.
***
Because Twitter Has Only 140 Characters
It's an old grouse with Tharoor that our netas never lighten up. Extracts from early pieces….
The Indian nationalist leaders and the politicians who followed them were in general a pretty humourless lot."
"(Jawaharlal Nehru) was a man of extraordinary intellect and vision. But dig deep into his writings and speeches, and you would be hard pressed to come up with a good joke."
"Nehru's daughter Indira Gandhi was no better. While researching my doctoral dissertation on her foreign policy, I read practically everything she ever said from 1966 to 1977. I came across only one line that was remotely witty. 'In India,' she remarked once, 'our private enterprise is usually more private than enterprising.' But from what one knows of the lady, the comment had probably been scripted for her."
"India has had its share of political buffoons, but buffoonery does not count as humour, any more than slapstick can pass for wit."
—From Meanwhile: India's leaders aren't very often funny, published in the New York Times, on February 27, 2002
"As far as political humour is concerned, our national cupboard is bare."
"If the incidence of wit and humour in national politics is a fair indication of the health of a democracy, India's could use a good laugh."
—From Humour in Politics, published in The Hindu, on July 22, 2001
***
Some years ago, when he was no UN under-secretary general and a ministerial stint in India was playful fantasy at best, Shashi Tharoor declared in a newspaper column that after having surveyed India's political pantheon, he had come to the conclusion: "As far as political humour is concerned, our national cupboard is bare. The Indian nationalist leaders and politicians who followed them were in general a pretty humourless lot." It can thus be inferred that when he responded to a journalist's query with the now infamous tweet—"Absolutely, in cattle class out of solidarity with our holy cows"—the minister was trying to fill an imagined vacuum. Unfortunately for him, not many laughed. Unwittingly, Tharoor had given birth to a scandal.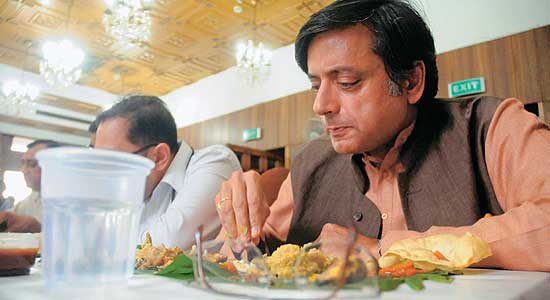 How's lunch?: A chastised Tharoor back in Kerala Bhawan
It was Tharoor's own newly 'austere' party that raised the first voice of protest. AICC spokesperson Jayanthi Natarajan thundered at a press conference: "The party strongly disapproves of this expression (cattle class). It may be slang or jargon, but we find it unacceptable." Despite the PM's dismissal of the controversy as run-of-the-mill political "nok-jhonk", the MoS for external affairs had to atone by travelling (mercifully in a chauffeur-driven car) to 10 Janpath and ministerial offices on Raisina Hill to explain his 65-character tweet. Though the din has now receded, there remains one question that needs answering: did the furore only prove that Indians have officially lost their sense of humour?
The Congress seems to have interpreted the 'holy cows' remark as a blasphemous reference to Sonia madam....
In other words, was Natarajan overdoing it when she described the expression 'cattle class' as a slap in the faces of "thousands of Indians who travel by economy class"? Though not one to be taken in by so literal and moralistic an interpretation, cultural commentator Sadanand Menon feels that Tharoor erred in his choice of words, even if he was only repeating a phrase the tweeting journalist had used in his question. He believes expressions such as 'cattle class' best suit "old anglophiles who have been consigned to sipping whisky on the lawns of the Gymkhana club". According to him, "Tharoor's repetition itself is representative of a certain section of society that is typically backward."
Television journalist Karan Thapar, who confesses to having used the phrase (but only, he clarifies, by way of self-deprecation while flying economy), agrees the idiom "does qualify as mildly pejorative slang". But, as he sees it, "it deserves to be taken in good humour".
Going on to deconstruct global humour and the Indian variant, Thapar concludes, "Unlike the rest of the world where most jokes are self-deprecatory in nature, many Indians are far too pompous and self-righteous to be able to laugh at themselves." Agreement comes from an authoritative quarter. Sociologist Patricia Uberoi too feels that rather than taking humorous self-criticism with a pinch of salt, Indians tend to get needlessly provoked. "They often take offence," she says, "by taking harmless jokes too literally."
"Compared to England, say, where humour tends to thrive on self-deprecation, Indians take offence by taking harmless jokes too literally."
Few, perhaps, have felt the sting of being taken too literally as sharply as ex-Indian ambassador to the US, Ronen Sen. As a furious battle raged over the Indo-US nuclear deal in Parliament, Sen, then in the US, reportedly told a journalist in an off-the-record chat, "So why do you have all this running around like headless chicken, looking for a comment here or comment there, and these little storms in a tea-cup?" Though it seemed clear that the ambassador was referring to journalists and not politicians, livid parliamentarians interpreted the idiom as an unforgivable insult. They believed that not only had Sen indicted them for their opposition to the N-deal, but that he had also referred to them as decapitated poultry. As a result, the senior diplomat was forced to explain a seemingly innocuous remark to a Lok Sabha privileges committee.
In another, though less noisy incident, the cricket-loving Arun Jaitley got into trouble for calling Manmohan Singh a "nightwatchman PM". Convinced that the Rajya Sabha MP had referred to the prime minister as a chowkidar, a Congress minister demanded an apology on the PM's behalf. It does rather uncannily echo the current row, in which not just one minister but the entire Congress party seems to have interpreted the expression 'holy cows' as a blasphemous reference to Sonia madam and Rahul baba, since they had recently taken to travelling economy.
"Tharoor will now have to wear a mask and be correct and dharmic for evermore. This is the price he pays for joining a humourless party."
Eminent Malayalam fiction writer and essayist Paul Zacharia wonders if it is the comparison to animals such as cows and cattle that is responsible for the noise that has ensued. He says, "The minute you have a reference to something four-legged, any unthinking person gets riled." Zacharia believes that the now-proverbial 'Tharoor moment' can, in some ways, be compared to Kerala CM V.S. Achuthanandan's year-end dilemma. After being angrily turned away from the house of slain nsg Major Sandeep Unnikrishnan, an irritated Achuthanandan had asked, "Sandeepinte veedallengil oru patti thirinju nokkuvo avide?" (If it wasn't Sandeep's house, would even a dog glance that way?) While Zacharia admits that the question was by no means polite, he also points out that 'not even dogs' taking an interest is common street slang in Kerala. Undoubtedly, he concludes, it was the mention of 'dogs' that got the phrase into national headlines. Just like his fellow-Malayalee reportedly did at the time, Tharoor too has complained about being quoted out of context, and getting lost in translation—except the other way around. Shortly after being asked to resign by Rajasthan CM Ashok Gehlot for his comment, the MoS tweeted, "I'm told it sounds worse in Malayalam, esp out of context. To those hurt by the belief that my repeating the phrase showed contempt: sorry."
Though not a Congress sympathiser by a long stretch, commentator Swapan Dasgupta—who also happens to be Tharoor's St Stephen's class-fellow—endorses some of what he says. He says, "When a phrase such as 'holy cow' gets translated, it does sound rather repulsive. The problem is that the English we Indians speak often tends to be formal, leaving little space for idioms, allusions, irony or sarcasm. Indian languages seem hyperbolic in comparison." Dasgupta, in one of his own tweets on the Tharoor affair, noted that "it's not twitter, but his precociousness that tripped Tharoor". He also says that if we are to dub (as some have done) Tharoor's repartee a manifestation of elitist 'St Stephen's humour', we should be aware that the coinage is but "a metaphor for a certain degree of irreverence". One of Tharoor's senior Congress colleagues (who prefers to remain unnamed), however, points out that irreverence, at the wrong time and in the wrong place, can betray a lack of political judgement. Arguing that his new colleague "has not grown up and still likes the sound of his own voice a little too much", the Congressman says Tharoor's joke was no criminal offence but certainly deeply adolescent, "It might be fit for an issue of Kooler Talk (the Stephen's in-house magazine), but not for public articulation."
"Phrases such as 'cattle class' best suit old anglophiles who have now been consigned to sipping whisky on the lawns of the Gymkhana club."
Anthropologist Shiv Visvanathan confesses to being greatly intrigued by the term 'elitist St Stephen's humour'. He says, "First off, I could find you 40 Stephanians who'd be able to wreck Tharoor on the spot. Moreover, if the argument is that he is elitist, then I would like to say the elitist in me is repulsed by having to encounter this failed snob and poor dandy."
The anthropologist then adds that he is not convinced by the 'lost in translation' argument which sort of lets Tharoor off the hook. English, according to him, is an easily "domesticable" language that has been adapted rather well in the Indian milieu. Citing Laloo Prasad Yadav's unforgettable one-liner, "Tell Delhi I is coming", he says politicians, among others, have shown great inventiveness in using both native languages and English for the purposes of humour. "The problem with Tharoor," he says, "is that his English is stuck in a time-warp." The irrepressible Visvanathan also offers a host of rich possibilities for beating "Tharoor at his own game". The controversy, he says, opens the door for innumerable puns, jokes and headlines...'We shall not be cowed down by Shashi.' 'Tharoor now travels cattle car.' 'Shashi should pay his gas bills.' It goes on.
"The beauty of the Indian political system is that it can be so effective when pulling a Humpty Dumpty like Tharoor down."
So as Tharoor returns to the prosaic world of ministerial activity, he can pat himself on the back for having given a subversive few cause to be gleeful and got the rest to debate on whether we should update, amend or acquire a sense of humour. Even as one continues to marvel at the extent of dislike that many in the Congress harbour for this paratrooper, one must admit to a sneaking respect for the newbie politician for not kicking his tweeting habit. One of his most recent broadcasts reads, "Have a ridiculously full schedule tomorrow with 17 meetings/engagements. You always pay a price when u come back from a trip." Indeed, you do.