How an actress who has faced the biggest of television cameras of all sizes and shapes could get so rattled by a pinhole CCTV eye, we will never know. Nor why she raised such a shindig in a BJP-ruled state, exactly when the party natio­nal executive was deliberating more important issues. But the Goa incident shows how quickly Smriti Irani has squandered away the goodwill in her 10 months as helmswoman of a most crucial ministry: human resources development.
Make no mistake, HRD was one of the super-ministries when it was created in mid-80s by Rajiv Gandhi, with education, women and child development, and even culture under its umbrella. In the past, political heavyweights, some even contenders for the PM's post, have been in charge of it: P.V. Narasimha Rao was Rajiv's HRD minister; Arjun Singh was PVN's; Murli Manohar Joshi for Atal Behari Vajpayee.
So, when Smriti was made HRD minister, despite losing in the 2014 election (the only other loser to be so accommodated in the Modi sarkar was Arun Jaitley), it raised serious eyebrows and signalled her importance in the party's scheme of things. She was seen as a counter to Sushma Swaraj, who has not always seen eye to eye with Modi, indeed some were even talking of her as a face of the future.
Also, having a young pliable politician with no ideological moorings in charge of such a key ministry was seen as a masterstroke to push the Hindutva agenda into the school curriculum. "She was made minister with a cabinet rank as she was thought to be amenable to both the BJP agenda and that of the RSS," says an RSS ideologue. "Our agenda is not the same as Modi's. Smriti was seen as a neat compromise."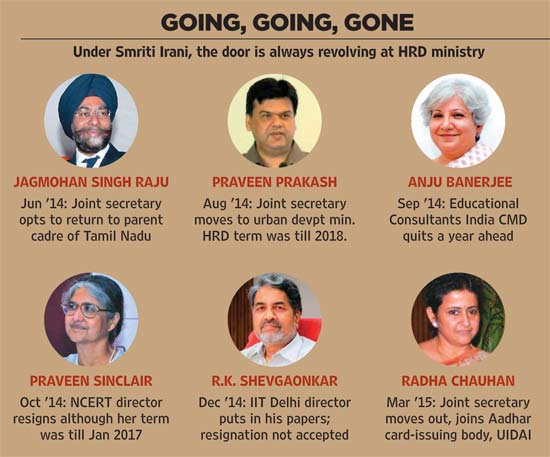 To her credit, in many of her actions, Smriti fulfilled the core mandate of her Hindutva mentors. She introduced 'Vedic education' in the school curriculum; replaced German with Sanskrit as the third language in Kendriya Vidyalaya schools; began work to "Indianise" the syllabus; appointed RSS men to key positions; fiddled around with the Teacher's Day and Christmas holidays; ordered IITs to ens­ure a separate mess for vegetarians.
"Smriti is giving some tough competition for the worst HRD minister India has seen. Ignorance isn't always bliss."
But less than a year down the line, it's all coming apart as week after week the HRD ministry hits the headlines for the wrong reasons. "She is defensive and reactive, both at the same time," says a joint secretary who's trying hard to evolve some kind of a working relationship with Smriti. "She's also a bad listener. She should realise that the HRD ministry is a complicated maze. There are so many hallowed institutions, the IITs, IIMs, UGC etc with their own philosophy and work ethics. They are all manned by learned people. There is much to learn before you start to act."
So, in a typical meeting, say HRD insiders, Smriti reads up files, asks questions and makes suggestions. "She is articulate, smart and has a quick wit and is intelligent enough to know that she knows little about what she's dealing with," explains a vice- chancellor of a central university in northern India. That said, she's quick to assert an "I know" even when she doesn't get it. Also, if one tries to instil an idea into her head, or explain anything new, she's quick to retort, "I know my work" or a "This is not your classroom, this is my ministry".
Another director-level officer empathises with her, "Her job is not easy. She has to work with the bureaucracy that in turn deals with academia. Sure, the wise old heads of academia have a big ego, but she has an even bigger ego. She is, after all, the government." Indeed, her know-it-all attitude has not gone down well at all within the ministry.
A V-C who is well into his 60s hits the nail on its head. "I thought of her as a bre­ath of fresh air. Her predecessor from NDA-I, Murli Manohar Joshi, a professor of physics in Allahabad University and my contemporary, arguably was the worst HRD minister India has seen. But now I feel Smriti is giving even him tough competition. Ignorance is not always bliss," he says.
Another senior HRD ministry official is so fed up he's thinking of going back to his home cadre. "She is fairly democratic in her rudeness," he laughs, "it doesn't matter if the person is head of a coveted institution or an undersecretary." In one instance, she is alleged to have thrown a file at an additional secretary-rank officer at a meeting. Later, she apparently apologised to him, saying it was her wedding anniversary and she was "tense", even telling him she would "restore his honour". He, instead, sought a transfer. The tone and tenor of her parlance with ministry functionaries has often been described as unparliamentary. "The PMO knows it," says another joint secretary in the HRD ministry who has applied to go back to the home cadre, "I hope they do something about it."
Even party faithfuls who give her credit for pushing through the Hindutva agenda admit that somewhere along the way, Smriti Irani seems to have rubbed a lot many more people the wrong way than necessary. There are some who go so far as to predict the worst for her. "Her appointment was whimsical and arbitrary, so will be her dismissal," says a former BJP gene­ral secretary and senior RSS ideologue.