It was a difficult choice. Sexy nude or exotic purple? Not willing to settle for some 'vanilla brand', Ankit was drifting from one virtual store to the next to get a customised birthday gift for his girlfriend. Shireen, of course, was ecstatic when she received a surprise pack of 'fantasywear' in an innocuous dull blue box done up with tiny ribbon strips. "No awkward conversations, no leering, no wasting time. Shopping for lingerie online was the best, totally personal and totally anonymous," says Ankit, a 25-year-old finance executive from Bangalore.
Wider choices, privacy, pricing and discrete packaging are luring more and more 'intimate wear' shoppers online. And sensing the huge potential, lingerie stores like Kaamastra, Cloe, Zivame, Pretty Secrets and Straps And Strings, among others, have an array of new products for the discerning shopper. It helps that it's also raining discounts on the net. "To find fas­h­ionwear that's also comfortable is difficult in India. Online stores are now finally bridging the gap between comfort and fashion," says Neha Kant, founder of Cloe, which launched in February this year.
But don't the ladies always want to try it on before buying? Well, times are changing, she says. With exhaustive size charts, 'fitness' tests to help with sizing, detailed colour and character traits analyses and 'gentleman guides', zooming down on the 'right one' for wives, girlfriends or partners has never been so easy. The gentlemen guides bit is because "almost 30 per cent of the shoppers are males, as are the 80-85 per cent callers who want to understand or are curious about size, shape, design or fabric", says Neha.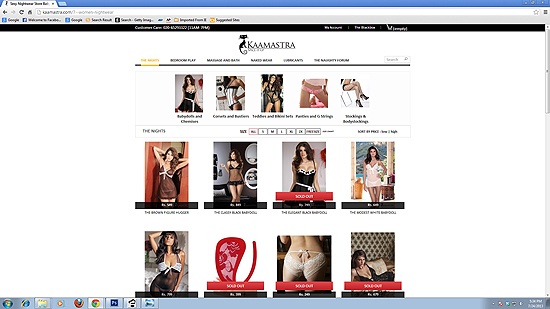 Skin shades Web pages from the Kaamastra sites
And of course, it's not just your plain vanilla innerwear here, we are talking the entire spectrum of intimate bedroom attire. Non-metropolitan India, especially, seems entranced with buyers popping up from the small towns of Nagaland, Jharkhand, and places as far-flung as Dimapur, Tuticorin and Haridwar. Indeed, if Amit Batra, chief marketing officer of Kaamastra is to be believed, matters are hotting up in the boudoir. "There's a big demand for role-play costumes," he says.
The gentlemen guides are interesting: 30% of lingerie shoppers are male as are 85% of the curious call-ins.

So is the rapid growth in the e-retail erotic lingerie segment only because more married people are keen on experimentation? Well, that is a factor but it's also because of the enthusiasm from India's small towns. Where else would they get to buy such fancy products at affordable rates? Samir Saraiya, CEO of Digital E-Life which launched a website called ThatsP­ersonal in January, also puts it on the "personal touch, which is possible only through e-commerce. The best part of online shopping is that the customer can even take delivery of their merchandise anywhere they want...in case they don't want to have it delivered at home". ThatsPersonal's USP, he says, is delivering personal products discreetly to customers and giving them a comfortable platform to buy them. "Nearly 25 per cent of our orders roll out from small towns," says Samir.
While most online stores offer intimate wear at affordable prices in the Rs 400-2,500 range, others have taken the niche clientele route. Started three years ago, Straps And Strings focuses mainly on a "mature audience" between ages 28-45, willing to fork out anything between Rs 7,500-28,000 for a lingerie set. As CEO Saurabh Dadu puts it, "Fine laces, 7,000 styles, and cup sizes up to F and G...can you imagine such flexibility at your neighbourhood store? Earlier, people who wanted good innerwear had to go abroad to shop. Now you can get the same great stuff online."
For women, of course, the options are limitless—racerbacks, pushups, hipsters, lacy sheer and tangas to balconette, underwire and stick-ons in vibrant, neon shades like pink, lime green, electric blue, fish prints, sheer mesh or pastel hues—you name it, they have it. Gurpreet Chadha from Delhi says, "Next to perfumes and chocolates, lingerie is the best gift you can give a woman. I often even shop for my friends online. Earlier, size was a concern, but I realise now it's the least of the problems." Fantasy wear, it seems, is just a click away.