The first day of June began with the United Nations observing two "days". June 1 was both the Global Day of Parents and what is called 'Vesak' or the Day of the Full Moon, according to the UN website. There are 19 such international days in June alone: they include Russian Language Day on June 6 (why not Tamil, Mandarin, Maori or Swahili?), World Blood Donor Day on June 14, World Elder Abuse Awareness Day on June 15. And, yes, June 21 is now World Yoga Day, thanks to a resolution moved by an India now ruled by the Narendra Modi government. Two days on, June 23 is International Widows Day; and June 25 is Day of the Seafarer.
With yoga on our side, we are always in good company. The resolution adopted by the UN General Assembly on December 11, 2014, "decides to proclaim June 21 as the International Day of Yoga". The resolution recognises "that yoga provides a holistic approach to health and well-being" and that "wider dissemination of information about the benefits of yoga would be beneficial to the health of the world population". All very true. But the general assembly also "stresses" that the "cost of all activities that may arise from the implementation of the present resolution should be met from voluntary contributions". In other words, the spirit of the resolution says disseminate the good word about yoga but keep all initiatives voluntary. The order of the BJP government in Maharashtra, making it mandatory for schools to remain open on that day (a Sunday that too in the midst of the summer break) and for students to practise yoga, is hardly in the spirit of volunteerism.
"He's doing all the things the PM of the ruling party should not be doing, telling people not to eet beef, who to venerate, how to exercise."


Digvijay Singh, Congress leader
And what we will witness in the Indian capital on June 21 will be the outcome of the strivings of some hundreds of bureaucrats who serve the Modi government. They have been issued orders to make the event worthy of an entry in the Guinness Book of World Records under the "largest yoga demonstration at a single venue". The target is 45,000 people. The PM himself is tweeting the asanas. TV stations have been persuaded to run free commercials about the big day. No harm done, but does yoga need to be remembered through an entry in a book of records? Says yogacharya Bimal from the Bihar school at Munger, who teaches in Delhi: "Yoga is organically born from the culture of India. It's okay to tell people about the benefits of yoga, but a true practitioner stays away from the loud publicity and tamasha. That is about ego, not yoga. If Modi is trying to say it is only a Hindu tradition, then he is narrowing the scope of yoga."
Congress leader Digvijay Singh has for the last 35 years spent an hour each morning doing dhyan, pranayam and asanas. He can even do the Shirshasana but says it is not something he does regularly. "Yoga is a very personal thing and each body is different. The great B.K.S. Iyengar had said that Baba Ramdev is teaching wrong exercises and postures that can harm people, so I don't believe it should be a mass exercise." As for Modi, he says: "He is doing all things that a PM and the ruling party should not be doing, telling people not to eat beef and now eggs, telling them what to celebrate, whom to venerate, and now, how to exercise." Yoga, he adds, is so vast that it cannot be linked to a religion. "To my eye, the namaaz done several times a day also involves postures similar to yoga."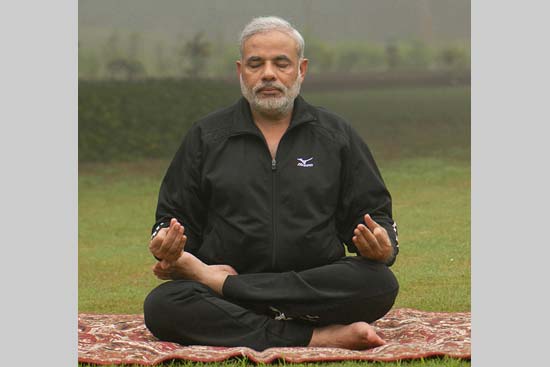 "No effort will be diverted from drought relief to promoting yoga. It's a matter of national pride that the UN accepted Modi's suggestion."


Sambit Patra, BJP
Former CPI general-secretary A.B. Bardhan says that yoga is a science that is good for an individual but that does not mean it should be pushed in this way, where in some schools people have to learn it. "Modi is belittling yoga. His real purpose is to tell his audience that I am taking something from India and showing it to the world. But the world already knew about yoga as do we in India."
All-India Majlis-e-Ittehadul Muslimeen leader Asaduddin Owaisi represents the constituency that objects to surya namaskar on the grounds that it is un-Islamic. "There is no need to push yoga down the throats of everybody. We as a nation should all be doing more exercise, but why isn't the PM pushing the martial arts of Kerala or Indian wrestling or the Indian mace, which is the new craze in the West these days." Across the world, thousands of people derive great benefits from surya namaskar, a complex sequence of asanas that exercises the entire body, without imagining they are worshipping the sun god. The problem arises when it is promoted as a "Hindu ritual". That intent preys upon a great universal practice derived from a particular, and reduces it back to that.
"Why force yoga down everyone's throats, why isn't the PM pushing the martial arts of Kerala or Indian wrestling or Indian mace?"


Asaduddin Owaisi, AIMIM leader
It is here that we must pause and ponder whether what we are witnessing is the propagation of yoga to promote a certain idea of nationhood that will be driven by the cult of Modi. At a certain level, the enterprise smacks of hypocrisy and a very shallow understanding of the discipline. First, the RSS in its shakhas has focused more on military drills and self-defence exercises and not yoga per se, although over the years a few asanas have been included. (Indeed, a true practitioner of yoga would be calm and seek to free the mind from negative thoughts as outlined in Patanjali; they would certainly not be advocating hate towa­rds any individual or community).
But Modi, being in love with mega events, has been particular in his "Hindu" projection: choosing Varanasi as his point of entry into national politics, avoi­ding visits to Muslim nations, refusing headgear that smacks of minority symbolism, and now chanting some mantras and doing yoga. The NaMo spectacles are meant to regularly induce a state of mass hypnosis about the Great Leader, an Orwellian process of sorts akin to the sermons of Big Brother in 1984. So June 21 may be about "promoting" yoga (alre­ady a bestseller) but it's also about showcasing Modi striking poses. Thirty-five minutes of the PM doing asanas and practising deep breathing should make many TV channels lose their breath.
"Yoga is not Hindu, it is universal. It is an amalgamation of 99% practice, 1% theory. Yes, the theory is Sanskrit slokas but that does not base yoga in religion. Everyday is yoga day for me! But a universal day will help bring awareness. The PM is doing a good thing."


Sharmila Mahesh, Pattabhi Jois's grand-daughter
Yoga is possibly India's greatest export and a gift to the world. It belongs to the realm of knowledge that is universal. Obviously, the Modi government has a purpose in reminding the land of its birth about yoga. The stance is that the UN marking an international day is a matter of national pride and does impact on world policies. But, if so, then what is the Modi government doing to observe September 26, International day for the Elimination of Nuclear Weapons? Or October 17, Int­­ernational Day for the Eradication of Poverty? Why wait so long, let's just ask about June 17, four days before the yoga jamboree that is the World Day to combat Desertification and Drought? An agricultural crisis is looming and rains likely to be deficient, so shouldn't the PM be working overtime on that instead of diverting bureaucrats, schools, media into a mega yoga camp? BJP spokesperson Sambit Patra has this to say: "No effort will be diverted from drought relief to promote yoga. It is a matter of national pride that the PM's suggestion was accepted by the UN and we'll be celebrating that. I would also say that yoga is not a Hindu tradition but an Indian one."
Shri M, a spiritual leader who describes himself as a yogi, is a testament to that. He was born a Muslim, Mumtaz Ali, but has now evolved in a very syncretic direction. He is currently undertaking a 7,000-kilometre walk across India called Walk of Hope that aims to put together small communities belonging to different religions. "Personally, it's the practice of yoga that keeps me in good health and gives me the strength to undertake a 7,000-km walk at age 66," he says. Is yoga Hindu? "Hindus have so many scriptures, so many teachers, and so many religious philosophies in contrast with religions which have only one book and one prophet that they cannot on any count be accused of being narrow. There may be marginal attempts to Talibanise Hinduism but it's doubtful if they would ever succeed. To begin the practice of yoga, there is no need to have specific religious beliefs. Even the non-believer, atheist and agnostic can practise yoga and derive benefits."
"Yoga is not a religion but a vast science of spirituality. A World Yoga Day will help bring Unity in Diversity. Credit goes to PM Modi for making yoga a universal phenomenon."


P.C. Kapoor, Director, Sivananda Yoga Centre
Shri M sees no problem in the PM's public yoga: "I think it is carrying cynicism to its extreme limits to say that the prime minister is resorting to a political gimmick if what he does can benefit a large number of people who might see the importance of yoga and pick up its practice. He is not indulging in a public drinking bout to increase drinking among the youth or taking part in the ridiculous spectacle of appearing in a skullcap at an Iftar dinner. Even if it's a gimmick, isn't it a good gimmick?" The counter-question, of course, is doesn't the PM have more important things to do and shouldn't a yoga camp be left to the likes of Baba Ramdev?
Currently, the prime minister, the party and the government are preparing for some serious posturing. There are jokes circulating in Delhi about which minister could possibly manage which asana or will they just sit cross-legged in a medita­tive pose chanting mantras. Welcome to the India of Narendra Modi. In this land, there are millions of people who do not have the luxury of stretching their bodies into marvellously supple postures but who do toil through the years with little gain. In this land, there are also the rulers who have time to meditate and exercise, all for a greater national cause. Perhaps like the rulers of yore they can consider organising a giant havan and pray for the rain gods to show mercy on the people of this land.
***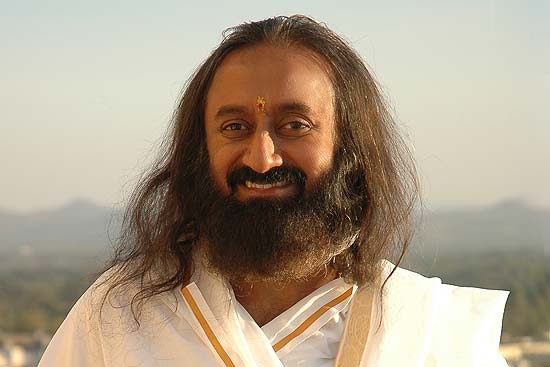 Sri Sri Ravishankar
Art of Living
"Yoga is universal as breathing is universal, exercises are universal and the consciousness is universal. If you observe a child from the age of 3 months to 3 years, he does all the yogasanas. But nobody can deny that yoga has been the part of the ancient Sanatana Dharma, has been developed in this country, and is ancient knowledge, wisdom. Bhagavat Geeta and Patanjali Yoga Sutras are taken as the main authority. All the Yogic scriptures are from Hindu traditions, Sanatana Dharma, but it does not restrict. For example, musical instruments belong to our traditions, as does Ayurveda. You can't say that because it is from Hindu traditions it won't work for others. No. Though its roots are in Hinduism, still its nature is universal. Yoga does not demand change of faith. World Yoga Day is announced by the United Nations and it was long due because when you can have a World Toilet Day and World Diabetic Day, why not World Yoga Day? India should take pride in yoga which is accepted and acknowledged universally."