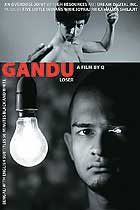 Qaushik Mukherjee, aka Q, is the rare filmmaker who is actually pleased to see people walking out on his film. It happened a few weeks ago at the South Asian International Film Festival in New York, where his provocative new Bengali film, Gandu (Asshole), premiered to the world. It was the hallucinatory, protracted and exceedingly explicit sex sequence towards the end of the film that apparently caused some of the audience to head for the exit, leaving the director curiously content with their reaction. "It is an extreme film. I would have felt disappointed and disregarded if it didn't offend people," he says. For him, any acute response—love, hatred, disgust—is a welcome affirmation of himself as a filmmaker and what he has chosen to do in Gandu.
You have to watch Gandu to make sense of both the director's intriguing views and the intense audience reactions. This is a bold and audacious film, of a kind not seen before in India. From its use of cinema as an art form and its daring sex scenes to its incisive comments on society and its many hypocrisies, it pushes the envelope in a raw, discomfiting manner. Whether it's the mother figure, relationships, love, sex, materialism or even religion, the film takes potshots at everything that we hold sacred. "As a society, we have forgotten protest, and as an artiste I think I need to keep questioning," says Q. The film challenges our safe, middle-class morality by treading the fine line that separates the aesthetic from the pornographic, making us think hard even as it titillates in equal measure. It's sure to leave the house divided on whether the sexual explicitness adds to the impact or is merely a measure of the filmmaker's self-indulgence and pretentiousness.
"It's an extreme film. I would have felt disappointed and disregarded if it did not offend people."


Q Filmmaker
However, the immediate question that springs to mind on viewing the film is: will it ever get past the scissors of our outdated and conservative censors? They are likely to be left gasping for breath by its sex scenes, which besides full frontal nudity include daring depictions of masturbation and fellatio. The film's trailer, meanwhile, has evoked quite a different reaction among young people, and judging from the fan clubs already springing up, Gandu has the makings of a cult film. The protagonist is a young wastrel, an aimless drifter. He lives in a stark, bare apartment with his mother, the mistress of a businessman, Dashbabu; the relationship is the implicit cause of his deep-seated anger. Gandu regularly creeps into the room while they are having sex to steal money from the man's wallet and buy lottery tickets in the hope of striking it lucky one day. The winding streets and alleys of Calcutta, the riverbank and the cyber cafe are his other favourite haunts; the only talent he has is to beatbox and rap. A chance encounter brings him close to another young outcast, Ricksha, a rickshaw puller, who is a fan of Bruce Lee. He becomes Gandu's companion in doing drugs, and a repository of his confidences about his musical ambitions.
The film is a gritty, compelling, at times enigmatic and inscrutable portrayal of this bleak world, brought alive by persuasive performances from little known actors (especially the mesmerising, electric Anubrata in the lead role). It is made with tremendous visual flair. Shot brilliantly in black and white (only the final sex sequence is in blazing colour), the geometric frames highlight the emptiness and barrenness of lives on the margins. The fantastic music, on the other hand, from the calcutta group Five Little Indians, uncoils Gandu's nervous energy.

Outer Space: Ricksha (Joyraj) and Gandu feel the aftershocks
Q is no stranger to bold sexual themes. He had earlier examined sexuality in a mythological context in his documentary Love In India. "It was about mystical sexuality against the hypocrisy of urban sexuality. But it was done beautifully, with the flute playing in the background," says Q. "With Gandu I wanted the punk rockstar side of me to emerge." (Even as he says this, though, he sounds more like a new-age Bengali intellectual than a weirdo.) So, even as he was making Love In India, Q was crafting subversive lyrics by using random common invectives. And one day, while he was hanging out with Five Little Indians they began jamming and a song emerged in three hours. That was the nucleus of the film, and it had to be made in Bengali, he says. "We are a phonetic race. The Bong way of saying 'gandu' has a nice ring to it." The film, financed on the cooperative model with the help of friends, was shot over 20 days—after a three-week workshop for the actors to get over their inhibitions, which they clearly did.
It's the kind of experiment that happens rarely in India. If Gandu doesn't look or feel like an Indian movie, it's because the inspiration lies elsewhere. "I have no Indian cinema references," Q confesses. The Calcutta-based ad professional-turned-filmmaker, who runs a company called Overdose, professes not to be inspired by the "classic" films as much as the radical, independent post-'90s cinema of Europe and Japan, films like Run Lola Run, filmmakers like Gasper Noe, Takashi Miike, Lars Von Trier, the Dogme school. "I like the post-modern techniques of video filmmaking," he says. The film is also, he says, a homage to the classic French porn film Baise Moi and oriental, Japanese porn.
A few years ago, a Bengali film, Kaushik Ganguly's Shunya e Bukey (Empty Canvas), about a man unable to accept a flat-chested woman as his wife, had created a furore. Gandu, artistically, intellectually and imaginatively, is leagues ahead, and is sure to ruffle many more feathers. After its recent screening at the 3rdi San Francisco International South Asian Film Festival, Q is now working towards its European premiere, after which he plans to submit it to the censors. He is confident it will find its way to those viewers who are keen to see it, "We just need to be patient and figure out how."