Saina Nehwal plays badminton in a manner almost unprecedented in Indian sport—the muscularity of her game, the strength of her smashes and the quickness of her eye and feet are incongruous with the delicate, all-wrist, cerebral style preferred by top Indian shuttlers of the past. "I can outlast the Chinese, they get tired too," she states impassively. You can't help but marvel at her words—a surplus of stamina and strength is something you can't accuse most Indian sportspersons of. Or, for that matter, an unshakeable mind and killer instinct.
From the start, Saina, now 19, had been marked out as a future champion by a succession of coaches. She had the game, she had the heart and she had the strength. Saina became part of the Indian team at 13 itself. Her supremacy in India, after she superseded Aparna Popat, was never in doubt. But at the international level, she encountered a string of impossibly difficult Chinese tests. It was only this June that Saina finally solved the Chinese riddle—she beat two Chinese players in a row to win the Indonesia Open. She admits the Chinese were a fear she's overcome. The win raised Saina to No. 6 in the world rankings; it also raised expectations, and a storm of celebrations and felicitations. Saina says this is necessary to raise the game's profile.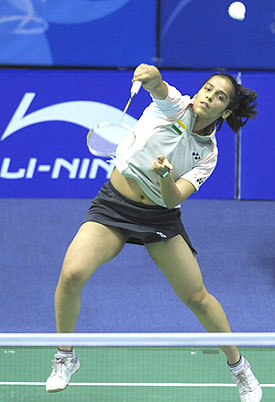 At the moment Saina is working hard for the challenge ahead, the August 10-16 World Championship in Hyderabad, her hometown. "I've been working very hard," Saina told Outlook. Her life has revolved around badminton; she's trained for six hours and more every day for years. That regimen continues, the difference now is that she's working on carefully thought-out specifics. "I'm working more on my stamina and strength," she said. "We play for more time in the mornings, and then there's lots of running and weight training."
Saina is pragmatic—she's working on her strengths. Saina admits her game is simple and basic, powerful and robust, and not rounded and subtle. But, she says, she's doing fine. "I don't think I need to worry about any particular part of my game," she said. "After a level, you need to keep on just working hard and playing the best players."
In the Indonesian Open, Saina met world No. 2 Lin Wang. Trailing 2-7 in the third game, Saina seemed to alter her style to win 19 of the next 21 points to win game and match. "I played more at the net, I was more patient," Saina said. Earlier, perhaps fearful that the Chinese girl across the net would take control, Saina would go for the kill early and fast; but now she seems to have the courage to play a game of patience.
Patience didn't come naturally to Saina. She was an aggressive player right from the start. The game Saina developed, quick and smashing, seems a bit incongruent with her personality. S.M. Arif, former national coach and the mentor of P. Gopichand, Saina's current coach, remembers her as a quiet, shy girl who spoke in barely audible whispers but played fiercely. "She was shy, though that's only natural," Arif says. "But she had an inherent aggression. You can't teach anyone aggression. But what you can do is tailor coaching around that aggression, and that's what I did."
When she was small—and called Steffi, for her parents were fans of the German tennis star—Saina would travel 50 km a day on her father's scooter, to training and school. She'd sometimes fall asleep on the way, so her mother started accompanying them to keep her from falling off. Now Saina drives to training in her new luxury car. She has a great fan following, especially on the internet.
Much has changed but, say those who have seen her progress closely, she has not. "I've been meeting and talking with her for eight-odd years, she's the same girl. Her politeness and values come from her family," says badminton writer Dev S. Sukumar. Saina doesn't turn down interview requests; she calls back if she misses a call or gets a text. That would explain frequent bills of over Rs 40,000 while on foreign tours. Money, in fact, was a bit tight until the Mittal Trust of Champions got interested in her.
Saina doesn't read much, doesn't party or get to go to the movies. She doesn't need sports psychology because "I know I'm strong mentally". Badminton is her life—she's started eating non-vegetarian food only for what it could do to her strength.
At 19, Saina stands at the cusp of a great possibility—the chance of leading a worldwide surge against the Chinese hegemony. For that, all her reserves of skill and strength would come into play. Fortunately, she has them in abundance.