In Reverse Order...
Terror alerts post-26/11
November 17, 2009 Specific alerts issued for nuclear facilities, including Tarapur and BARC
Nov 11, 2009 Union home ministry puts on alert Mumbai and four other cities visited by LeT suspect David C. Headley
Nov 8, 2009 Chabad Houses in Mumbai and Goa placed under special security after a threat perception shared by Israeli agencies
Nov 2, 2009 Indian navy sounds alert after it picks up intercepts about a terror strike in four coastal cities, including Mumbai
Nov 1, 2009 Terror threat to Delhi-Mumbai and Mumbai-Delhi flights of Air India
Sept 20, 2009 Victorian premier John Brumby cancels his visit to Mumbai following an alert by Australian authorities
Jul 10, 2009 Specific intelligence on attack on Churchgate and Andheri railway stations
Jul 8, 2009 IB warns of a seaborne attack on seven targets, including Mumbai stations, a bank in the central business district
Jul 1, 2009 Home ministry issues terror alert along western coast, specifically Gujarat, Maharashtra ports
Dec 4, 2008 Warnings of a possible strike issued to three major airports, including Mumbai
***
Towards the southern end of Platform No. 3, at the nodal Churchgate station, there stands a strange construction, about four and a half feet high, enclosing some 5 ft x 5 ft space, brown granite on the outside, with a black border. By any standard, it's an inelegant structure. This bunker, in which stands guard a khaki-clad figure with his rifle poised towards the concourse, is supposed to instil a sense of security and protection in the three million commuters that throng this station in a day. Naturally, few among these millions are fooled into believing that they are any safer today than they were on November 26, 2008, when 10 terrorists held the city to ransom.
No one believes that the bunker and guard, or any of his half-a-dozen colleagues stationed at the entrance and exit points, will be able to stop another determined terrorist from entering the station. The bunker, though, is a symbol of Mumbai's changed mindset. A visible piece of evidence that Mumbai has girded itself to take on the next attack if it is launched, a concrete translation of the Mumbai machismo, 'chal aaja, main tujhe dikhata hoon (Come right on, I'll show you!)', nothing more. A typical commuter will cock a snook at the bunker as he or she races to the train, hops in and checks under the seats for the possible "suspicious baggage", and tunes into the latest Bollywood hits on the FM channel of the mobile. If it (terror attack) has to happen, it will, they shrug.
Upscale areas now have 15-ft-high walls, the Siddhivinayak temple, in addition, has jammers as well.
This does not imply that Mumbaikars are not afraid; we are. Irrespective of our address, our station in life and our destinations on a work day, in lesser or greater degree, we are all afraid. But, as well-known psychiatrist Dr Harish Shetty points out, the fear comes with a strange mix of rationalisation and resignation. "Mumbaikars see the terror threat as an inevitable part of their daily lives now," he says, "at a subconscious level they have resigned themselves to living like that." Adds Kamala Ganesh, head of the sociology department at Mumbai University, "Mumbai has a habit of picking itself up and dusting itself after a fall. But after 26/11, the reactions were uncharacteristically intense; after a year, that intensity does appear to have receded a bit. On the face of it, it is business as usual, but at a deeper level, there is a change in attitudes, a greater awareness of the reality of global terrorism and alertness to anything untoward in one's own immediate surroundings."
The subtle but heightened change in fear levels lends itself to creating visible symbols of fortification—bunkers, 15-ft-high walls around upscale housing complexes and temples, restricted entry, body and bag searches, mobile phone jammers and so on. The Chhatrapati Shivaji Terminus (CST), one of the four locations of the 26/11 attack, has many bunkers and metal detectors at key points. Luxury hotels have added extra layers to the security cordon. Mumbai's landmark Siddhivinayak Temple has had a 15-ft-high concrete wall around it for the last couple of years; since threat perception increased, it now sports jammers too. Nakabandis on the streets are common.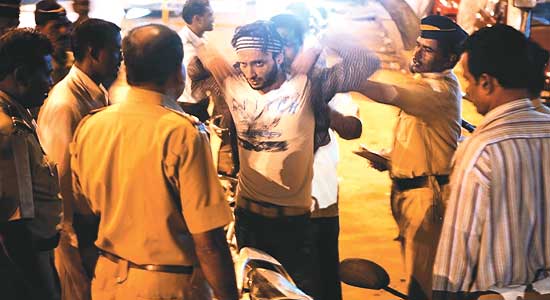 Night riders, halt: A biker being frisked at a Mumbai checkpost
"I was on Marine Drive going home from work at 8 pm," says Farzana Contractor, editor-publisher of Upper Crust magazine, "and there was a nakabandi at the strangest of places on that stretch. People like us are now constantly wondering what's wrong where, we're always looking over our shoulder." Correspondingly, even after the much-publicised supply of new arms and ammunition, creation of special forces to take on terrorists, the setting up of a hub of the elite National Security Guards, people's faith in the system is not too encouraging. As restaurateur and Goa Portuguesa owner Suhas Awchat says, "People now doubt every move of the government; they have a feeling of terrific hatred towards politicians and no faith in them at all. Even today many streets are deserted at night."
The system's ability to thwart or face another attack is perhaps best exemplified at the Gateway of India, opposite the terror-ravaged Taj Mahal hotel. About 30 State Reserve Police Force jawans, entrusted to guard the waterfront and the Taj, have made the World Heritage monument their makeshift home—plastic sheets for roofs, nails in the stone walls to hang their clothes and bags on, metal and wooden beds strewn around to rest. "People come here and laugh at us, or scold us for turning the Gateway into a slum, but what can we do?" shrugs a jawan.
The state RPF jawans have made the Gateway of India, a World Heritage monument, their makeshift home.
However, the last year has witnessed what Kumar Ketkar, editor and commentator, calls "psychological consolidation" in the commonality of suffering last year and threat perception since then. "There is a common sharing of trauma but not necessarily a common sharing of political attitudes towards it," points out Ketkar. "It is a major change and it has brought Mumbai together in a very secular way. People are not seeing it as though 'all Muslims are terrorists' or in pure Hindu-Muslim terms." Filmmaker and actor Mahesh Manjrekar sees a bridging of the class divide, post 26/11. "There was a divide between the upper class, lower middle and lower classes," he says, "but now people realise that terror is at everyone's doorstep, it's not only trains that are targeted. Somewhere that divide has been erased."

Maulana Saeed Noori, founder and general secretary of Raza Academy, points out, "When we joined the protest at the Gateway of India days after 26/11, it was heartening to see the way people welcomed us. We are the typical-looking Muslims; yet people not only accepted us but clapped for us too." Kamala Ganesh terms it a de-escalation of antipathy towards local Muslims. "There is awareness that they were not involved in 26/11 and they too were equally affected," she says.
This does not mean that religious profiling is history. In fact, many average Muslims speak of being made painfully aware of their religion, and made to feel that its tenets are responsible for the mayhem on 26/11. "The terror attacks definitely made a dent on the communal level," Farzana Contractor points out. "After the initial trauma, Muslims felt more insecure than earlier, especially in the mid and lower strata of society. I have heard so many conversations where they begin by proving their 'Indianness', which is so unnecessary." Others have experienced and spoken of a subtle shift in the mainstream attitude towards them in public transport, in housing complexes where Muslims find themselves turned away on some or the other pretext, paying-guest accommodation that is more difficult to come by.
"People like us now wonder what's wrong where, always looking over our shoulder," says Farzana Contractor.
At the same time, says Noori, the average Muslim is also heartened by the police action in the Malegaon blasts, which were traced back to radical right-wing Hindu groups. "The image that Muslims are linked to every blast in India was wiped out," he remarks. "We felt the agencies had become more even-handed in recognising terror irrespective of religion." Islamic scholar and secularist Asghar Ali Engineer notes that beyond the religious divide, Mumbaikars are troubled by a set of questions which, even a year later, remain unanswered. "There are questions about why the terrorists could not be intercepted despite clear alerts and intelligence inputs. There are questions about ATS chief Hemant Karkare's death—whether it was really a shootout by terrorists or something else had happened. There are questions about his missing bulletproof jacket. There are questions about the government's unwillingness to make the Ram Pradhan Committee report into the 26/11 attack public. If the government wants trust and cooperation, it must answer these questions."
Then, there are those who firmly believe that nothing has really changed in Mumbai other than the "excessive and exaggerated fears of people living south of Haji Ali", as transport analyst and citizen activist Sudhir Badami puts it. Father Frazer Mascarenhas, principal of St Xavier's College, sees 26/11 as some sort of a lost opportunity. "I don't see any major change," he laments. "There was a big upheaval for about two months, but it all died down, and we are back to square one." Adds Central Information Commissioner Shailesh Gandhi, a Mumbaikar now based in Delhi, "There was some social conscience visible in the first few weeks, but later citizens seem to have slipped back into familiar apathy and lack of focus." It's business as usual again, and it's not always a good thing.
---
By Smruti Koppikar in Mumbai with Snigdha Hasan Photographs by Apoorva Salkade