Coming Up...Even More Private Museums

Ebrahim Alkazi, New Delhi
Alkazi's Collection of 90,000 rare historic 20th century photographs and maps, now open to the public

Rajshree Pathy, Coimbatore
Sugar baroness, collects art, from Husains to Brootas, to open a college-cum-museum in 2 years

Bose Krishnamachari, Alwaye
Curator/artist, opening a museum for edgy international contemporary art in 2 years


Kiran Nadar, Noida
Wife of HCL tycoon Shiv Nadar, opening a museum for her eclectic collection in the HCL campus in 2 years

Rakesh Agrawal, Baroda
Industrialist and collector of 2,000 works by Indian and international artists, to open a museum in 2 years
***
The 500-year-old private chamber of a Vijayanagar king, folk art depicting industrial accidents, a fuchsia fibreglass cow, and a Bengal cotton sari with freedom-fighting slogans along its borders. It may be hard to believe if you're accustomed to staid, mouldering sarkari museum fare, but each of these wildly disparate artefacts finds pride of place in a museum—actually, a private museum.
The trend of private museums swept the US and Europe a few years ago, when heirs of big retail empires like Gap and Walmart gave directors of venerable old institutions a run for their money in the auctions of masterpieces. In India, though, the story isn't about spending an inherited fortune grandly. Or about going public in the face of imminent death, like pharaohs throwing open the doors to their tombs to put their burial goods on display. Indian collectors are setting up museums because they reckon that Indian cultural institutions just don't have the vision or resources to do justice to the collections they've lovingly built up over the years.
A love for craftsmanship, for a time when functionality didn't preclude aesthetics, is what drove O.P. Jain to start collecting everyday art and terracotta 35 years ago, along with running his family's paper-trading business. The collection is now housed in Sanskriti Kendra, a beautiful eight-acre space in South Delhi. With 8,200 indigenous trees screening the visitor from the traffic snarls and blasted buildings that is Mehrauli-Gurgaon Road, the Kendra has individual museums devoted to terracotta, everyday objects, and, since January, to mark Jain's 80th birthday, textiles.
Jain traces his love for indigenous art and craftsmanship to his bewilderment, as a child, as he wandered past the kabaadi shops of Chawri Bazaar, and watched people trade beautiful brass vessels, furniture and sarees for charmless, utilitarian, plastic confections. "I'm not trained in the arts," says Jain. "Everything I have done has grown from that intuition and wonderment, particularly my sensitivity to handcrafted things used in day-to-day life. I personally feel a handcrafted object is as important as a Maurya period bronze."
Skill, beauty, utility—you'll find these qualities in every artefact in Jain's museums. Terracotta toy monkeys from Sambal, an ornate smiling-man-shaped brass lock with a key plunged between his legs, an exquisitely embroidered 20th century Bengali tablecloth which also serves as a botanical guide to flowers. "It's important for your collection to have a broad vision, a direction," says Jain. "Otherwise you'll have two bronzes, two carpets, two shawls—just signs of status."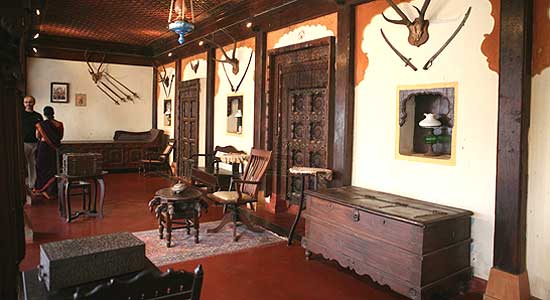 Hasta Shilpa, Manipal
Collector: Vijaynath Shenoy
USP: Historic old houses in their entirety, crafts, Tanjore paintings
Manipal-based Vijaynath Shenoy's vision expresses itself in a love for sundry regional architecture. "I love houses in which six or seven generations once lived and breathed, designed not by architects but by people themselves—in line with their needs, social requirements, and the climate." This is the spirit behind the Hasta Shilpa Heritage Trust Village, a seven-acre plot with 26 immaculately restored centuries-old houses and museums devoted to crafts, Tanjore paintings, objects from the south Indian mercantile trade, and Raja Ravi Varma's paintings.
Shenoy, a bank manager, got into collecting somewhat by default. In 1984, he constructed his home in Manipal from debris recovered from the demolition sites of historic old houses which were being pulled to the ground and replaced with unsightly glass-and-steel edifices. But he was hardly allowed to settle in to his new home, what with the constant stream of guests inviting themselves inside to gawp at its antique wooden pillars, beams, carvings and friezes.
"When I see folk art or miniatures, I can't hold back," says Caur. "Just like other women can't resist jewellery."
Shenoy eventually moved out to avoid the publicity and attention, but was spurred by the response—and aid from the Finnish and Norwegian embassies—to buy entire houses across Karnataka that were dilapidated or about to be destroyed. After documenting them, he "rehabilitated" them painstakingly, beam by beam, in his Heritage Village. Unlike in a regular museum, where the contextual significance of objects is usually lost in an impersonal, standardised setting, Shenoy ensures that all utensils, jewellery and furniture are displayed in the appropriate place.
Among these elegant old structures are the 400-year-old home of a prosperous agrarian Bunt family; the 500-year-old Kamal Mahal, once home to a vassal king of the Vijayanagar empire; monasteries that once housed adherents of the Advaita and Veerashaiva faiths; a temple dedicated to an ancient village deity; and a spectacular century-old trading house-cum-residence.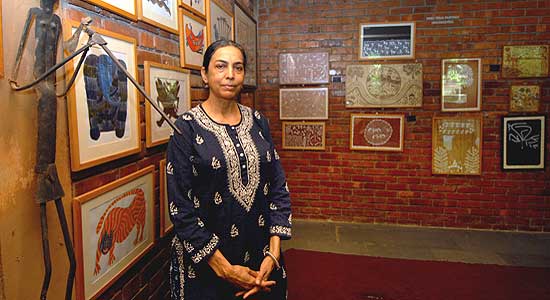 Fine Arts Museum, New Delhi
Collector: Arpana Caur
USP: Miniatures, folk and tribal paintings and sculptures
The vision informing artist Arpana Caur's museum, the Academy of Fine Arts & Literature in South Delhi, is quintessentially personal. Strewn across the 400 rare miniatures and 2,000 works of folk and tribal art on display here are the motifs and metaphors that inspire her own work. The museum houses rare Sikh miniatures—the post-Partition legacy of Caur's grandfather—as well as priceless Deccani, Mughal, Pahari and Rajasthani miniatures, elegant paintings of the 'Company school', and 19th century Jain folk art depicting the horrors of the afterlife, including prancing warthog-lion torturers who gouge out the eyes of sinners and cook their heads in cauldrons.
The museum also features striking, specially commissioned tribal art that use a traditional visual lexicon to depict bleak rural realities, such as Gond artist Durga Bai's painting of the Bhopal gas tragedy, the pesticide plant's pipes swaying like wayward tentacles as they rain poison on hapless bystanders, and Bhil artist Bhuri Bai's depiction of two sick men, their bodies painted an alarming red, being hauled along to a distant primary health centre by enervated bullocks and an agitated driver.
Caur began her collection when her own paintings began to sell in the early 1970s. "When I see folk art or miniatures, I can't hold back," says Caur, smiling. "Just like other women can't resist clothes or jewellery!" She's quite pleased with the results of her addiction. "It's a precious collection, I would say," she says coyly. And she's not precious about sharing it. Entrance is free, and Caur conducts free classes for kids from slums on the premises.
Collector Anupam Poddar also has much to share: 2,000 pieces and counting of contemporary art, and a spectacular new 7,500 sq ft space in Gurgaon in which to show it all off. His imposing collection (including a famous Jitish Kallat installation of a T-Rex getting fresh with an automobile) used to amuse and alarm visitors to his home. "But they became too unwieldy, too cloistered. Only a few people could experience them, which was a pity."
Anyone who went to the launch last August of Devi Art Foundation—India's first contemporary art museum—will agree. Visitors wandered down long, darkened rooms and communed with installations ranging from Ranbir Kaleka's poignant video installation depicting the 'Man with Cockerel' and his eternally escaping bird, or Shilpa Gupta's provocative, playful 'Untitled' installation, which had viewers confront a wall, on which their hapless shadows were buried under a Tetris-like rain of objects.
Poddar's distinguished business family background helped his own accumulation of objects, as did growing up amidst his mother Lekha's collection of textiles, antiquities and art from the modernist and Bengal schools. But his first acquisitions in 1994—Subodh Gupta's fibreglass bovine Rani and Bharti Kher's sperm-shaped bindis—were inspired by what Poddar saw as "a new version of India that this generation—my generation—was grappling with." His geographic canvas now unfurls to include Bangladeshi, Pakistani, Kazakh and Uzbek artists.
Whether it's of fortune, or dedication, or intimate knowledge, private museums come with a price tag. Fortunately, that's something he and other collectors like him are willing to pay.