My Own Private Igloo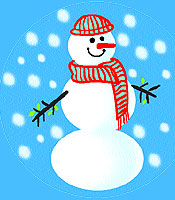 Where are the snows of yesteryear? It doesn't seem to snow quite so often or quite so heavily as in previous years. Perhaps we'll be lucky this winter, and that eyesore of a garbage dump just below the road will, for a few days, be concealed and beautified by a mantle of glistening white snow.
Twenty years ago, when I moved into my present abode in Landour, I was welcomed by a cyclonic storm that blew the roof of the building. Corrugated tin sheets went clanging down the road, followed by rotting wooden rafters that hadn't been changed in a 100 years. Towards morning, it began to snow. Flurries of snow settled on my blankets, forcing me to move out of the bedroom. In the living room, the furniture and bookshelves were soon under a blanket of whiteness. My set of Dickens looked very Dickensian and Christmassy. It was all very pretty and romantic but not much fun at the time. 'What the Dickens!' I grumbled and moved into the children's room. Rakesh, Mukesh and Dolly were very young then. They were having the time of their lives, building a snowman on the dining table. They're adults now, with children of their own. They remember that night but are unlikely to have such an experience again. The roof is stronger and snowstorms not so frequent.
But the most remarkable snowfall I remember occurred in Dehradun, down in the valley, when I was ten years old. It was the first of January, 1945, and I was living with my mother and stepfather in Dalanwala. My mother was in bed, having given birth to my baby brother the day before. It was late evening, and I was playing in the garden when it began to snow, quite heavily. Snow in Dehradun was unheard of. I ran indoors, shouting, "Mum it's snowing outside!"
"Don't be a pest, Ruskin," she said. "I'm not in the mood for your silly jokes."
So I went outside, broke a branch off a litchi tree, and brought it in to show her. It was all encrusted with snow. Next morning I was playing snowballs with the local boys. At ten the sun came out and all the snow melted away. That was the last time it snowed in Dehradun.
---

Boys Go Traipsing Up
When I was in my teens, I would walk up to Mussoorie with my friends to experience the snow in the hill station. We would take the footpath from Rajpur, a seven-mile climb past Jharipani, Balrowganj and Bala Hissar. Bala Hissar was originally the estate where the emir of Afghanistan was held by the British after the Afghan wars in the 19th century. It is now the Wynberg Allen School. Barlowganj gets its name from a certain General Barlow, who once owned much of the area. And, of course, Jharipani translates as water from a spring or small waterfall.
We would tramp into Mussoorie famished and would head straight for the Sindhi Sweet Shop, to gorge on puri-chole. The Sindhi Sweet Shop has long gone, and today hardly anyone walks up to Mussoorie from Rajpur. Youngsters prefer their smart motorbikes, older people their Scorpios and Santros. Puris have given way to pizzas. Mussoorie's cinemas—there were six once—have all closed down. Children are glued to the internet, their parents to soap-operas on TV.
---
The Sheltering Sky
But some things don't change. The winter line is still there, a streak of crimson across the distant horizon. This spectacular sunset is best seen from Landour or some of the higher points of Mussoorie. If you get up early, you can witness the same effect in the eastern sky, before the sun comes up. Many of the old residential schools are still around. Waverly, St George's, Oak Grove, Wynberg Allen and Woodstock are all well over a hundred years old.
But alas, the famous old hotels have been fading away. Hakman's is only a shadow of its former self. The Charleville became the National Academy of Administration for IAS trainees, but the main building was destroyed by fire several years ago. The Savoy, where Ganesh Saili (the author and photographer) and I spent many pleasant evenings with its genial owner, Nandu Jauhar, changed hands a few years ago, and was closed for renovation.
Hopefully, it will reopen some day.
---
Just a Commercial Break
Up in Landour many of the old colonial houses remain, but in recent years there has been a sea change of ownership. We have progressed from missionaries to hippies to celebrities. Take a walk past Lal Tibba and you might well pass a well-known face. Pass by, don't pester him. He is there for the solitude. Whether actor or writer or TV personality, he has come here to escape the great Indian Public.
Look, instead, at the magic mountains. We come and go. The mountains remain.