My Own Private Igloo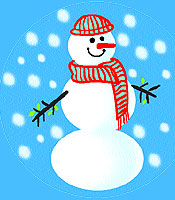 Where are the snows of yesteryear? It doesn't seem to snow quite so often or quite so heavily as in previous years. Perhaps we'll be lucky this winter, and that eyesore of a garbage dump just below the road will, for a few days, be concealed and beautified by a mantle of glistening white snow.
Twenty years ago, when I moved into my present abode in Landour, I was welcomed by a cyclonic storm that blew the roof of the building. Corrugated tin sheets went clanging down the road, followed by rotting wooden rafters that hadn't been changed in a 100 years. Towards morning, it began to snow. Flurries of snow settled on my blankets, forcing me to move out of the bedroom. In the living room, the furniture and bookshelves were soon under a blanket of whiteness. My set of Dickens looked very Dickensian and Christmassy. It was all very pretty...