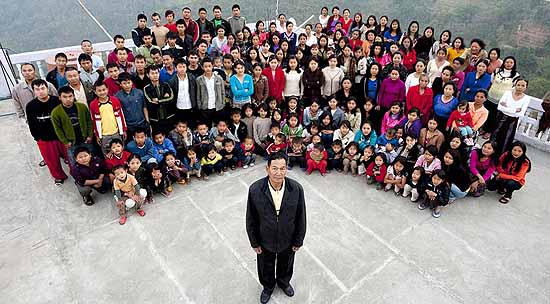 Photographer Richard Grange/Barcroft Media'
Mizoram: As head of a family with over 200 members, Ziona Chana is one of the most-wooed men in Mizoram. Not by women—he already has his hands full with 39 wives—but by political parties. In a state with an average of just over 17,000 voters in each assembly constituency, a family with 150-odd adult voters can clinch a seat. The family, though, denies there's ever been any diktat from the Chana clan leader, known as 'Hotupa'.
Himachal Pradesh: Terrorists with bombs, we know about, but this northern state's trying to come to terms with simian 'terrorists', armed with fangs and tails. Pestered no end by their attacks on farms, the HP assembly discussed possible army deputation and "secret culling".
Rajasthan: Employers making unreasonable demands? The state insists that all those seeking government employment give a declaration that they had quit tobacco in all its forms.
Jammu and Kashmir: So tense are our security for­ces that they were spooked by good ol' Jupiter and Venus, who the Indian army identified as "unidentified flying intruders making nocturnal sorties from China". Summoned to Ladakh, two astronomers from the Indian Institute of Astrophysics, Bangalore, solved the mystery for them.
Madhya Pradesh: We had heard horror tales of schools without toilets, but here was one in a toilet. In Mansa town, 90 children in uniform go to school every day to a women's toilet complex. Classes are interrupted when someone needs to use the facilities. The children look the other way.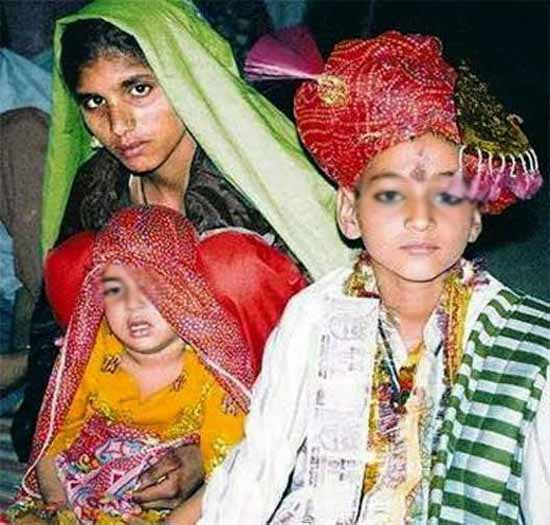 Uttar Pradesh: This is one divorce that made everyone happy. Four-year-old Fatima from Shravasti district, who was married off to an eight-year-old boy four years back, has now divorced her husband. This, after her father came to his senses and realised the wrong he'd committed.
Karnataka: 'Overpaid' and depressed about it? A Bangalore techie who thought his salary of Rs 40,000 a month was way too much, got so worked about it that he went into depression and quit his job. Doctors trying to "restore his self-esteem" now.
Maharashtra: Dilip Shah, a senior citizen from Pune, was arrested for an online crime he did not commit. Reason? Facebook sent data in the Amer­i­can MM/DD/YY format which the cops mistook for DD/MM/YY. He's out on bail, but the case inexplicably drags on.
Uttarakhand: We know journalists will go to any length to get a story, but Narayan Pargaien in Dehradun went a bit too far when he climbed on the shoulders of a flood-hit man to file his report. He lost his job after a public outcry.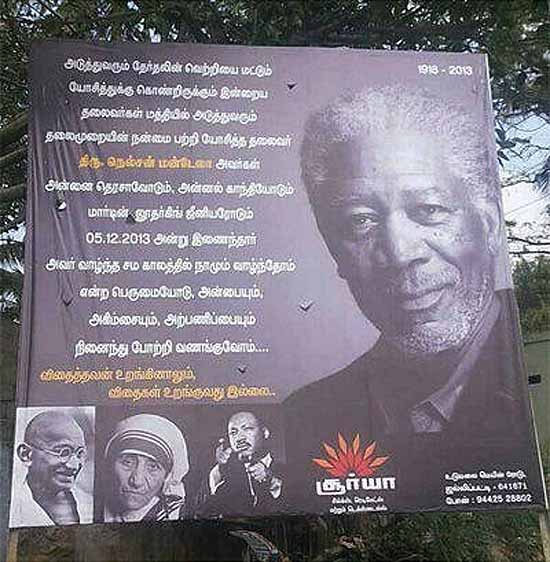 TN: It all seemed noble when there was talk of a hoarding coming up in Coimbatore to honour Madiba. But when it did come up, it raised a few eyebrows. Problem? The man in it wasn't Nelson Mandela but Morgan Freeman!
Tripura: CPI(M) member from Agartala Samar Acharjee apparently had a lifelong dream—sleeping on a bed of cash. And that's what he did when Rs 20 lakh came his way. For good measure, he also shot a video of himself lolling in bed. When it went public, Scrooge McAcharjee was promptly punished.
Manipur: Fear gripped many here after reports of a "volcano" turning active in Tusom village on the Indo-Myanmar border. Mercifully, it turned out to be a "mud volcano", tectonic movements sinking a hillside, pushing out gas and water.
Sikkim: After a bitter face-off in August on the Tangkar Pass and an almost fire-fight, Indian and Chinese border guards called a truce in grand style—the former trading rasgullas for Chinese beer.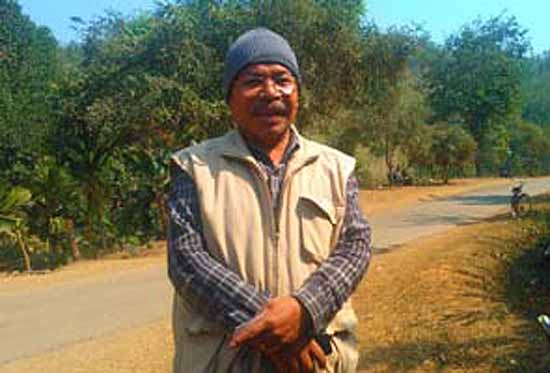 Meghalaya: We know the state can throw up some odd names, Adolf Hitler was one this year. He was one of the election candidates from the Congress party. He was in good company, with partyman Frankenstein Momin.
Punjab: A rally to promote road safety organised by the cops in Chandigarh ended up endorsing exactly the opposite. The rallyists performed some daring road stunts as the cops watched enthralled.
West Bengal: Pratima Modak, a housewife in Madhyamgram, thought it was her daughter sleeping under the blanket. But when she lifted it, she found a stranger who'd broken into her house. The tired thief had decided to take a nap.
Orissa: Dibya Lochan Gadtia from Vijaynagar village was presumed murdered, seven people were even jailed for it. But he later appears back in his house. This turn of events came about after his father wrongly identified a decomposed body. Our man was away in Puri to see Lord Jagannath's rath yatra.
Andhra Pradesh: The cops had better watch out the next time they fine an errant driver. A man named Kinshuk was so enraged over a fine in Hyderabad he bit the cop's fingers. He was finally arrested but not before he summoned friends and family to assault some of the cops.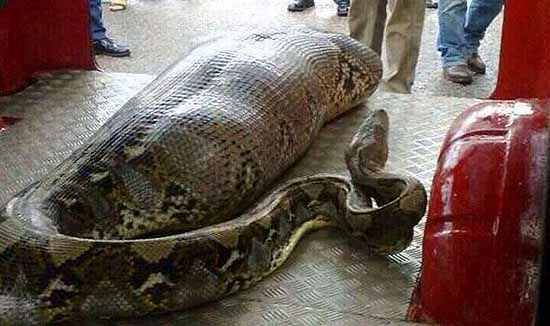 Kerala: A python here attained Twitter celebdom after apparently swallowing a drunk Malayali dozing on the side of the road. Just one problem, though—it was a hoax as it emerged the same snake had eaten people in China, South Africa and Indonesia.
Goa: Even Wikipedia is home to some ingenious hoaxes. One such was revealed in an audit by its administrators. This one was about a 17th century conflict which never happened, the 'Bicholim Conflict' between colonial Portuguese and India's Maratha empire. Went undetected for five years.
Gujarat: A UFO emerged over the Reliance refinery in Jamnagar. It was described in a letter to the petroleum ministry as the "size of a volleyball" and as something that circled over four times before disappearing. The incident recurred again and some images were also captured.
Nagaland: Christian groups here are a worried lot with reports of rising followers of Satanism from the state. The Vatican's Fides news agency repor­ted that over 3,000 young "worshipers of Satan" had been identified in capital Kohima alone.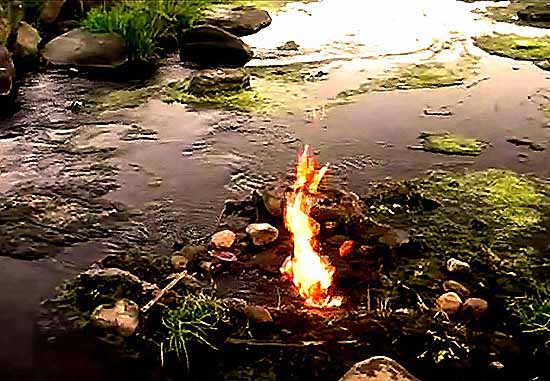 Jharkhand: Coal fires—something that literally have the ground beneath your feet smoldering—are a recurring phenomenon here. But locals were still stunned when the Katri river near Dhanbad 'caught fire'. Some have attributed it to inflammable gases such as methane.
Arunachal Pradesh: As if China sparring with India over this eastern state wasn't enough, the state was nowhere to be found in the geography texts for Std X students in Maharashtra. The board finally put 'Arunachal Pradesh' stickers on the maps!
Haryana: Securing relief from the state can be a daunting task, but many farmers in Haryana were left seething when they received aid for their destroyed crops totalling up to just Rs 2 or Rs 3.
Bihar: You have heard of students failing tests. But in Bihar, students had a good laugh when over 10,000 teachers flunked the periodic review tests conducted by the state education department.
Chhattisgarh: The State Beverages Corporation Ltd here launched a campaign to fight alcoholism with Mahatma Gandhi as its brand ambassador. Was it real concern, or mere tokenism aimed at generating some publicity?